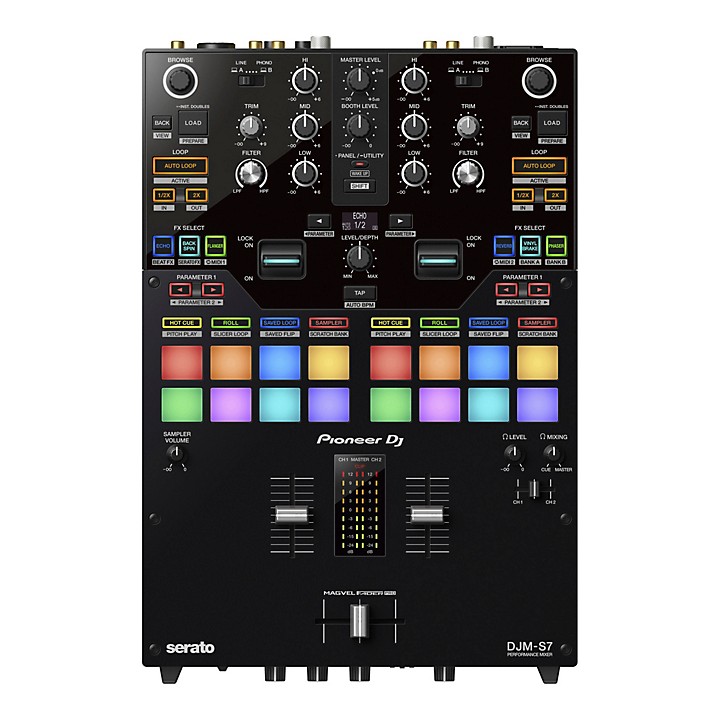 All the tools to rapidly and fluidly transition between tracks.
This 2-channel battle mixer gives you the freedom to customize your setup and bring your own unique style to every performance. The unit enables free use of Serato DJ Pro and it's a Hardware Unlock device for rekordbox, so you can use performance features in either application.

Open-format DJs, who chop and change between musical styles, need the tools to rapidly and fluidly transition between tracks. And in the hyper-competitive world of battling, DJs are always looking for equipment that can help them perform more creatively and capture the attention of the audience. The DJM-S7 is designed to make it all possible.

If you've played on the DJM-S9 or DJM-S11 before, you'll feel at home using the clean layout of the DJM-S7. The large Load button and 16 Performance Pads (8 per deck) make it easy to select tracks and trigger samples and features during energetic sets. All 22 Beat FX from the DJM-S11 are included and the effect levers offer an animated way to engage them as well as software effects. Pad modes are independent so, for example, you can trigger Hot Cues on channel 1 and use Roll on channel 2 at the same time. And with the Magvel Fader Pro, you can enjoy slick-feeling and stable crossfader performance.

Want to add new sounds to your sets? Wirelessly play audio directly from your smartphone thanks to the mixer's Bluetooth connectivity. Play loops that you want to scratch over or trigger one-shots and route them straight to the master output or to either of the channels to hear them together with any other sound playing on that deck. And with Loop MIDI—a feature that's still exclusive to Pioneer DJ mixers—you can use the effect levers to send MIDI messages to Serato DJ Pro and rekordbox, giving you an exciting new way to control performance features rhythmically.

The DJM-S7 inherits a number of additional key features from the DJM-S11 which are available when using Serato DJ Pro, including Combo Pad mode, Scratch Bank and Gate Cue.

The DJM-S7 gives you free use of Serato DJ Pro and rekordbox performance features, including DVS control of both applications. Simply connect the mixer to a PC/Mac running Serato DJ Pro version 2.4.5 or the latest version of rekordbox to unlock the software. If you subscribe to the rekordbox Creative plan, you take advantage of advanced features such as Cloud Library Sync for seamless music management across multiple devices, and Edit mode, which enables you to create custom versions of any track you own so you can make your performances truly unique.

Clear hardware interface: Perform instinctively
With a clear layout, the DJM-S7 gives you freedom to play energetically and bring your own style to every performance.

Magvel Fader Pro
The feeling of the Magvel Fader Pro has been enhanced and the rigidity of the knob mounting shaft has been boosted in the vertical direction by 30 percent so you can scratch with even more confidence.

Large Performance Pads
The eight large Performance Pads on each channel are easy to hit when you want to rapidly fire off Hot Cues and samples. And with independent pad modes, you can use two different features—one on each channel's set of pads—at the same time.

Large effect levers
Twist sounds on the fly by adding effects with the large levers. The DJM-S7 includes built-in Beat FX from the DJM-S11 so you can get creative with software effects in Serato DJ Pro and rekordbox. It's easy to change the six effects assigned to the FX Select buttons and you can keep an eye on the name and beat value of the one you're using by glancing at the OLED display.

Bluetooth input: Wirelessly add audio from your phone to your performance
Simply pair your phone with the DJM-S7 via Bluetooth and you can drop sounds straight into your set. You can play loops to scratch over, trigger sounds from instrument apps, or use a music app to play a track requested by someone in the audience. Or, simply have your mobile device connected and ready as a backup in case your laptop fails. You can play the sound directly through the master output or either of the channels and use the dedicated knob and fader on the front of the mixer to adjust the level.

Loop MIDI: Automated control DJ software functions with the effect levers
This brand-new feature in the effects section of the DJM-S7 can control various functions in your DJ software by repeatedly sending a MIDI signal to the software in a set beat cycle. For example, you can create a buildup by gradually shortening the beat cycle of a snare sample which is playing in a loop.

Simply use the Beat buttons on the mixer to set the length of the loop, then switch on the effect lever on to trigger the relevant feature. Functions including Hot Cue, sampler, and key shift-up are preassigned to the FX Select buttons so you can start using Loop MIDI straight away without needing to assign features first.

Built-in USB hub: Directly connect your external devices
Streamline your setup with the DJM-S7. You can plug CDJs, DJ controllers, and other devices straight into the dual USB-A ports to play with them—there's no need for an external hub. Plug in two CDJs to use HID mode and connect two laptops via the dual USB-B ports so you can change over smoothly with another DJ. An upcoming release of Serato DJ Pro will introduce official support for the CDJ-3000, so watch out for news on that.

Scratch Bank: Rapidly access your sounds from Serato DJ Pro
With the Scratch Bank pad mode, you can instantly load scratch samples from four banks that you've assigned in Serato DJ Pro by simply tapping a pad. You can load from a specified start point too—handy if you want to use this feature to drop in full tracks during a routine.

Combo Pad mode: Use up to two Serato DJ Pro modes simultaneously
Activate Combo Pad mode in Serato DJ Pro to use two different pad modes simultaneously, e.g. Hot Cue and Sampler. This reduces the need to change modes and gives you the option to combine more features to enhance your performance.

Plug and play: Use Serato DJ Pro or rekordbox freely
The DJM-S7 automatically unlocks Serato DJ Pro and rekordbox Performance mode, including DVS control, when you connect it to a PC/Mac running the latest version of either application. You don't need to activate a license key. The Serato DJ Pro Expansion Pack voucher (Pitch 'n Time DJ) is included, which enables key shifting and key syncing with perfect audio quality.

Specifications
Software
Serato DJ Pro version 2.4.5
rekordbox
Bluetooth Audio Input
Version: Bluetooth standard version 5.0
Supported Codecs: SBC, AAC, Qualcomm aptX, Qualcomm aptX,
Low Latency
Maximum Communication Distance: Approximately 10m in unobstructed
circumstances
Frequency Response S/N Ratio
110dB (USB)
103dB (LINE)
88dB (PHONO)
80dB (MIC)
103dB (AUX)
Total Harmonic Distortion
0.003% (USB)
0.005% (LINE)
Input/Output Terminals
Inputs
LINE x 2 (RCA)
PHONO x 2 (RCA)
MIC x 1 (XLR & 1/4" TRS jack)
AUX x 1 (RCA)
Outputs
MASTER x 2 (XLR, RCA)
BOOTH x 1 (1/4" TRS jack)
HEADPHONES x 2 (1/4" stereo jack, 3.5 mm stereo mini. jack)
USB
USB (Type A) x 2
USB (Type B) x 2
Power Supply
AC 100–240V, 50Hz/60Hz
Power Consumption
24W
Maximum Dimensions (WxDxH)
267 x 397.4 x 107.9 mm / 10.51" x 15.65" x 4.25"
Weight
Features
With a clear layout, the DJM-S7 gives you freedom to play energetically and bring your own style to every performance
The feeling of the Magvel Fader Pro has been enhanced and the rigidity of the knob mounting shaft has been boosted in the vertical direction by 30 percent so you can scratch with even more confidence
The eight large Performance Pads on each channel are easy to hit when you want to rapidly fire off Hot Cues and samples. And with independent pad modes, you can use two different features—one on each channel's set of pads—at the same time
Twist sounds on the fly by adding effects with the large levers; the DJM-S7 includes built-in Beat FX from the DJM-S11 so you can get creative with software effects in Serato DJ Pro and rekordbox
It's easy to change the 6 effects assigned to the FX Select buttons and you can keep an eye on the name and beat value of the one you're using by glancing at the OLED display; simply pair your phone with the DJM-S7 via Bluetooth and you can drop sounds straight into your set
You can play loops to scratch over, trigger sounds from instrument apps, or use a music app to play a track requested by someone in the audience; or, simply have your mobile device connected and ready as a backup in case your laptop fails
You can play the sound directly through the master output or either of the channels and use the dedicated knob and fader on the front of the mixer to adjust the level
Loop MIDI: Automated control DJ software functions with the effect levers-this brand-new feature in the effects section of the DJM-S7 can control various functions in your DJ software by repeatedly sending a MIDI signal to the software in a set beat cycle; for example, you can create a buildup by gradually shortening the beat cycle of a snare sample which is playing in a loop—simply use the Beat buttons on the mixer to set the length of the loop, then switch on the effect lever on to trigger the relevant feature Functions including Hot Cue, sampler, and key shift-up are preassigned to the FX Select buttons so you can start using Loop MIDI straight away without needing to assign features first
Streamline your setup with the DJM-S7. You can plug CDJs, DJ controllers, and other devices straight into the dual USB-A ports to play with them—there's no need for an external hub; plug in two CDJs to use HID mode and connect two laptops via the dual USB-B ports so you can change over smoothly with another DJ (an upcoming release of Serato DJ Pro will introduce official support for the CDJ-3000, so watch out for news on that)
With the Scratch Bank pad mode, you can instantly load scratch samples from four banks that you've assigned in Serato DJ Pro by simply tapping a pad; you can load from a specified start point too—handy if you want to use this feature to drop in full tracks during a routine
Activate Combo Pad mode in Serato DJ Pro to use two different pad modes simultaneously, e.g. Hot Cue and Sampler; this reduces the need to change modes and gives you the option to combine more features to enhance your performance
The DJM-S7 automatically unlocks Serato DJ Pro and rekordbox Performance mode, including DVS control, when you connect it to a PC/Mac running the latest version of either application—no need to activate a license key
The Serato DJ Pro Expansion Pack voucher (Pitch 'n Time DJ) is included, which enables key shifting and key syncing with perfect audio quality
Accessories
Power cord
USB cable
Warranty (for some regions)
Quick Start Guide
Precautions For Use
Serato DJ Pro Expansion Pack voucher (Pitch 'n Time DJ)