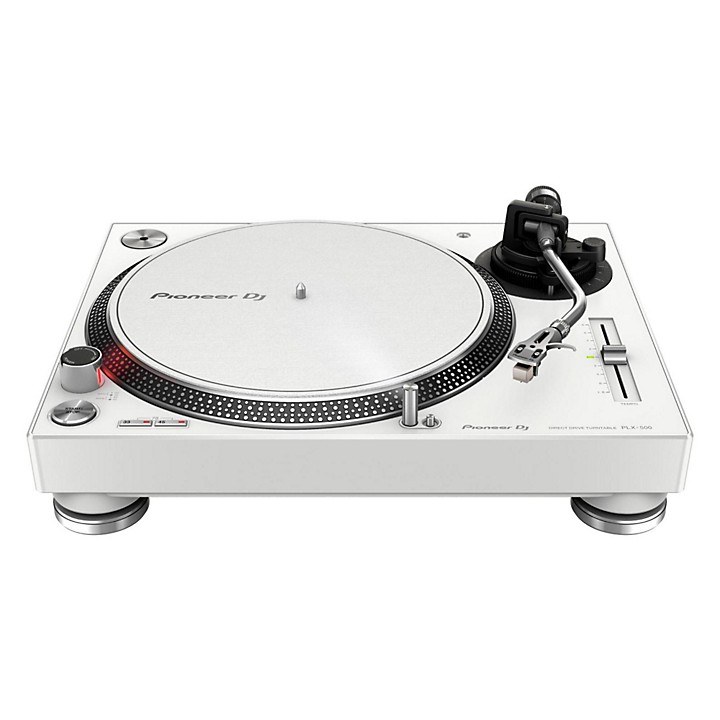 Direct drive turntable for DJs and vinyl lovers.
Drawing on Pioneer's heritage of making high-quality decks, the PLX-500 inherits the layout of the PLX-1000 professional turntable and produces warm, clear analog sound. The high-torque deck is ideal for scratching and comes with everything you need including a cartridge, stylus and slipmat, and its USB out means you can easily make high-quality digital recordings of your vinyl collection in Pioneer's free rekordbox software. You can use the PLX-500 and the rekordbox DVS Plus Pack to play and scratch digital files when you combine them with a compatible DJM mixer and the RB-VS1-K Control Vinyl. And you can choose between the black (PLX-500-K) and white (PLX-500-W) versions to match your set-up or the design of your home.

High-Quality Analog Vinyl Sound
The PLX-500 series inherits design features from the PLX-1000 professional turntable to produce the high-quality sound you expect from vinyl. The shortest possible audio routing from the stylus to the outputs reduces distortion, and the phono and line outputs mean you can connect directly to your sound system or powered speakers to enjoy warm sound.

Easy Digital Recording
A built-in USB output means you can record your vinyl collection to high-quality digital WAV files by simply connecting the PLX-500 to your PC or Mac. Digitizing your tracks is easy using the free rekordbox application and, once they're in your rekordbox collection, you can play them using the PLX-500 and a rekordbox DVS set-up, or on a DDJ controller, or on CDJs via USB. You can also enjoy them on your mobile devices whenever you want.

Using its audio analysis technology, rekordbox detects the silence between tracks and creates a separate file in your collection for each one, so you can just press play and record a whole album from an analogue source to individual tracks without resetting the recording in between songs. After you've finished recording you can name and tag all your new tracks.

Dust Cover with Record Sleeve Stand
You can enjoy the vinyl sound of your records and their artwork at the same time thanks to the dust cover that incorporates a stand for displaying record sleeves when open.
Features
High-quality analog vinyl sound
Easily transfer records to digital
Built-in USB connectivity
High-torque ideal for mixing and scratching
Sleek design inherited from the PLX-1000
Dust cover with record sleeve stand