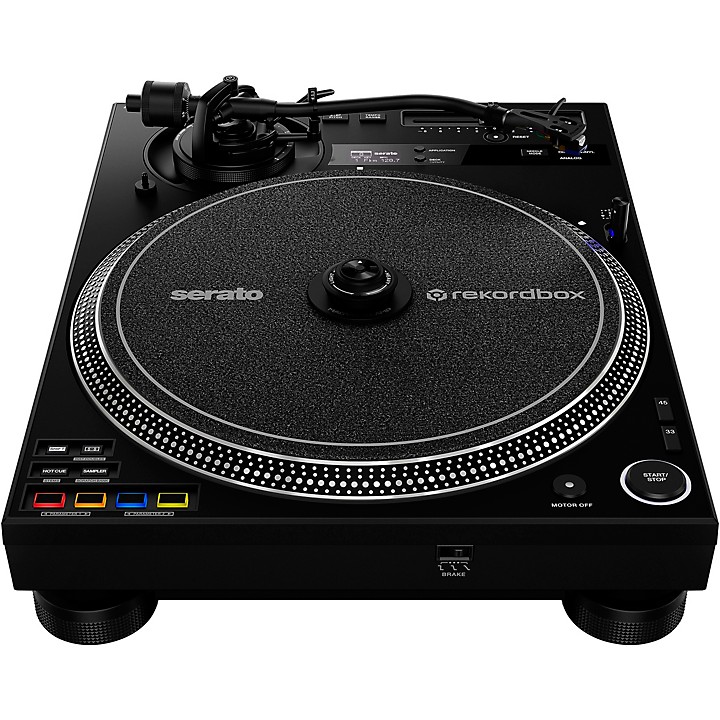 Revolutionary analog and digital turntable for modern DJs.
The Pioneer DJ PLX-CRSS12 professional digital-analog hybrid turntable is a game-changing deck and the world's first to offer DVS control of digital music via DJ software as well as analog playback of vinyl records. Never worry about needle skipping again when you use the PLX-CRSS12 in DVS mode with Serato DJ Pro or rekordbox. The tone-arm-free playback means artists can scratch a real analog record as vigorously as they like without fear of missing a beat. And when they want to play a record the traditional way, they can simply switch the deck to Analog mode and use the tone arm as normal.

The PLX-CRSS12 can adapt to suit the artist style. By adjusting the rotation dial on the included Magvel clamp, artists can change how "heavy" or "light" the record feels. Artists can also adjust the turntable's torque level in the utility settings, and there are three stopping speeds to choose from. At first glance, artists will see how the PLX-CRSS12 has been designed for fluid scratching and intuitive performances. And when they look closer, they'll notice new features that enable a greater level of control and creativity. The battle-style layout leaves plenty of room for scratching and there are four MIDI-mappable performance pads too. Artists can also keep an eye on crucial information via the OLED display. As well as the exciting features artists can see, the PLX-CRSS12 includes a host of new additions which are hidden. Various components have been upgraded from the highly respected PLX-1000 professional turntable to create the best-ever analog sound from a Pioneer DJ deck.
Specifications
General
Power requirements: AC 110V—240V, 50Hz/60Hz
Power consumption: 8W
Power consumption (standby): 0.5W
Weight: 26.9 lb.
Dimensions (WxDxH): 17.8" x 13.9" x 6.3"
Turntable Part
Drive method: Servo type direct drive
Motor: 3-phase brushless DC motor
Braking system: Electronic brake
Rotation speed: 33-1/3 RPM, 45 RPM
S/N ratio: 65dB
Platter: Aluminum die-casting
Tone Arm Part
Arm type: Universal type S-shape tone arm, gimbal-supported type bearing structure, static balance type
Effective length: 230 mm
Overhang: 15 mm
Arm height adjustment range: 6 mm
Proper cartridge weight: 2.5 g–12 g
Input/Output Terminals
PHONO output terminal: RCA pin jacks
USB terminal: Type-C
Included:
Platter
Screws for platter
Screwdriver
MAGVEL CLAMP
Slip mat
Slip sheet
Dust cover
Balance weight
Sub weight
Headshell
Shell weight
Power cord
Audio cable (with ground wire)
USB cable
Quick Start Guide
Features
Eliminate skipping on digital playback
Magvel clamp dial allows users to find the perfect "weight" setting
Three deck-stopping speeds
Serato DJ and reckorbox compatible