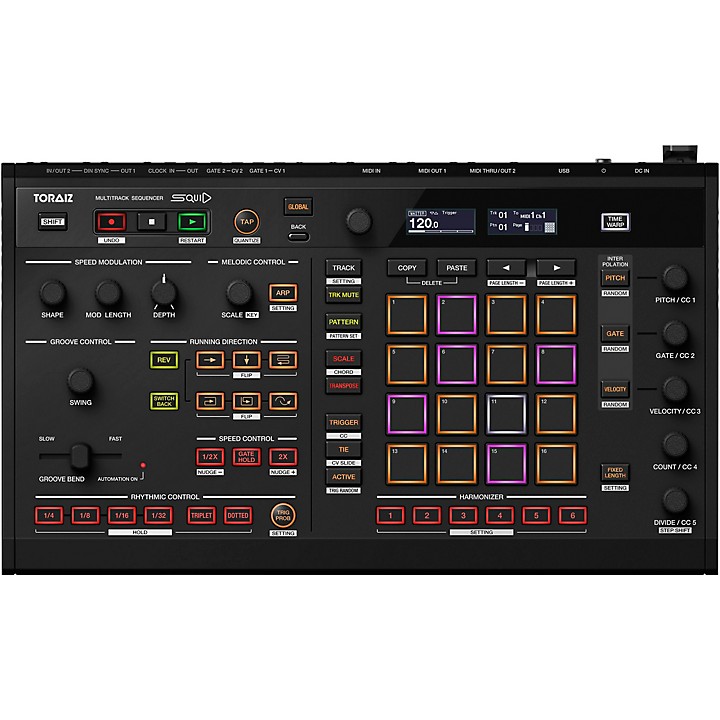 Connect instruments and make unique phrases at the touch of a button.
Introducing features never seen before on production gear, a new multitrack sequencer is joining the Pioneer TORAIZ series of musical instruments and production equipment. With a name that embodies the blend of functionality and creative stimulation it offers, the SQUID (SeQUencer Inspirational Device) works as the heartbeat of your studio and live set-up, enabling you to quickly and easily create unique sequence patterns and phrases. The user interface of the SQUID is optimized so you can effortlessly use each feature and try out your ideas when they strike. Drawing from Pioneer's extensive experience in developing DJ gear, the workflow is perfect for on-the-fly music production, which means you'll spend less time looking at the unit's display and more time jamming.

It's easy to draw inspiration from the SQUID's performance features. With the first Groove Bend feature ever seen on a production tool1, you can easily create original grooves by moving the slider to change the trigger timing in real-time. Use Running Direction to create new phrases by changing the playback direction of sequence patterns you've played on the 16 pads and fluctuate the playback speed of sequences whenever you want using Speed Modulation. The heartbeat of your studio and live set-up, the SQUID offers multiple inputs and outputs and it can simultaneously control up to 16 instruments. It keeps everything in sync, from your DAW to hardware instruments such as the TORAIZ AS-1 monophonic analog synthesizer and the TORAIZ SP-16 professional sampler. You can even run modular synths and vintage drum machines/synths seamlessly alongside your other kit thanks to the CV/GATE output terminals or DIN SYNC input/output terminals.


16 multi-colored LED pads for enabling various features

Instantly switch between features using the SQUID's 16 multicolored LED rubber pads, which are linked to independent mode buttons. Use Trigger mode to step record sequence patterns and transpose your patterns on the fly with Transpose mode. Scale mode enables you to play scales with the 16 pads as if you were playing a keyboard and you can add nuanced expression to your performances by varying the strength your keystrokes, thanks to the high-precision velocity detection. Using Scale mode, you can record dynamic performances in real time.


Interpolation: instantly make a phrase

Use Interpolation to arrange phrases. Set each parameter (Pitch value, Gate value and Velocity value) for the beginning, middle, and the end of the steps, and the SQUID automatically interpolates (supplements) parameters for the steps in between them. Without setting the parameters of each step individually, you can quickly set the pitch and dynamics of the sound and create a phrase while the idea is fresh in your mind.


Harmonizer: intuitively create evolving phases

If you want inspiration for chords, Harmonizer enables you to play them easily by hitting the Harmonizer buttons with the Pitch value set on each step parameter as the root note. Up to six chords can be assigned to the Harmonizer buttons. You can record chord compositions into steps and record real-time performances with the Harmonizer buttons, so you can intuitively create evolving phases.


Speed Modulation: create unique grooves by fluctuating playback speed of sequence patterns

Periodically increase and decrease the playback speed of a sequence to create unique grooves. You can switch between six waveform shapes, such as triangle and sawtooth, and adjust the fluctuation rate and amount.


Running Direction: easily create new phrases

You can easily create multiple new phrases from one sequence pattern by changing its playback direction on the 16 pads. Try the Zigzag or Clockwise directions, which take advantage of the SQUID's 4 x 4 pads and is a unique feature and have never been seen on a general sequencer before. By combining Reverse, SwitchBack and Flip with the six different Running Directions, you can try out 48 different playback directions and create a variety of different phrases.


Groove Bend: change trigger timing in real-time

In addition to Swing, which automatically delays trigger timing to create grooves, the SQUID features Groove Bend – the first-ever function on a sequencer to change trigger timing in real-time via a slider. This enables you to create grooves as if you're playing a musical instrument by simply moving the slider.


Time Warp: save your happy accidents

Never lose the phrases you make incidentally when you're trying things out. Use Time Warp to audition the previous phrase you created and save it as a new sequence pattern if you like it. There's no need to stress over the workflow of practicing and recording take after take. Instead, feel free to just play around until you hear something you love, then capture it for use in a track or performance.


Multiple inputs/outputs: sync with various instruments

In addition to a USB B terminal and MIDI terminals for your DAW and hardware synthesizers, you can sync and play with modular synthesizers using the two sets of CV/GATE outputs and CLOCK input/output terminals. DIN SYNC input/output terminals enable syncing with vintage synthesizers and drum machines. Various signals including notes and clocks are mutually converted inside the SQUID automatically, so you can easily expand your creative scope just by adding the SQUID to your current set-up.


Import/export sequence patterns via PC/Mac

Using the SQUID's dedicated SQUID Manager, you can quickly import and export sequence patterns between the SQUID and your PC/Mac. Easily import a sequence pattern created on your DAW to the SQUID, intuitively arrange it using the sequencer's features and return it to your DAW. Use SQUID Manager to back up the projects you create on the SQUID by saving them to your PC/Mac.
Specifications
Maximum number of tracks: 16
Maximum number of patterns per track: 64
Maximum number of steps per track: 64
Maximum number of notes per step (polyphony): 8
MIDI: In/Out/Thru
USB: USB Type B
CV OUT 1, CV OUT 2 (V/Oct, Hz/V)
GATE OUT 1, GATE OUT 2 (V-Trigger, S-Trigger)
CLOCK IN (Step, 1, 2, 4, 24, 48ppqn, Gate)
CLOCK OUT (Step, 1, 2, 4, 24, 48ppqn)
Width: 14.8"
Depth: 8.8"
Height: 2.8"
Weight: 4.2 lb.
Features
Simultaneous control of up to 16 instruments
16 multi-colored LED rubber pads
Groove Bend feature changes trigger timing in real-time
Audition and save previous phrase ideas with Time Warp
Multiple inputs and outputs including MIDI, CV, Clock and more