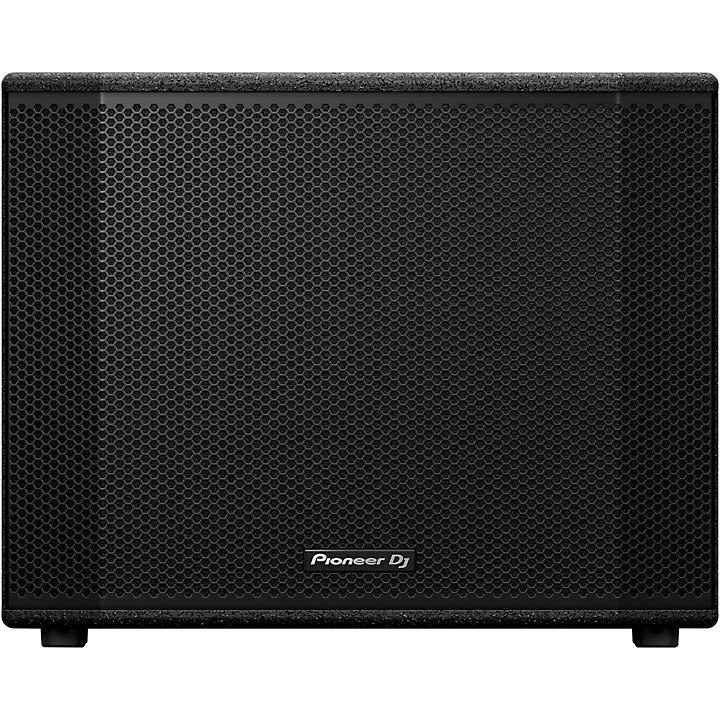 Active subwoofer with high-performance components and DSP.
The Pioneer DJ XPRS1152S subwoofer gives you all the rich bass and durable reliability that mobile DJs, other types of performers and fixed-installation venues alike demand out of their systems. The XPRS1152S employs a 15" ferrite woofer with a 3" voice coil with long excursion, to produce low frequencies with paramount accuracy. As with the XPRS2 full-range speakers, the XPRS1152S subwoofer's performance is apparent through both the frequency response and maximum SPL. With the XPRS1152S providing a frequency response of 45Hz–120Hz and a maximum SPL of 129dB, it packs in the performance of a permanent install subwoofer with compact mobility.

XPRS1152S contains three different DSP preset modes—Boost, Extended LF and Normal—to suit various listening environments.
Specifications
System type: 15" active vented subwoofer
Transducer, low: 15" ferrite woofer, 3" voice coil with long excursion
Frequency response (–6dB): 45Hz–120Hz
Max SPL: 129dB
Power rating: Class-D 4,000W (peak)
DSP modes: Boost, Extended LF, Normal
Crossover frequency: 80Hz, 100Hz, 120Hz low-pass filter
Electronic protections: Overheat, short circuit, digital compressor
Cooling: Temperature-controlled fan
Inputs, combo: Left (mono), right
Outputs, XLR: Left (mono), right
Power supply: 100V–240V (50Hz/60Hz)
Power consumption: 800W
Enclosure construction: Plywood cabinet, black paint, metal grille with foam, rubber feet, double handles
Mounting: One standard metal pole mount
Dimensions (WxHxD): 22.83" x 17.72" x 19.80" (580 mm x 450 mm x 503 mm)
Net weight: 57.9 lb. (26.3 kg)
Features
Powered subwoofer with 15" ferrite woofer with a 3" voice coil with long excursion
Three DSP modes to suit different listening environments—Boost, Extended LF and Normal
Powerful Class-D 4,000W peak amplification
High-quality, robust build—protective plywood cabinet designed for indoor and outdoor settings