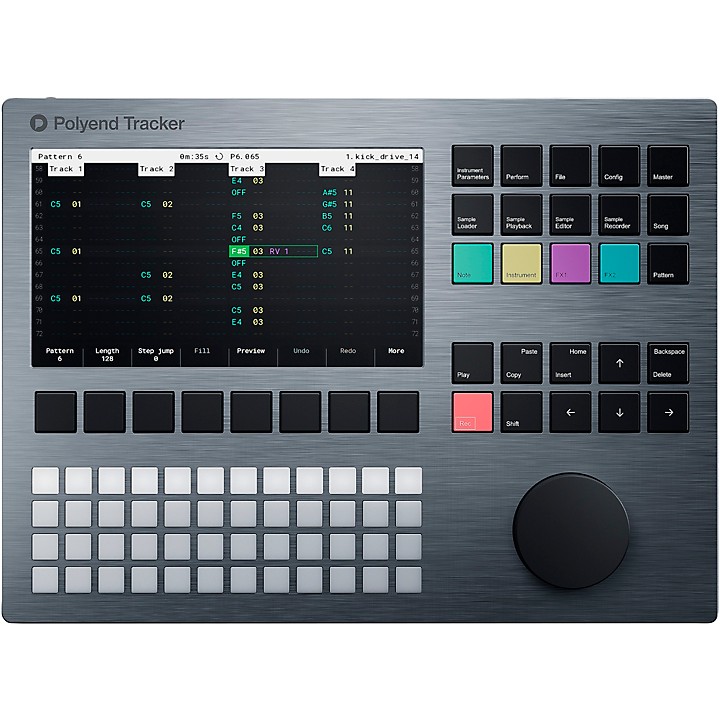 Slice samples quickly and easily with intuitive controls.
Tracker Standalone Audio Workstation from Polyend allows you to manually slice your samples or use the auto-slice feature to cut up your samples (up to 48 slices). Play individual slices with the grid controller. You can also choose to automate precisely (or randomly) which slices play on a per-step basis. "Fill" automatically fills Steps, Notes, Instruments and FX data, based on the conditions you set. Be as random or precise as you want with the Fill Function by choosing which Steps to fill and even choose a range of Musical Scales and Values to populate your tracks quickly.
Specifications
5V 1A USB powered over USB C
Easily powered by a portable power bank, computer or the included wall adapter
MIDI In and Out (MIDI DIN to MIDI Mini Adapter included)
1/8" Mono Line and Mic Input
1/8" Stereo Output (1/8" to 1/4" stereo splitter cable included)
Includes Micro SD Card with Micro SD to USB adapter
Onboard Digital Manual included on each unit for reference
Crafted from sturdy anodized aluminum
High-quality mechanical keyboard
48 Custom designed Polyend silicone grid pads
High-quality rotary encoder
Dimensions: 11" x 8.5" x 1.5"
Weight: 4 lb.
Features
Vertical scrolling timeline allows for streamlined access to your tracks
Each project holds 255 Patterns with up to 128 steps each
8 Tracks per pattern
Each track has Note, Instrument and two FX parameter locks per-step
Over 20 FX types to choose from, including MIDI CC and Program Change Values
Invert function allows you to flip whole tracks or selected steps
Step Function allows you to add Notes, Instruments and Effects in increments of 1–32 steps
Use the 48 pads to play your samples, slices and the synthesizer engines
Customize the pad layout to play scales
Use the grid to choose Notes, FX or Patterns
Record your patterns live with the grid
Use the Grid to trigger Performance FX like Step Repeater, Pattern Play Modes, Reverse Playback, Panning, Cuttoff, etc.