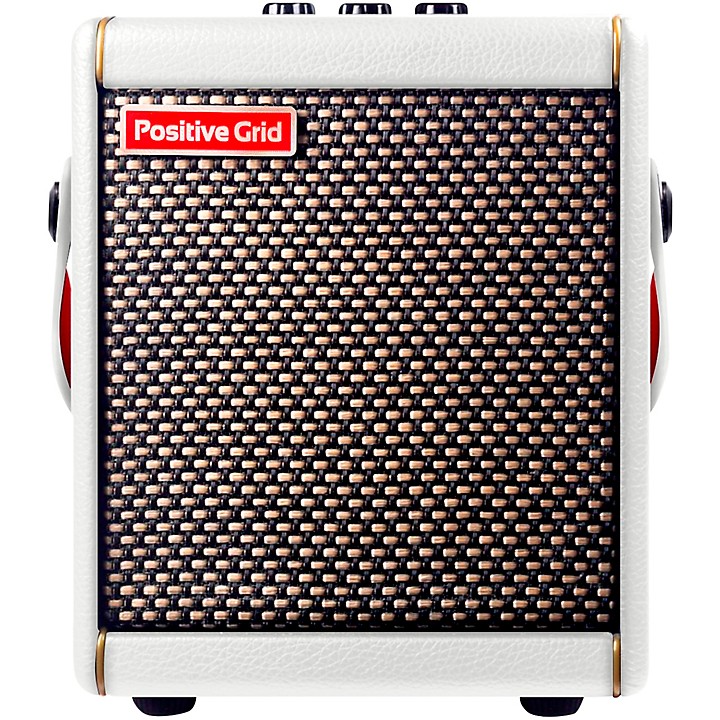 Battery-powered practice amp and Bluetooth speaker with smart app integration.
A mind-blowing portable powerhouse, the Spark MINI combo amp from Positive Grid delivers multi-dimensional high-quality sound, full integration with the Spark app and Smart Jam, video creation and Bluetooth audio streaming. With all these features packed into a compact amp, the Spark MINI is the biggest smallest rig ever.
Learn, Practice and Jam

Spark MINI learns your style as soon as you start playing. It then builds an authentic, hyper-realistic bass and drum backing track around you, so you can keep the jam going with real-time, intuitive and advanced AI technology. If you're looking to master a specific song, Spark MINI's smart app helps by displaying real-time guitar chords as you play. Loop a section or slow down the tempo to make learning each section even easier.
Seamless Bluetooth Connection

Stream your favorite music from your computer or mobile device while you sit and relax, or pick up your guitar and play along. It's an unmatched, full-spectrum audio sweet spot you can take anywhere.
10,000+ Tones

The Spark MINI combo amp contains hyper-realistic guitar amps and effects, powered by the award-winning BIAS tone engine. Access to ToneCloud, an ever-growing library of presets created by guitarists from around the world, is also included.
All-Day Battery Power

Turn any room into your own personal gig space. A full-on guitar amp in a weight class of its own, Spark MINI fits anywhere. Plus, with rechargeable battery power, you can listen or play all day long without missing a beat. The amp is USB rechargeable with up to 8 hours of play per charge.
Specifications
Amplifier: 10W Class-D
Speakers: Two 2" custom-designed stereo speakers, passive radiator
Frequency range: 20–20,000Hz
Input power: DC 5V, 2A (compatible with most mobile USB-C chargers)
Battery: Built-in lithium rechargeable
Top Panel Controls
Four programmable preset selectors
Guitar channel volume
Music channel volume
Rear Panel Controls
Power button
Pair/Tuner button
Onboard Effects
33 amp models
43 effects
(Noise Gate, Compressor, Distortion, Modulation/EQ, Delay, Reverb)
Wired Connections
1/4" guitar input
1/8" AUX input
1/8" headphone/line output
Wireless ConnectionsUSB Audio
USB interface for recording
1 in x 2 out
Software Included
Includes a free download of PreSonus Studio One Prime recording software

Features
Pristine Bluetooth audio streaming
Easy recording with included USB interface
Four onboard presets with thousands more
Full integration with the included Spark app
Built-in tuner