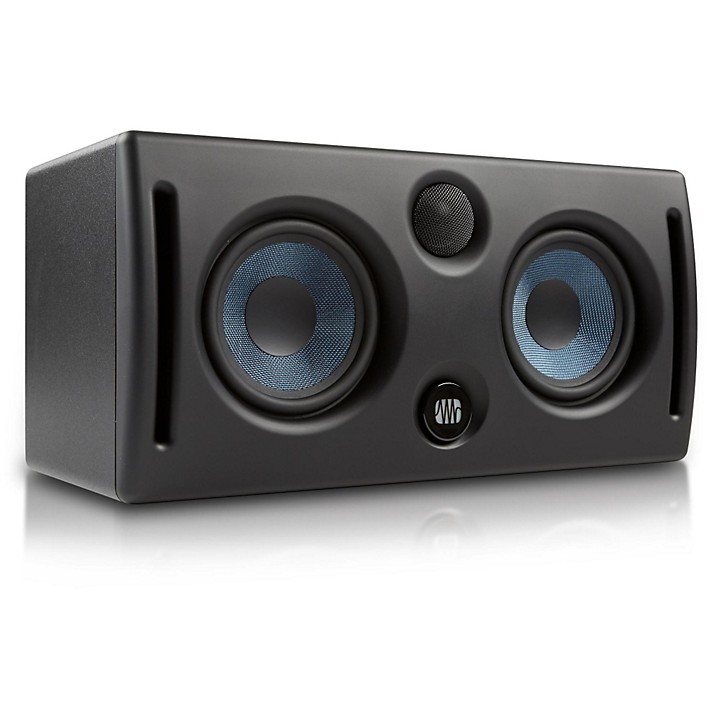 Exceptionally wide stereo field and supremely accurate frequency response.
The Eris E44 Dual 4.5" powered studio monitor delivers an expanded and highly accurate frequency response and the widest stereo field available in its class. Its nested Midwoofer-Tweeter-Midwoofer (MTM, also known as "D'Appolito") configuration offers improved off-axis response and spatial resolution. The result is a more consistent listening experience, smoother frequency response and an ultrawide, detailed stereo soundstage.

Consistent Listening
Sound waves radiating from the two components in a conventional speaker design can interfere with one another, creating peaks at some frequencies and dips at others, and these will vary depending on where the listener is relative to the speaker. In an MTM/D'Appolito configuration, component interference and the sonic inconsistencies that go with it are minimized. This affords listeners an ultrawide sweet spot and a more consistent listening experience on- and off-axis.

Transparent and cohesive sound
The E44 utilizes a pair of 4.5", custom-woven, Kevlar low-frequency drivers. This provides a more-constant dispersion pattern throughout the frequency range, resulting in less time-smeared audio and cleaner overall sound. The weave and nature of the dual Kevlar woofers also helps break up reflected energy, so fewer delayed reflections reach the listener's ear. In conjunction with the MTM/D'Appolito configuration, this helps create a transparent, cohesive sound.

Horizontal or vertical—it's up to you
Many MTM configurations must be arrayed vertically, rather than horizontally, because vertical placement provides a clear, interference-free midrange and treble reproduction to either side, expanding the sweet spot. By bringing the midrange drivers closer together and raising the high-frequency driver, the E44 and E66 are able to perform optimally in both orientations. So, like all Eris speakers, the E44 and E66 let you position your speaker the way that works best for you.

You're in control
Today's music producers deal with a wide variety of musical genres and often work in more than one location. That's why Eris-Series studio monitors, like the Eris E44 4.5", offer extensive acoustic tuning controls. The three-position Acoustic Space switch helps to compensate for the boundary bass boost that can occur when a monitor is placed in a corner or near a wall. High and Mid controls help to further mitigate room anomalies. A Low Cutoff filter makes it easy to integrate a Temblor subwoofer into your monitor setup.

Accuracy defined
Like all PreSonus studio monitors, the Eris E44 offers consistent, accurate listening and extensive user controls. The ultrawide stereo image afforded by its MTM/D'Appolito design makes it an ideal solution for anyone who requires best-in-class spatial resolution. Hear it at your favorite PreSonus dealer.
Specifications
Inputs
1 Balanced XLR
1 Balanced 1/4" TRS
1 Unbalanced RCA
Performance
Frequency Response: 55Hz–22kHz
Crossover Frequency: 2.9kHz
LF Amplifier Power: 50W
HF Amplifier Power: 35W
Peak SPL (@ 1 meter): 103dB
LF Driver: Dual 4.5" Kevlar
HF Driver: 1.25" silk dome
Input Impedance: 10 kOhm
User Controls
Volume Range: A-type taper
MF Control: Variable (-6 to +6dB)
HF Control: Variable (-6 to +6dB)
Low Cut: Flat, 80Hz, 100Hz
Acoustic Space: Flat, -2 dB, -4dB
Protection
RF interference
Output-current limiting
Over-temperature
Turn-on/off transient
Subsonic filter
External mains fuse
Power
100-120V ~50/60Hz
220-240V ~50/60Hz
Cabinet
Vinyl-laminated, medium-density fiberboard
Physical
Width: 14.3" (365 mm)
Depth: 7" (180 mm)
Height: 7" (180 mm)
Weight: 11.9 lb. (5.4kg)
Features
Dual 4.5" custom-woven Kevlar LF/midrange drivers produce dynamic, size-defying bass output
1.25" silk-dome HF driver ensures smooth high-frequency performance that is never fatiguing to the ears
Balanced XLR, balanced 1/4" TRS and unbalanced RCA inputs provide flexibility for seamless integration into any environment

Acoustic tuning controls help to compensate for room anomalies, providing a consistent frequency response customized for your mix environment

Continuously variable HF and MF controls (-6 to +6dB)
Low-cut filter (flat, 80Hz, 100Hz)
Acoustic Space settings (Flat, -2dB, -4dB) compensates for room placement

90W/140W Class A/B bi-amplification for an open, clear sound

RF interference, output-current limiting, over-temperature and subsonic filter protection
Amplifier "soft start" feature eliminates popping on power-up
Internal power supply with IEC connector
Includes Studio One Prime and Studio Magic, a suite of over $1,000 USD worth of music production software