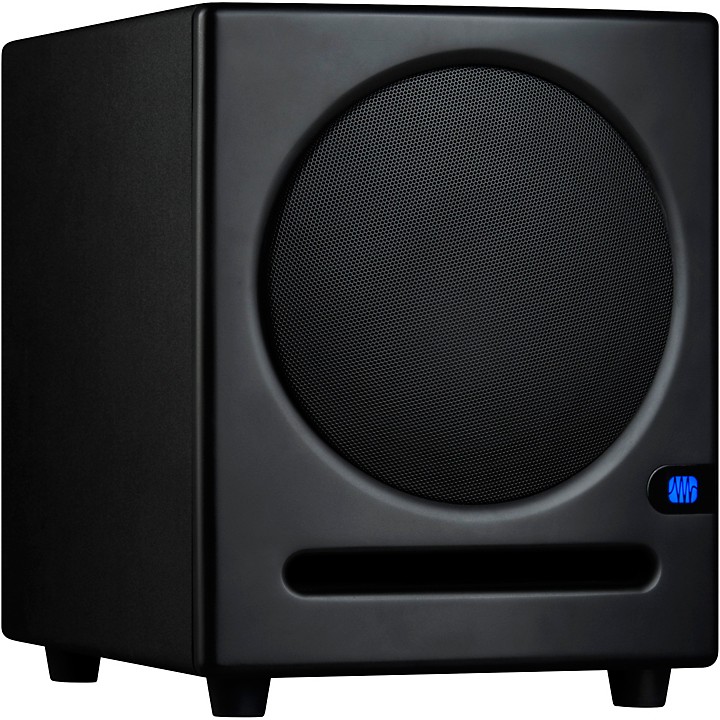 Smooth, low-frequency transients and robust tuning controls.
The PreSonus Eris Sub8 is the first subwoofer to join the lauded Eris studio monitor line. Designed from the ground up to be part of the family, it complements the voicing and frequency response of the modern Eris classics. Of course, they'll play nice with other monitors too, but if you've got a pair of Eris in your home or studio already, the Eris Sub8 is the single-best subwoofer you can get to put a little boom in your room. The surprisingly loud 100-watt Eris Sub8 drops down to 30Hz—a full 50Hz below the Eris E3.5s. This allows you to both rock harder and produce better mixes, as you'll be hearing an accurate representation of your work.

The Eris Sub8 lets you naturally extend the reach of your Eris E3.5 or E4.5 monitors in a manner appropriate to smaller rooms—exactly where these monitors excel. Thanks to robust configuration and I/O, you'll be able to tailor your Eris Sub8 configuration exactly to your mixing and listening needs. You can connect your existing monitors via 1/4" TRS or RCA connections, set the input level to your liking and even invert the polarity. Most importantly, you get a high-pass filter and a low-pass crossover control that ensure your Eris Sub8 starts working at the precise low-frequency point where your main monitors stop.

The Eris Sub8 also iincludes a special edition of Studio Magic, a suite of over $1,000 USD worth of music software including Studio One Prime and tons of plug-ins, loops, virtual instruments, effects and tutorials. The Magic edition of Studio One Prime is compatible with all of the included plug-ins and because, they're included in VST, AU, and AAX formats, you can also use them in any DAW you'd like. It doesn't matter if you're working on your first podcast episode or your tenth Grammy—you'll soon find yourself conjuring from the book of Studio Magic.

Specifications
Inputs
1 Balanced XLR
1 Balanced 1/4" TRS
1 Unbalanced RCA
Performance
Frequency Response: 35Hz–22kHz
Crossover Frequency: 2.2kHz
LF Amplifier Power: 75W
HF Amplifier Power: 65W
Peak SPL (@ 1 meter): 105dB
LF Driver: 8"
HF Driver: 1.25" silk dome
Input Impedance: 10kOhm
User Controls
Volume Range: A-type taper
MF Control: -6, 0, +6dB
HF Control: -6, 0, +6dB
Low Cut Flat: 80Hz, 100Hz
Acoustic Space Flat: -2dB, -4dB
Protection
RF interference
Output-current limiting
Over-temperature
Turn-on/off transient
Subsonic filter
External mains fuse
Power
100-120V ~50/60Hz or 220-240V ~50/60Hz
Cabinet
Vinyl-laminated, medium-density fiberboard
Physical
Width: 9.84" (250 mm)
Depth: 11.77" (299 mm)
Height: 15.12" (384 mm)
Weight: 22.2 lb. (10.07 kg)
Features
8" front-firing, paper-composite low-frequency transducer with high-elasticity rubber surround
Class-AB amplifier: 100W peak (50W RMS) power
Input gain control (-30dB to +6dB, continuously variable)
Continuously variable low-pass filter (50Hz to 130Hz)
Defeatable high-pass filter removes frequency content below 80Hz from the full-range signal sent from the Eris Sub8 outputs to the main speakers
Left and right, balanced 1/4" TRS and unbalanced RCA main inputs
Left and right balanced 1/4" TRS and unbalanced RCA pass-through outputs for connecting satellite speakers
Polarity invert switch
Protection: RF interference, output-current limiting, over-temperature, turn-on/off transient, subsonic filter, external mains fuse