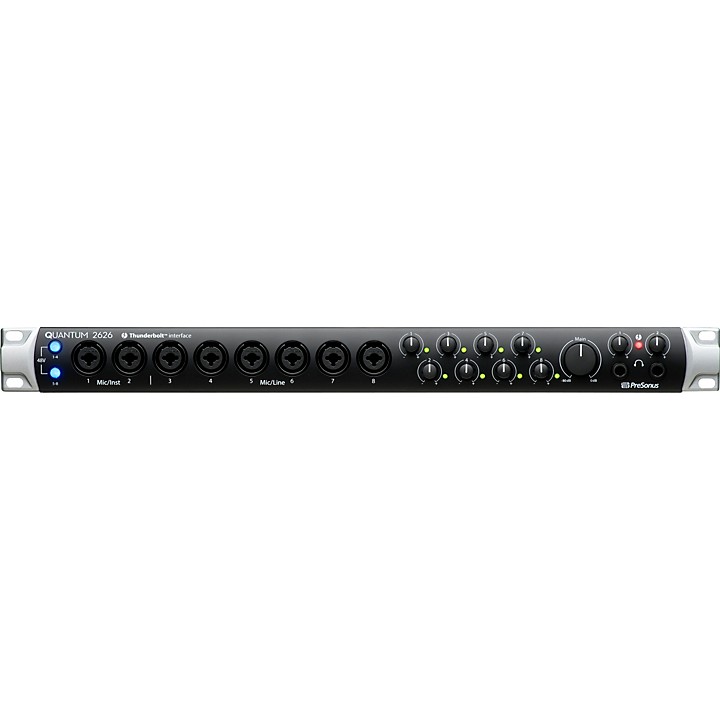 Ultrahigh definition 26x26 Thunderbolt 3 interface.
The PreSonus Quantum 2626 is a 26x26 Thunderbolt 3 audio interface. The Quantum 2626 takes advantage of the jaw-dropping speed of Thunderbolt 3 to achieve a barely measurable round-trip latency of less than 1 millisecond. Superb high-definition digital conversion and eight ultratransparent analog XMAX mic preamps ensure your audio always sounds its best. Streamline your recording process and make better music, faster with the Quantum 2626.
Timeless Audio
The Quantum 2626's completely redesigned Thunderbolt driver delivers ultralow-latency performance. It features cutting-edge 24-bit, 192kHz converters with 115dB of dynamic range and superior low-jitter clocking. Coupled with ultratransparent, pure analog PreSonus XMAX preamps, the 2626 serves up superb audio quality.
Superior Sound

The Quantum 2626 audio interface operates at up to 192kHz for ultrahigh-definition mixing and recording. High-quality converters provide 115dB of dynamic range. This helps capture complex harmonics naturally with no audible distortion. The Quantum 2626 also features acclaimed XMAX Class A analog microphone preamps. These deliver high headroom, deep lows, smooth highs and a rich, overall sound.
Expansive Audio

Impressive speed combined with stunning sound quality means that the Quantum Thunderbolt audio interface is an ideal solution for any size studio. Need more mic preamps? Connect the PreSonus DigiMax DP88 to your Quantum interface's ADAT/dual S/MUX ports. Once synced, the DigiMax DP88 preamps can be remotely controlled via Studio One or UC Surface. Want to insert your favorite gear? The Quantum 2626 features two direct preamp outputs with dedicated returns, so you can insert your favorite analog compressor and your favorite plug-ins with ease.
Included Studio One Software

Quantum 2626 ships with Studio One Artist music production software included. Studio One enables you to compose, record and produce without getting distracted by the tools. Need a new loop or sample for your latest production? PreSonus Studio One lets you audition and purchase new content right from your production environment.
Specifications
Audio Quality
Max bit depth: 24-bit
Max sampling rate: 192kHz
Frequency response: 20Hz–20kHz
Digital Audio
Connection Type: Thunderbolt 3 (Thunderbolt 1 and 2 compatible)
ADC Dynamic Range: 115dB (A-wtd)
DAC Dynamic Range: 115dB (A-wtd)
Bit Depth: 24 bits
Internally Supported Sample Rates: 44.1, 48, 88.2, 96, 176.4, 192kHz
Microphone Preamp
Type: XLR Female (via Combo), Balanced
Maximum Input Level: +10dBu (Balanced, min. gain)
Gain Control Range: 60dB
Dynamic Range: > 110dB (A-wtd, min. gain)
EIN: < -131 dBu (max gain, 40 ohm, 22kHz BW, A-wtd)
Input Impedance: 1.6 kohm
Phantom Power: +48V, > 8 mA per input
Instrument Inputs
Type: ¼" TS Female (via Combo), Unbalanced
Maximum Input Level: +15dBu (Unbalanced, min. gain)
Gain Control Range: 60dB
Dynamic Range: > 106dB (A-wtd, min. gain)
Total Harmonic Distortion: < 0.005% (1kHz, min. gain)
Input Impedance: > 1 mohm
Line Inputs
Type: 1/4" TRS Female (via Combo), Balanced
Maximum Input Level: + 18 dBu (Balanced, min. gain)
Dynamic Range: > 118dB (A-wtd, min. gain)
Input Impedance: 10 kohm
Main and Line Outputs
Type: 1/4" TRS Female, impedance balanced, DC Coupled (Line Outputs only)
Maximum Output Level: +18 dBu (Balanced)
Frequency Response: 20Hz to 20kHz (±0.05dB, unity gain, 48kHz)
Dynamic Range: > 118dB (A-wtd)
Output Impedance: 51 ohm
Headphone Outputs
Type: 1/4" TRS Female, Stereo, Unbalanced, x2
Maximum Output Level: 175 mW/channel (56Ω load)
Dynamic Range: > 110 dB (A-wtd)
Headphone Impedance (working range): 16 ohm to 300 ohm
Clock
Jitter: < 70 ps RMS (20Hz–20kHz)
Jitter Attenuation: > 60dB (1 ns in => 1 ps out)
Power
12 VDC, 5A, external power supply
Dimensions
Height: 1.75" (44.45 mm)
Depth: 7" (177.8 mm)
Width: 19" (482.6 mm)
Weight: 6 lb. (2.72 kg)
System RequirementsMac
Mac OS X 10.11.6 64-bit or later
Intel Core i5 or better
4GB RAM (8 GB or more recommended)
Windows
Windows 10 64-bit or later
Intel Core i5 or better
4GB RAM (8 GB or more recommended)
Mac and Windows Systems
Thunderbolt 1.0, 2.0, or 3.0 port (NOTE: Your computer's motherboard must support Thunderbolt. Thunderbolt 1 and 2 require an adapter, not included.)
Internet connection (required for Studio One Activation and Content download)
Internal or external 7200 RPM storage drive highly recommended
30GB hard disk space
Monitor with 1366x768 resolution
Features
26x26 Thunderbolt 3 ultra-low-latency audio interface
<1 ms round-trip latency, record direct to DAW with your favorite plug-ins engaged
24-Bit/192kHz Operation with high-quality 115dB A/D/A converters
Studio One Artist and Studio Magic plug-in bundle included
Flexible Connectivity
Simultaneous I/O up to 26 inputs / 26 outputs (at 44.1 or 48kHz)
8 pristine XMAX preamps
2 Instrument Inputs
8 balanced line inputs
Dual headphone outputs with independent level control
Balanced stereo main outputs with independent level control
8 DC Coupled balanced line outputs
2 preamp direct outputs with returns to insert outboard gear
Main Output Level Control
Balanced Stereo Main Output (TRS)
Eight Balanced Line Outputs (TRS (outs 1 & 2 share a DAC with the main output))
Two Preamp Outputs (channels 1 & 2)
Two Line Returns (channels 1 & 2)
ADAT Optical/Dual SMUX inputs/outputs: 16x16 channels at 44.1 or 48kHz; 8x8 channels at 88.2 or 96 kHz
Stereo S/PDIF coaxial input and output
Digital
Thunderbolt 3 high-speed bus
24-bit resolution and up to 192 kHz sampling rate
BNC word clock input and output with low-jitter clocking
MIDI I/O
Physical
Road-rugged construction with all-metal chassis and metal knobs
1U rackmountable
12 VDC external power supply (included)