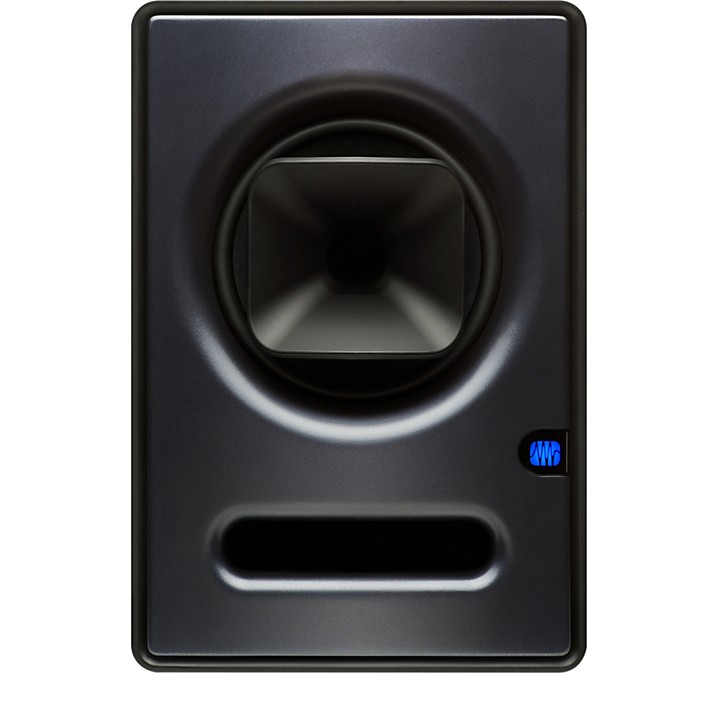 High-definition 6.25 coaxial active studio monitors.
The PreSonus Sceptre S6 6.5" CoActual high-definition studio monitor takes its name from an age-old symbol of royal authority. This 2-way studio monitor will help you to discover the fine nuances of your music that can not be reproduced by conventional desings. The Sceptre's panoramic soundstage, fine detail, and stunning dynamics will astonish you. This exceptional performance is the result of an advanced coaxial design that works integrally with a 32-bit processor running Fulcrum Acoustic's TQ Temporal Equalization Technology.

PreSonus CoActual technology—the core of every Sceptre series studio monitor—is the combination of custom transducers in a state-of-the-art coaxial design with heavy-duty DSP running TQ algorithms.

The Coaxial Conundrum
Speaker designers have long been aware that coaxial designs offer the advantages of a single point source for a consistent acoustic center and a symmetrical dispersion pattern. But until now, designing coaxial systems without a variety of acoustic anomalies has been extremely expensive. Solving the problems involved in coaxial designs requires massive amounts of DSP and subtle, sophisticated transducer design, which is why such systems have, in the past, been limited to very high-end systems with external processors.

However, Fulcrum Acoustic's amazing, cutting-edge technology has allowed PreSonus to overcome the usual design problems of coaxial systems while taking advantage of coaxial's unique properties. Thanks to custom transducers and TQ algorithms designed by Fulcrum's Dave Gunness, Sceptre CoActual monitors deliver clarity and coherence that has previously only been available in ultra-high-end systems.

The Royal Sceptre
The Sceptre series includes two models. The Sceptre S8 CoActual Studio Monitor combines an 8-inch low/mid-frequency driver and a 1" (25 mm), horn-loaded, high-frequency transducer into a single coaxial unit with aligned voice coils. This Sceptre S6 uses the same technology and design as the S8 but with a 6.5" low/mid-frequency driver. Both models have front-firing acoustic ports.

The systems are biamplified: Each transducer is powered by a 90W RMS, Class-D power amp with an internal heat sink. Each Sceptre has its own internal power supply with IEC connector and a power switch with on/off LED.

All Sceptre Series monitors have a balanced XLR and ¼-inch TRS line-level inputs with A-taper level control.

To this package of custom transducers, powerful DSP running custom software, and first-rate power amplification, add a rich set of acoustic adjustments and full speaker protection, and you have a new, affordable close-field monitoring standard for project studios and commercial facilities.

As you expect from PreSonus, Sceptre studio monitors use top-quality components and construction quality fit for royalty, and they look regal, too.

Coaxial Done Right with TQ
Each Sceptre monitor contains a DSP chip that enables the use of Fulcrum Acoustic's TQ algorithms. The processor is used to manage horn reflection, linear time and amplitude anomalies correction, performance contouring and dynamic and excursion limiting.

The result is coaxial speakers that perform far better than all but the most expensive studio monitors.

You Wield the Sceptre
In addition to making possible the Sceptre's coaxial design, the monitor's onboard DSP provides user-adjustable contour features for optimizing the monitors for your mixing space. This enables full integration into any studio environment.

A four-position Acoustic Space switch controls a second-order shelving filter centered at 100Hz, with four attenuation settings (no attenuation, -1.5dB, -3dB, and -6dB) so that you can account for the boundary bass boost that occurs when the monitor is placed near a wall or corner. If you don't want to roll off those lows, set it to 0dB. You also can adjust the Sceptre's overall sound and response using its performance controls.

Safety Matters
Any loudspeaker is subject to an assortment of environmental and performance problems, and Sceptre monitors offer protection from most common of these. RF shielding protects against radio frequencies that could be induced into the signal and become audible. (If you've ever heard a radio broadcast unexpectedly coming out of a guitar amp, that's the result of RF interference.)

Sceptre monitors also provide over-temperature protection to avoid heat-related issues and current-output limiting to prevent damage should there be a short circuit on the speaker terminals.

Finally, the power amplifiers have a "soft startup" so that you don't get damaging pops in the speakers when you power them up.

Specifications
Inputs
1 Balanced XLR
1 Balanced 1/4" TRS
Performance
Frequency Response (-3 dB): 52Hz–20kHz
Frequency Response (-10 dB): 42Hz–23kHz
Crossover Frequency: 2.2kHz
LF Amplifier Power (@ 4 ohm): 90W
HF Amplifier Power (@ 4 ohm): 90W
Peak SPL (@ 1 meter): 109dB
LF Driver: 6.25" glass-reinforced paper
HF Driver: 1" diaphragm compression driver
Input Impedance: 10 kOhm
User Controls
Volume Range: A-type taper
HF Control: Flat, +1, -1.5, -4dB
Low Cut: Flat, 60, 80Hz, 100Hz
Acoustic Space: Flat, -1.5, -3, -6dB
Protection
RF interference
Over-current
Over-voltage
Over-temperature
Turn-on/off transient
Subsonic filter
External mains fuse
Power
100-120V 50/60Hz or 220-240V 50/60Hz
Cabinet
Vinyl-laminated, medium-density fiberboard
Physical
Width: 9" (230 mm)
Depth: 10.24" (260 mm)
Height: 13.2" (335 mm)
Weight: 18.8 lb. (8.53 kg)
Features
CoActual technology combines DSP time-correction and point-source design for symmetrical soundstage and micro-definition imaging
Unique coaxial transducer integrates 6.5" midrange driver and 1" HF transducer with Coaxial Speaker Coherence Alignment
Powerl DSP provides critical Temporal Equalization with multiple FIR filters
180W RMS, Class-D biamplification with internal heat sink
RF shielding, current-output limiting, and over-temperature protection
Balanced XLR and 1/4" TRS line-level inputs with A-taper level control
Amplifier "soft start" feature eliminates popping on power-up
102dB maximum continuous SPL
Internal power supply with IEC connector
Power switch with on/off LED
Includes Studio One Prime and Studio Magic, a suite of over $1,000 USD worth of music production software.