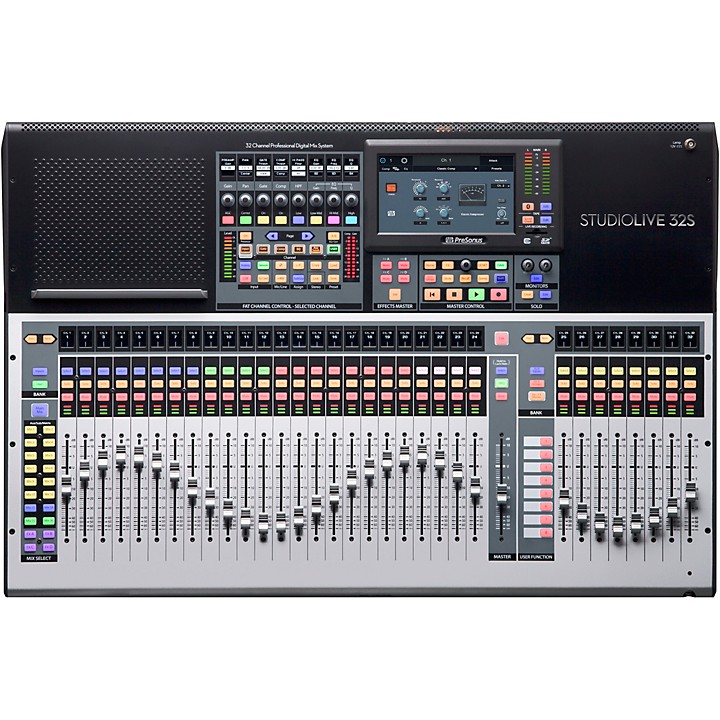 Portable, powerful and flexible digital console for installed sound, mobile applications and recording.
This is the PreSonus StudioLive 32S, a 32-channel powerhouse with one-to-one channel control. The StudioLive 32S is a small-format digital mixer with large-format mixing power. Thanks to AVB, it's easily expandable—readily networking with EarMix 16M personal monitor mixers for customized onstage mixes and PreSonus NSB-series stage boxes for remote inputs.

The 32S has 16 FlexMixes which can be individually configured to function as AUX buses, subgroups or matrix mixes allowing you to customize your mixer any way you wish. The Fat Channel processing section employs expandable plug-in options with vintage EQ and classic compression options on every input channel and output bus.

The 32S also ships with PreSonus Capture recording software, which can be run directly on your mixer or Windows or macOS computer. Record all 32 channels plus a stereo mix of your choosing via USB, to an SD Card or both for the ultimate redundant live recording rig.

Few designs in high-tech musical equipment manufacture have had as enduring a presence as PreSonus' StudioLive mixers. Since their introduction in 2009 with a FireWire interface built-in along with a rich bundled software suite, every new iteration of its design is anticipated and thus far, universally praised. This version got the industry's attention and it should have yours too.

The 32-channel StudioLive 32S delivers a complete hands-on mix experience for users who want one-to-one control for every input on the same bank. Powered by the dual-core PreSonus FLEX DSP Engine, the StudioLive 32S is loaded with 40 mixing channels, 26 buses and 286 individual processors. Unique features include: unmatched 128-channel (64x64) USB recording; onboard multitrack SD Card recording with true virtual soundcheck; expandable Fat Channel plug-ins with studio-quality, vintage-style EQ and compression options on every channel and mix; password-protected user profiles for restricting access; 16 FlexMixes individually configurable as AUX, Subgroup or Matrix mixes, along with 24 DCA groups; 33 touch-sensitive, motorized faders; and a comprehensive software package, including PreSonus' Studio One Artist DAW and Capture live-recording software.

Specifications
Format
Number of channels: 32
Busses/groups: 26
AUX sends: 16
Inputs
Total inputs: 40
Mic preamps: 32
XLR/TRS combo jacks: 16
XLR only jacks: 16
RCA in: 1 (pair)
USB: 2.0 Type B
Outputs
Total outputs: 15 (12 FLEX)
XLR out: 16 FLEX
1/4" out: 4 TRS
Sub Group Out: 4 TRS
ADAT/optical out: 0
RCA out: 1 (pair)
AES/EBU: XLR Male
Other Connectivity
Connections: USB, 2.0
Headphone output(s): 1
Bluetooth 4.1
AVB: Locking Ethernet
Onboard effects
Compression: Yes
Reverb: Yes
Delay: Yes
Chorus/flange: Yes
Equalization
Type: Many plugins
EQ bands: Various types
Other
Width: 32.37"
Height: 6.51"
Depth: 22.97"
Weight: 37.2 lb.
Automation: Through software
Fader type: 33 Touch-sensitive
Motorized faders: Yes
Bundled software: Yes
Features
Dual-core FLEX DSP Engine powers 286 simultaneous processors, 26 mix buses, and 40 mixing channels
Fully recallable, 40-input, 32-channel digital mixing console
Built-in AVB networking to create a complete ecosystem with PreSonus NSB stage boxes, EarMix 16M personal monitor mixers, and SW5E AVB switch
Built-in 128-channel (64x64) USB interface—the most of any digital mixer on the market
Onboard multitrack SD Card recorder with true Virtual Soundcheck
Expandable, plug-in processing with vintage EQ and classic compression options on every input and bus
16 FlexMixes (AUX mixes, subgroups, or matrix mixes)
32 mic/line inputs with recallable XMAX preamps
33 touch-sensitive, motorized faders
All new scene management, with scenes organized into projects with scene lock and channel safe
Password protected user profiles enable restricting access to specific features
FLEX FX multi-effects processor with 4 slots to load reverb emulations and delays with 4 dedicated effects buses
Channel scribble strips and input metering
DAW Control (Advanced Studio One control integrationMCU emulation mode for Logic/HUI emulation mode for Pro Tools)
Includes UC Surface mix control software for macOS, Windows, Android, and iPad; Capture live-recording software and Studio One Artist DAW for macOS and Windows; compatible with free QMix-UC personal monitoring control for iPhone and Android