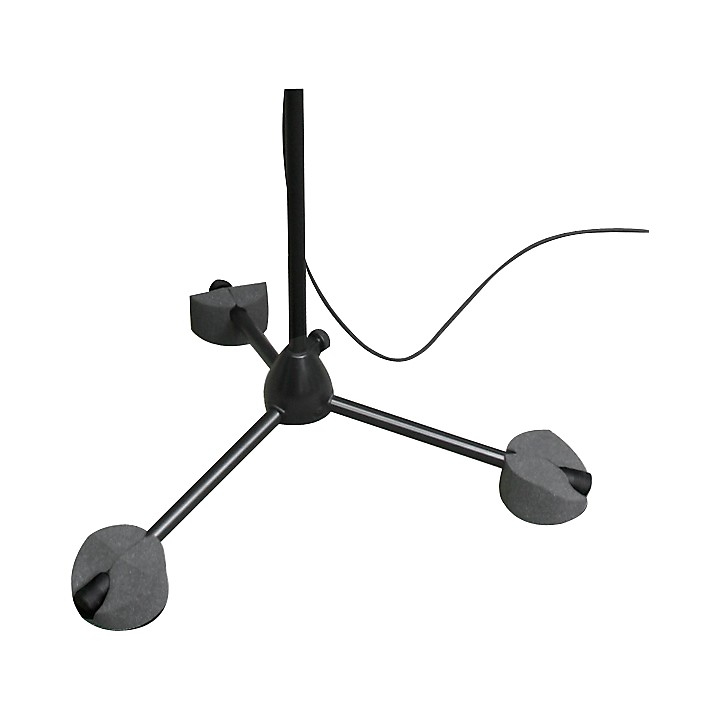 Reduces disruptive mic-stand resonance and noise from the studio floor, stage, or drum riser.
The Primacoustic TriPad isolates disruptive resonance and noise from the studio floor, stage, or drum riser and prevents it from entering your microphone to contaminate your recordings.

The TriPad tripod mic stand isolator is undeniably simple, yet incredibly effective. Its high density open-cell acoustic foam has been modified for greater firmness to better stabilize the microphone stand. It is then cut into a simple disc shape, drilled at a precise angle to match the industry standard K&M 201 tripod stand and then cut again to provide an access slot for quick mounting.

Once in place, the Primacoustic TriPad stays attached to the stand so it is easy to pick up and relocate. The benefits are immediately obvious: you get more instrument sound and less background noise. You'll achieve desirable audio results without the need to introduce radical equalization curves to correct embedded problems.

When recording, capturing the true essence of the instrument is achieved by placing the microphone far enough away so that the instrument as a whole along with the direct sound field will be take in. As you move the mic away from the source, the sensitivity of the microphone is increased and background noise invariably gains prominence.

Noise, like sound is a vibration. Common sources are street traffic, foot steps, heat and air conditioning systems, and other instruments. These are transmitted through the air and by vibrating through solids such as the floor and a microphone stand. The TriPad eliminates floor-borne vibrations by introducing a spring-like isolation pad that essentially floats the microphone stand and decouples it from the floor.

The Primacoustic TriPad is modestly priced, yet highly effective as a noise isolator that will quietly go about improving the sound of your recordings every day! Primacoustic ships the Tripad in a set of 3 units in a handy storage tube.

Specifications
Material: High density open cell acoustic foam
Dimensions: Width x Height 4" x 2.25" (102mm x 57mm)
Center Bore: 1" (24mm) - fits standard tripod mic stands legs
Color: Charcoal
Features
Isolates the microphone stand from studio floor
Eliminates disruptive resonance from entering the mic
Cleans up signal for less noise when recording
Improves clarity to deliver more natural sound