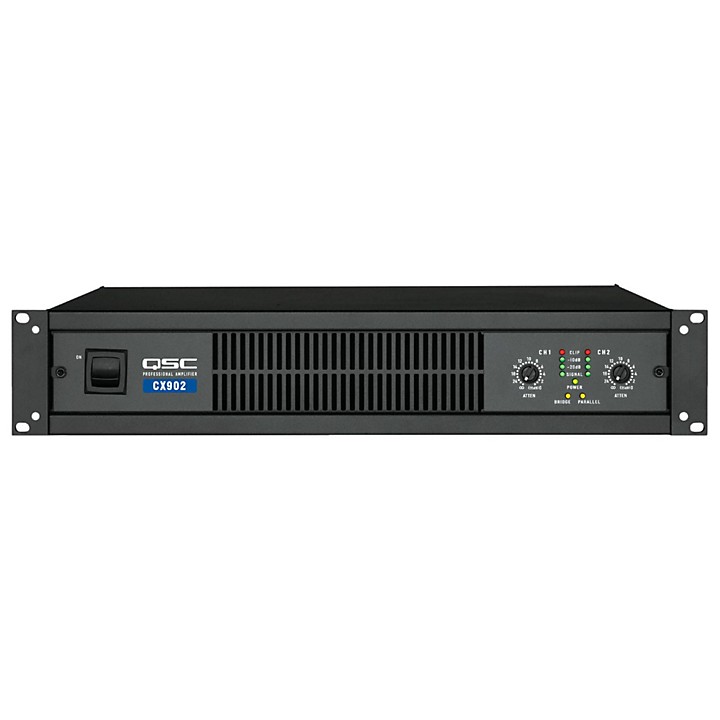 Powerful and compact.
The QSC CX902 is a two-space lightweight power amp equipped with exclusive PowerLight switch-mode power supply technology for high performance and compact size. It is a 21lb powerhouse that will easily run a pair of full range professional speaker cabinets and even a pair of high wattage subwoofers.

It additionally features custom integrated security cover for tamper proof installations, a variable speed fan for low noise, 1 dB detented gain controls for fast and accurate gain settings, and active inrush limiting, which eliminates AC inrush current thereby removing the need for expensive power sequencers. XLR and detachable Euro style input connectors populate the rear panel, and selectable high pass filters protect speakers and prevent speaker transformer saturation with minimal effect on program material.

Other attributes include dip switch control for clip limiters, high pass filters, bridge mono and parallel operation; comprehensive front panel indicators including signal, clip, protect and QSC's exclusive bridge mono and parallel input LEDs; barrier strip output connector; comprehensive protection circuitry including DC, infrasonic, thermal overload and short circuit protection.

Specifications
8 ohms, Stereo Mode, Both Channels Driven: 550W
4 ohms, Stereo Mode, Both Channels Driven: 900W
2 ohms, Stereo Mode, Both Channels Driven: 1500W
16 ohms, Bridged Mono Mode: 1100W
8 ohms, Bridged Mono Mode: 2000W
4 ohms, Bridged Mono Mode: 3000W
Input Impedance: 6k ohms unbalanced, 12k ohms balanced
Input Connectors, each channel: 3-pin XLR & 3-pin detachable terminal blocks
Output Connectors, each channel: Safety-shrouded barrier strip
Amplifier Protection: Full short circuit, open circuit, thermal, ultrasonic, and RF protection. Stable into reactive or mismatched loads
Load Protection: On/Off muting, DC-fault power supply shutdown
Dimensions (W x H x D): 19" x 3.5" x 14" (2 RU)
Weight: 21 lb
Features
Lightweight and powerful
Compact
Versatile input scheme
Selectable high pass, mono, clip and other settings
Comprehensive protection circuitry