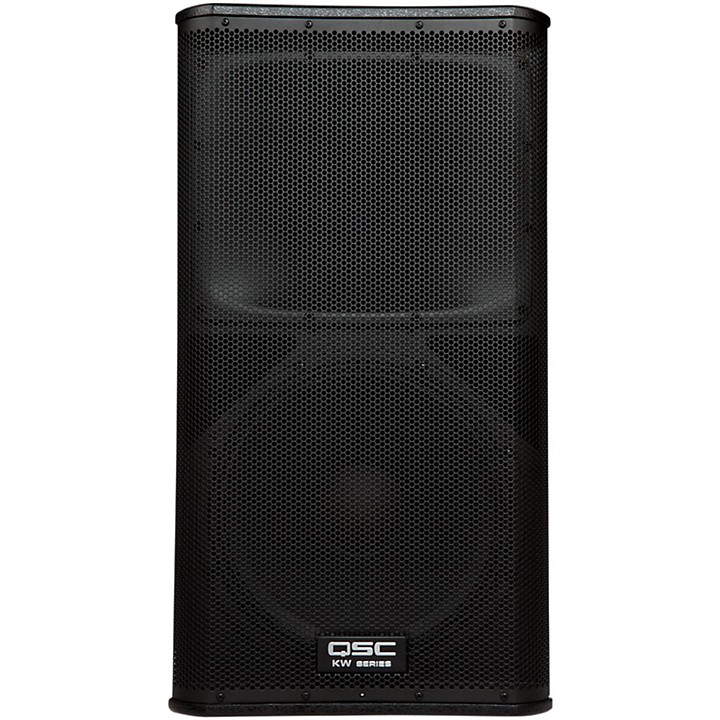 Uncompromising build quality and pro-grade sound.
With proven performance and solid workmanship, the KW152 takes the next evolutionary step in wood enclosure loudspeakers. QSC engineers combined all the technical advancements of the K Series with a custom-designed, tour-grade Baltic birch cabinet for unmatched sound quality and durability that's ready for the road.
Although smaller and lighter than previous wood enclosure models, the KW152 has power to spare and cranks out clean, tight sound at output levels that seem almost impossible for its size.
Under the hood you'll find an efficient Class-D power module that pumps out 1000 watts of clean, distortion-free sound with crisp highs and deep, punchy lows. With 60 degrees of coverage, the KW152's woofer drives low frequencies down to 43.7Hz making it ideal for a wide range of applications, particularly DJing and live reinforcement of instruments. Equally comfortable as a stage monitor, the KW152 enclosure has an angled side for use as a low-profile, horizontal wedge and a flat side for proper side-fill use.
Processing Technology
QSC incorporates several proprietary DSP technologies into the KW152, including Digital Extension and Excursion Processing (DEEP). DEEP allows the KW152 to deliver levels of low-frequency extension previously impossible in enclosures of this size. Another innovation is Intrinsic Correction, which uses dozens of spatially-averaged measurements mapped to the processor to deliver smooth and accurate reproduction across the entire sound field. Preventing amplifier clipping or overload is QSC's proprietary GuardRail technology, which monitors the input voltage and controls the amplifier output stage before the onset of clipping.
Connectivity & Monitoring
The back of the KW152 features two XLR-combi inputs, each with its own level control. Both accommodate line-level inputs and one may be switched to microphone level sensitivity. Phono (RCA) input jacks are also included for connection of consumer electronics sources. Dual XLR outputs are provided for dual "loop-thru" XLR/M connectors and a single XLR jack is available as a summed output. All three input sources may be used at once and mixed via the two gain control knobs. In addition, user EQ controls are provided to select between different subwoofer settings. For installed applications, connecting a commonly available potentiometer to the unit's Euroblock connector allows the operator to have gain control from a remote location. Multiple KW Series units can be daisy-chained together to one centralized control.
Suspension and Mounting
The KW152 may be pole-mounted, suspended, or yoke-mounted. The yoke accessory kit (not included) allows for either horizontal or vertical yoke mounting, providing a flexible means of attaching KW Series loudspeakers to a building structure or truss. When suspended deployment is required, M10 threaded inserts support vertical or horizontal suspension, while the integral pole-mount socket accommodates 35 mm speaker poles for use on a speaker stand or over a sub. The pole socket is designed so that the speaker may be angled down 7.5 degrees in order to cover the audience while keeping acoustic energy off reflective walls and ceilings.
Features
Speaker configuration
Active/passive: Active
Type: Two-way full range
LF driver: 15"
MF driver: N/A
HF driver: 1.75" compression driver
Power
Amplifier class: D
Wattage: 1000W continuous
Mixer/preamp: No
Audio
Frequency response: 44Hz - 20 kHz
Coverage pattern: 60° assymetrical
Max SPL: 133 dB
Inputs
XLR: 2 XLR/TRS
TRS:
TS:
RCA: Stereo pair
Output/thru
XLR: 3
TRS:
TS:
RCA:
SPEAKON:
Enclosure
Cabinet material: 15 mm painted birch ply
Width: 23.4"
Height: 20.1"
Depth: 29.9"
Weight: 88 lb.