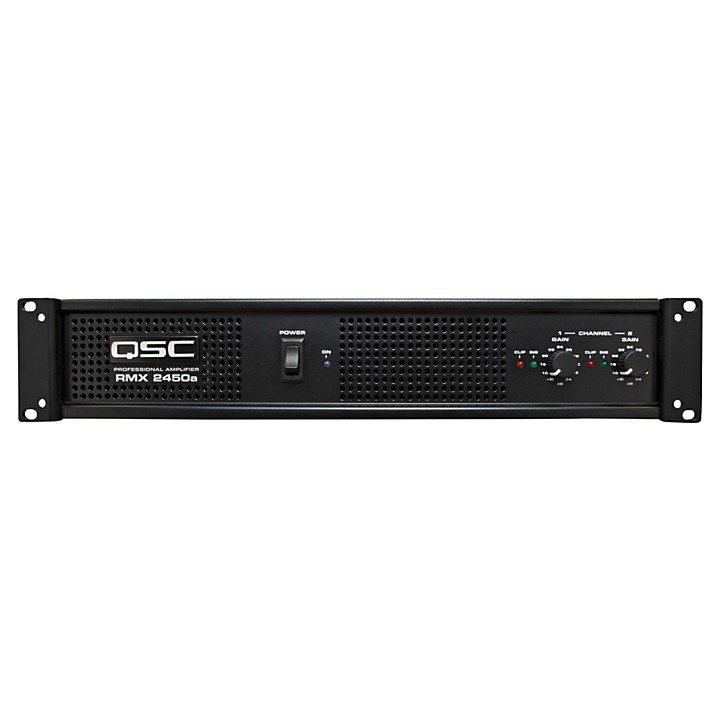 Power and punch in two rack spaces.
The RMXa Series amplifiers from QSC offer true professional-quality performance at an affordable price. The 2-rackspace model RMX2450a features output power of 450 watts per channel at 8 ohms. It has a compact chassis less than 16" deep. RMXa amplifiers include a comprehensive set of features including XLR and 1/4" balanced inputs, Speakon and binding post outposts for convenient connectivity. User-defeatable clip limiters and selectable low-frequency filters optimize sonic performance.

The RMX amplifiers are among the most reliable products in pro audio. It takes some real effort to blow these things up. The RMX design has had a long time to be tested in the marketplace and the results are in. This amp is a beast. Long hours, long roads, hot environments, indoors, outdoors, you name it. The RMX amps are among the best built, most reliable power sources you will find.
Specifications
Stereo Mode (both channels driven):
8Î/ FTC 20 Hz - 20 kHz / 0.1% THD: 450W
8Î/ EIA 1 kHz / 0.1% THD: 500W
4Î/ FTC 20 Hz - 20 kHz / 0.1% THD: 650W
4Î/ EIA 1 kHz / 0.1% THD: 750W
2Î/ FTC 20 Hz - 20 kHz / 1% THD: --
2Î/ EIA 1 kHz / 1% THD: 1200W
Bridge-Mono Mode
8Î/ FTC 20 Hz - 20 kHz / 0.1% THD: 1300W
8Î/ EIA 1 kHz / 0.1% THD: 1500W
4Î/ EIA 1 kHz / 1% THD: 2400
Signal to Noise (20 - 20 kHz) 8Î: > -100 dB
Distortion (SMPTE-IM): <0.02%
Input Sensitivity at 8Î: 1.23V (+4.0 dBu)
Voltage Gain: 50X (34dB)
Output Circuitry: 2-tier Class H
Power Requirements: 6.3A
Typical, 1/8 power pink noise at 4Î*: 15.6A
Supplied Plug Type, 100/120V: NEMA 5-15
Supplied Plug Type, 230V: CEE7/7
Weight: 44.5lb
Frequency Response : 20 Hz - 20 kHz: +0/-1 dB -3 dB points: 5 Hz and 50 kHz (LF filter bypassed / 8Î)Damping Factor (1 kHz and below)
Input Impedance: 10K ohms unbalanced, 20K ohms balanced
Input Clipping: 10 Vrms (+22 dBu)
Cooling: Continuously variable speed fan, back-to-front air flow
Connectors (each channel): Input: Active balanced / 3-pin Euro-style detachable terminal block and XLR (pin 2+)
Controls: Front: AC switch / Ch. 1 & 2 gain knobs
Rear: 10-position DIP switch
Indicators: Power-on: Green LED / Signal: Yellow LED (1 per channel) / Clip: Red LED (1 per channel) | Protect: Red LED
Amplifier Protection: Full short circuit, open circuit, thermal, ultrasonic, RF protection. Stable into reactive or mismatched loads
Load Protection: Turn-on/off muting / AC coupling (850, 1450) / Triac crowbar (1850HD, 2450, 4050HD, 5050) on each channel
Dimensions: 3.5" (8.9 cm) tall / 2 rack spaces
Power Requirements: 100, 120, 230 VAC, 50 - 60 Hz (factory configured)
Features
Compact size
High-current toroidal transformers
Independent user-defeatable clip limiters
Selectable low-frequency
Balanced 1/4" (6.3 mm) TRS, XLR, and barrier strip inputs
Touch-proof binding post and Neutrik Speakon outputs
Independent DC and thermal overload protection