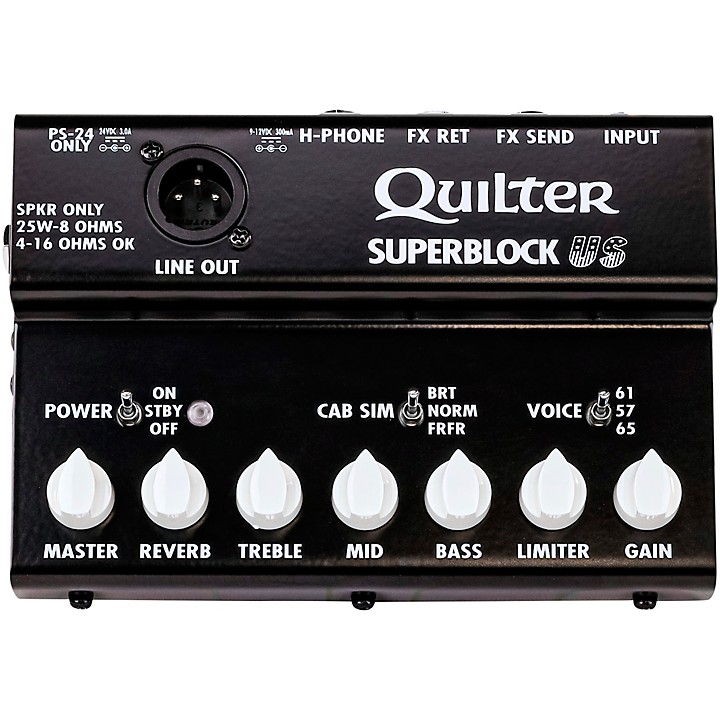 Multi-effects pedal of classic amps.
The SuperBlock US packs three vintage amplifiers into the most extensible system you can fit on your pedalboard. Featuring '57 Tweed, '61 Blonde, and '65 Blackface voicings, the SuperBlock US has all of your classic California amp needs covered. For the first time, you get all of these tonal secrets in a pedal format.

Fitting into a slot about the size of a double-width pedal, the SuperBlock fits the power of a 25-watt tube amp right on your pedalboard when powered by Quilter Labs' PS-24 (sold separately). For quieter applications, you can also power it with a conventional 9V power supply for 1 watt of power. Features include two Cab Sims and an FRFR mode on the XLR Out and headphone out, three classic voices, Limiter, Reverb and an effects loop.

Specifications
Power
25 watts 8 ohms (4-16 ohms)
Power Requirements for full power
24-volt power supply (included)
Power requirements for reduced powerWeightDimensions (HxWxD)
4.25" (10.8 cm) x 6.5" (16.5 cm) x 1.5" (2.5 cm)
Features
Two cab sims
FRFR mode on the XLR out and headphone out
Three classic voices
Limiter, reverb and an effects loop