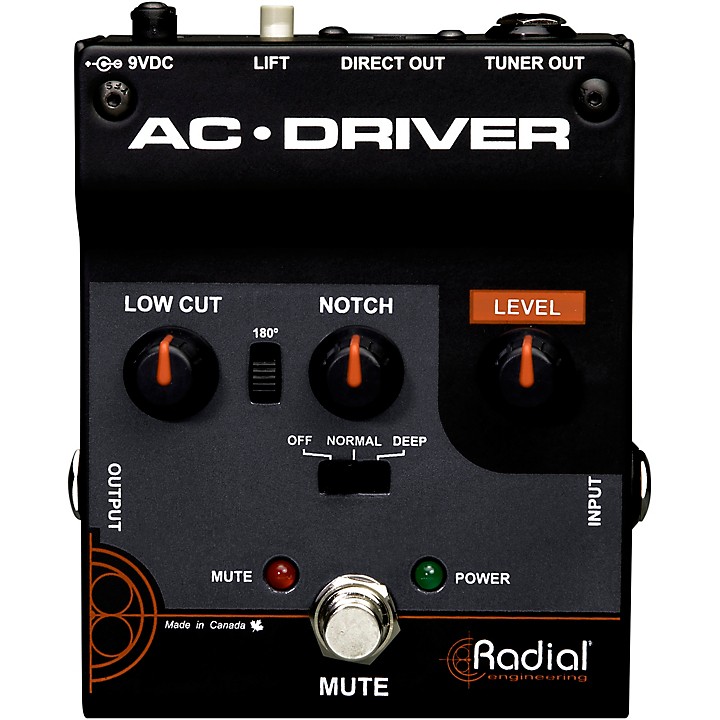 Get high-quality acoustic preamp tone in your live rig.
The Tonebone AC-Driver is a compact acoustic instrument preamp designed for use on stage, with helpful features to streamline your performance and ensure the best possible tone from your instrument.

Radial's Class-A buffer circuit ensures pristine audio quality, and allows you to connect to longer cables or pedal chains without signal loss or degradation. A 1/4" amp output provides you with a way to monitor yourself onstage, as well as a balanced line to feed the PA system or a powered speaker for the audience. When you need to tune silently or switch between instruments without causing clicking or popping, simply hit the mute footswitch to silence everything but the tuner output on the AC-Driver. This makes the AC-Driver perfect for live performances, especially if you don't have a dedicated sound engineer and need to switch instruments or tune silently on stage, or for shows where you want more control over your sound than a typical DI box might provide.

The AC-Driver also includes an adjustable low cut filer to remove excessive low frequency content, along with powerful feedback-reducing features. A 180° phase adjustment switch allows you to correct feedback build-up from hot spots on stage, while a notch filter helps target and remove specific frequencies that are causing problems. You can easily power the AC-Driver using typical 9V adapters or multi-pedal power bricks, and its 14-gauge steel chassis and military grade circuit board ensure that it will endure the most punishing touring environments.
Features
Studio-quality preamp and class A buffer circuit
Mute footswitch for silent tuning or instrument changeovers
Notch filter and 180-degree phase switch to reduce feedback onstage
Balanced output to feed a PA or powered speaker
WARNING: This product can expose you to chemicals including Carbon black (airborne, unbound particles of respirable size), which is known to the State of California to cause cancer, and Lead, which is known to cause birth defects or other reproductive harm. For more information go to www.P65Warnings.ca.gov.