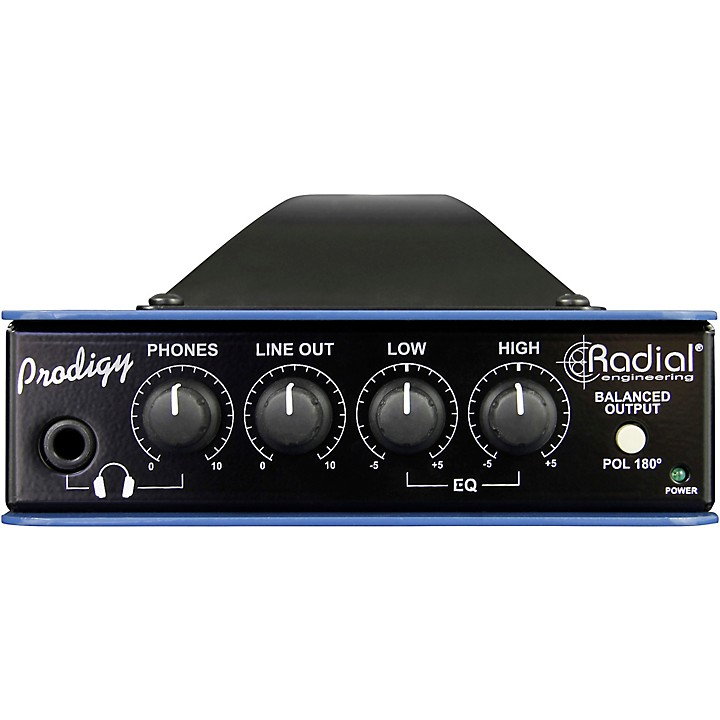 Load box and DI in one to simulate a guitar cab and maximize tone at a lower stage volume.
Like the larger Headload, the Prodigy employs custom-made, cement-encrusted, ceramic-coated resister coils to convert the excessive power from the amplifier to heat and is able to comfortably withstand up to 100-watts RMS.

The Prodigy may be used in three different ways, depending on the need: First, it may be used as a direct box via the built-in Radial JDX Reactor. The hugely popular JDX combines a reactive load with a proprietary filter bank to emulate the tone of a 4x12 half stack. This features 100% discrete class-A circuitry for optimal tone and transformer isolation to eliminate hum and buzz caused by ground loops. Designed to replace a microphone, the JDX delivers greater consistency while eliminating concerns such as stage resonance, bleed from other instruments and problematic room acoustics which can play havoc on the tone.

Second, the Prodigy may be used as a load box where you can attenuate the output from 100% down to 50% or to 25% to drive your amp harder while keeping the volume down to a comfortable level. Finally, the prodigy can be used without a speaker cabinet for completely silent recording. This is particularly useful in small venues where the speaker cabinet on stage may conflict with the sound in the room. It is also great for silent recording where you want to take advantage of "high power" amp distortion without upsetting the neighbors.

In order to optimize the playing experience for in-ear monitors, a dual-band EQ lets you optimize bass and treble settings. Two additional 1/4" outputs enhance connectivity: The first is direct from the amp while the second is post-EQ - post-JDX. These are used to feed additional amplifiers or effects and adjusted using the front panel-level control. A second-level control is used to adjust the built-in headphone amplifier for silent practicing.

Housed in 14-gauge steel to help keep magnetic radiation at bay, the Headload Prodigy features a handy carry handle plus Radial's unique book-end design that creates a protective zone around the switches and controls. The internal I-beam construction adds tremendous rigidity, protecting the sensitive PC board from being torqued which could lead to solder joints going cold prematurely. One or two Prodigies may be rack-mounted into a single 19" rack space using an optional rack kit and power is supplied by an external 15VDC supply with a cable clamp to prevent accidental disconnection. Available in the 8 ohm model.
Specifications
Audio Circuit Type: Passive attenuation circuit with active equalization
Frequency response: Shaped to emulate a classic guitar cabinet
Gain: -30dB/-42dB
Noise floor: -106dBu
Maximum input: 130 watts continuous
Total harmonic distortion: 0.05%
Intermodulation distortion: 0.05%
Input / output impedance: 4 ohm, 8 ohm, 16 ohm speaker load (model dependent)
Output level - max - 1KHz: +17dBu
Output level - max - 20Hz: +14dBu
Gain reduction: 100%, 50%, 25%, 0%
Equalization: Low EQ: +/- 9dB @ 80Hz
High EQ: +/- 9dB @ 6KHz
Headphone output: 400mW into 32 ohm
Unbalanced line out: Hi-Z 1/4", pre or post EQ
Balanced line out: 250 ohm post EQ
Ground lift: Disconnects pin-1 at the XLR input
Power: Radial +/-15V 400mA power supply
Construction: 14 gauge steel chassis & outer shell
Finish: Durable powder coat
Size: (L x W x H) 10.25" x 5,9" x 3.75" (260.3 x149.7 x 95.2mm)
Weight: 5.3lbs (2.4kg)
Shipping size: (L x W x H) 14.5" x 8.75" x 4.75" (368.3 x 222.2 x 120.7mm)
Shipping weight: 6.5lbs (2.9kg)
Conditions: For use in dry locations only between 5C and 40C
Warranty: Radial 3-year, transferable
Features
Load box with 100%, 50% and 25% silent attenuation
Lets you drive your amp hard for best tone
Custom-made, cement-encrusted ceramic-coated resisters
Headphone variable control
Line out variable control to adjust the level going to the unbalanced 1/4 in. JDX outputs
2-band EQ so you can fine tune the tone of the JDX output
Lo-Z balanced mic level output used to feed the PA system, microphone, or recorder
Ground Lift lifts pin-1 on the XLR output to eliminate hum and buzz caused by ground loops
Pre-JDX direct output sends unaffected direct signal from your amo to another stage am or effects pedal
1/4 in. output to go to your amp, 1/4 in. input for your amp speaker's output
Class-A audio signal path for natural tone and optimal signal transfer
Mil-SPEC-PCB for noise-free performance with double-sided durability
I-Beam reinforced steel case with book-end design to protect it during transport and on stage
Cable clamp secures the DC adapter cable and prevents accidental power disconnect
Durable powdercoat finish, rackmountable
WARNING: This product can expose you to chemicals including Titanium dioxide (airborne, unbound particles of respirable size), which is known to the State of California to cause cancer, and Lead, which is known to cause birth defects or other reproductive harm. For more information go to www.P65Warnings.ca.gov.