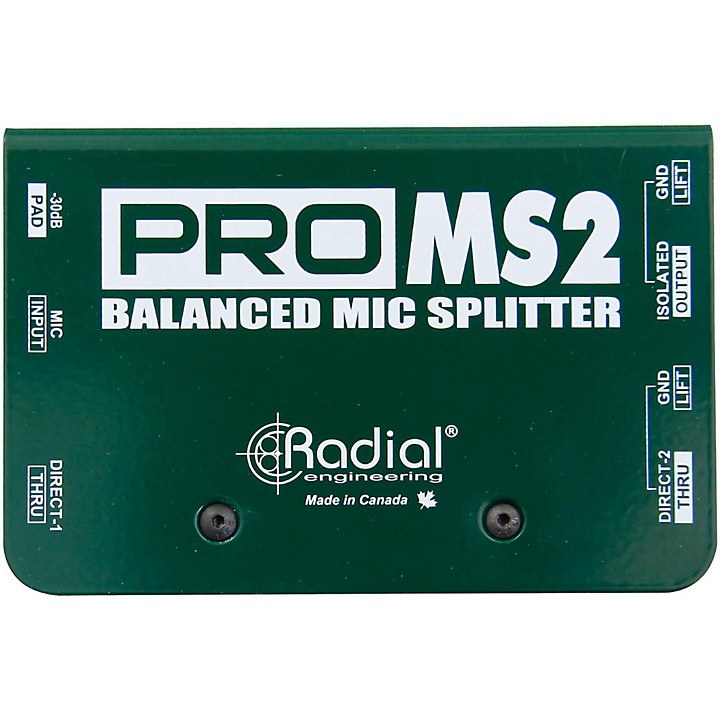 Balanced mic splitter, from one to three sources.
The Radial ProMS2 is a high performance mic splitter that accepts a balanced microphone signal and sends it to three outputs simultaneously. As a passive device, there is no need for power " you merely plug in and the ProMS2 automatically springs to life to deliver pristine audio without artefact or color.

The magic inside the ProMS2 is a premium Eclipse ET-MS10 transformer. This features a nickel laminated core that delivers a wide frequency response and exceptional signal handling with virtually zero distortion at all frequencies. And with better than 115dB of common mode noise rejection, you can rest assured that hum and buzz caused by ground loops and stray DC currents will be kept at a minimum. To shield against stray magnetic fields, the transformer is doubly protected with an integral MuMETAL® can plus a rugged external steel enclosure. This is augmented with RF filtering and a 100% discrete signal path to ensure optimal signal flow.

As with all Radial products, construction begins with a rugged 14-gauge steel for maximum durability. A unique book-end design creates a recessed zone around the switches and connectors to protect against the harsh environment of concert touring. An internal I-beam frame makes it virtually impossible to torque the PC board which could otherwise compromise the sensitive solder joints. The innovative design has the unique advantage of allowing up to 8 units to be rack-mounted using the Radial J-Rak. Typical applications include splitting a signal in the studio to feed more than one preamp, feeding a stage mic to more than one mixing console, or even splitting the signal from a live stage to supply a broadcast feed.

The Radial ProMS2 is a great sounding problem solver that lets you split microphone and DI signals with ease and confidence.
Features
High performance Eclipse transformer for optimal signal transfer
Equipped with direct, isolated and auxiliary outputs for 3-way split
May be rack-mounted in the J-Rak for multi-channel use
Rugged 14-gauge steel construction for added durability and shieldingf
WARNING: This product can expose you to chemicals including Titanium dioxide (airborne, unbound particles of respirable size), which is known to the State of California to cause cancer, and Lead, which is known to cause birth defects or other reproductive harm. For more information go to www.P65Warnings.ca.gov.