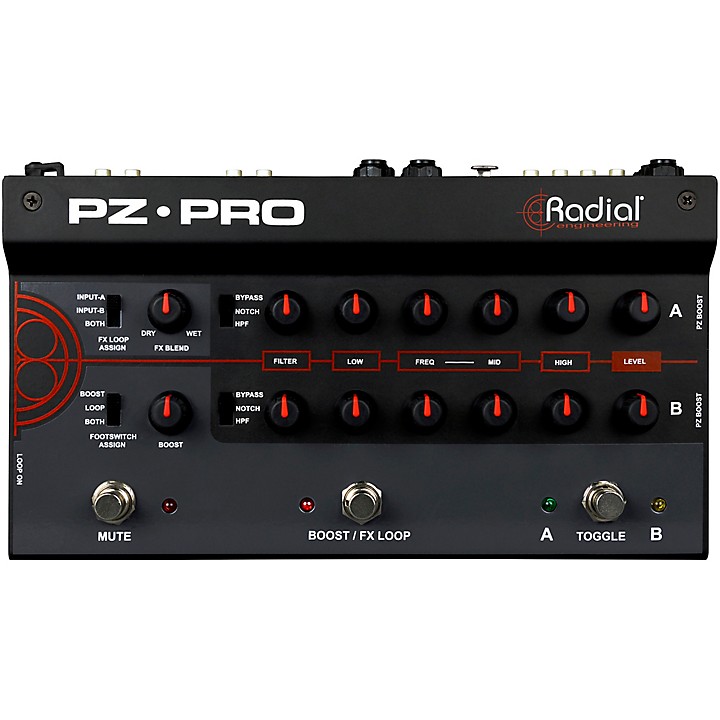 Dual input channels allow you to switch between two sources or blend them together.
The PZ-Pro is a two channel instrument preamp, switcher, and performance control station designed for stage musicians who are serious about their tone and like being in the driver's seat. Dual input channels allow you to switch between two sources or blend them together, with full control over the sound of each instrument, and the ability to bring effects pedals and a signal booster into the mix with a single footswitch.
Each channel on the PZ-Pro has its own semi-parametric equalizer section and input level, along with individual filter controls to reduce feedback on stage. Channel-B also features a microphone input to allow any dynamic or condenser microphone to be used,including clip-on instrument mics or even vocal microphones. An FX Loop with a wet/dryknob provides the ability to blend in as much or as little pedal effects as desired, with a footswitch to bring them in and out of the signal chain at a moment's notice.
Finally,once your tone is completely dialed-in, balanced XLR direct outs feed the PA system or
a recording interface, with both Pre-EQ and Post-EQ outputs available.
Technical Specifcations: *
Specifications
Audio Circuit Type:

Proprietary active circuit
Number of channels:

2x Inputs, Mono Pre and Post EQ XLR balanced Out
Frequency Response:

20Hz - 20kHz ±0.5dB
Input Gain:

+20dB (Instrument Input), +55dB (Mic Input)
Boost Gain:

+10dB (PZ Boost) +15dB (Variable Boost)
Maximum Input- Instrument:

+20dBu
Maximum Input - Microphone:

0dBu
Clip Level:

+10dBu @ XLR output
Total Harmonic Distortion:

<0.005% (+4dBu, 20Hz-20kHz, unity gain)
Input Impedance:

220k Ohms at input jack (10Meg Ohms when PZ Boost active)
Output Impedance - XLR:

150 Ohms
Output Impedance - 1/4" Amp Out:

1k Ohms
Output Impedance - Tuner Out:

2.6k
Ohms Noise:

-91dB
General Specifcations:
Construction:

14-gauge steel
Size:

9.10"L x 5.32"W x 1.82"H (231 x 135 x 46mm)
Weight:

5.0lbs (2.27kg)
Power:

15VDC, 400mA (center pin positive)
FCC Approval:

Complies with section 15 of the FCC rules
Conditions:

For indoor use at temperatures between +5°C and +40°C
Warranty:

Radial 3-year, transferable
Features
Two independent input channels with separate EQs
Microphone input on channel-B with 48V phantom power
EFX Loop and clean Boost with footswitch control
Balanced pre and post-EQ outputs to feed PA/Monitors
Switch/Combine instruments with a clip-on or vocal mic
PZ Boost circuit to optimize for use with piezo transducers
Selectable High-Pass/Notch filter to reduce on-stage feedback
Reconfigure the EFX/Boost footswitch to suit your setup

WARNING: This product can expose you to chemicals including Carbon black (airborne, unbound particles of respirable size), which is known to the State of California to cause cancer, and Lead, which is known to cause birth defects or other reproductive harm. For more information go to www.P65Warnings.ca.gov.