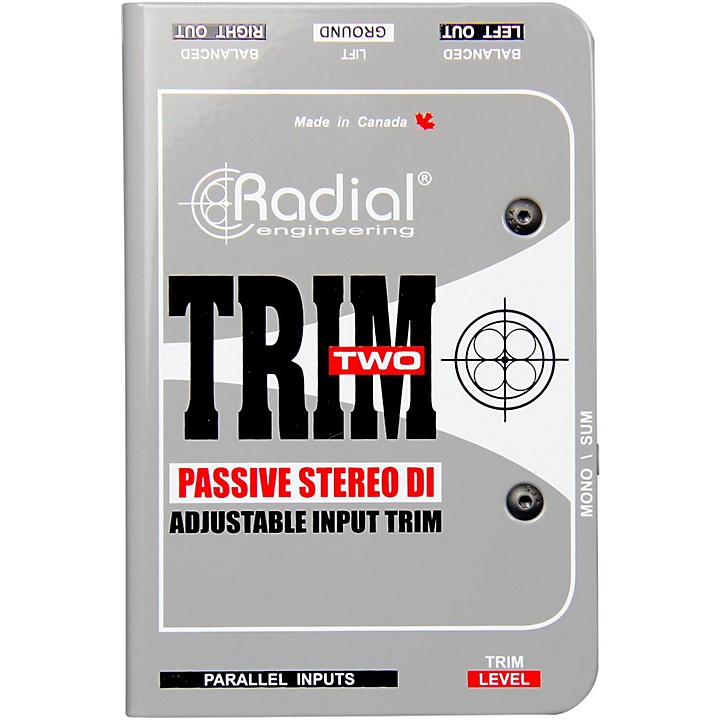 Passive DI built tough, quality features.
The Radial Trim-Two is a simple yet effective passive direct box that provides the user with the ability to quickly adjust the volume using a variable input trim control. The magic lies in the custom-made Eclipse transformer that produces less than 0.05% distortion with a +10dB source. This makes the Trim-Two a great choice for interfacing laptops and tablets with PA systems for AV presentations or live events.

The design begins with a choice of inputs including dual ¼" jacks, left and right RCAs and a stereo 3.5mm input. These are wired in parallel to allow the signal to be split off to feed an alternate signal path such as monitors. Inside, two great sounding Eclipse transformers do the work of isolating and balancing the signal. These 'passive engines' deliver a linear frequency response from 20Hz to 18kHz and are capable of handling up to +15dB signal levels thus providing typical -10dB consumer-level devices with plenty of headroom. An easy access front panel stereo level control makes adjusting the volume a snap. A handy stereo-to-mono switch makes it easy to reduce the output channel count or send the same balanced signal to two destinations at once. Transformers provide galvanic isolation between the source and the destination and are extremely effective at eliminating hum and buzz caused by ground loops. This is augmented with a ground lift switch at the XLR outputs. One merely connects the source to the Trim-Two and then the male XLR outputs to the PA system. As the Trim-Two is completely passive, no power is required.

Made in Canada from heavy duty 14 gauge steel, the Trim-Two features Radial's unique book-end design that creates protective zones around the connectors and controls. Inside, the unique I-beam frame protects the sensitive inner workings from potential damage that could torque the PC board and cause solder pointes to prematurely go cold. The steel casing also provides shielding against external magnetic fields.

These features make the Trim-Two a great choice for keyboard players, DJs, audio-visual presenters and others that employ a laptop or tablet with a handy volume control.

Specifications
Specifications
Audio circuit type: Passive, transformer based
Number of channels: Dual channel (stereo)
Frequency response: 20Hz to 20KHz
Dynamic range: >100dB
Maximum input: +20dB @ 20Hz
Total harmonic distortion: 0.009%
Phase deviation: <10
Input impedance: 10K ?, unbalanced
Output impedance: 2.8K ?, balanced
Features
Transformer: Custom
Shield: Copper foil
Input pad: Variable level control
Mono sum: Merges left + right sources to mono
Ground lift: Disconnects pin-1 @ both XLR outputs
XLR configuration: AES standard (pin-2 Hot)
Connectors: 1/4", RCA and 3.5mm input, XLR-M ouput
General
Construction: 14 gauge steel chassis & outer shell
Finish: Durable powder coat
Size: (W x H x D) 84 x 127 x 48mm (3.3" x 5.0" x 2")
Weight: 0.70 kg (1.55 lbs)
Shipping Size: (W x H x D) 102 x 76 x 165mm (4" x 3" x 6.5")
Shipping Weight: .87 kg (1.92 lbs)
Power: Passive, no power required
Conditions: For use in dry locations only between 5C and 40C
Features
Stereo direct box for line level sources
Ultra linear response from 30Hz to 20kHz
Easy access front panel volume control
Choice of RCA, ¼" and 3.5mm connectors
WARNING: This product can expose you to chemicals including Titanium dioxide (airborne, unbound particles of respirable size), which is known to the State of California to cause cancer, and Lead, which is known to cause birth defects or other reproductive harm. For more information go to www.P65Warnings.ca.gov.