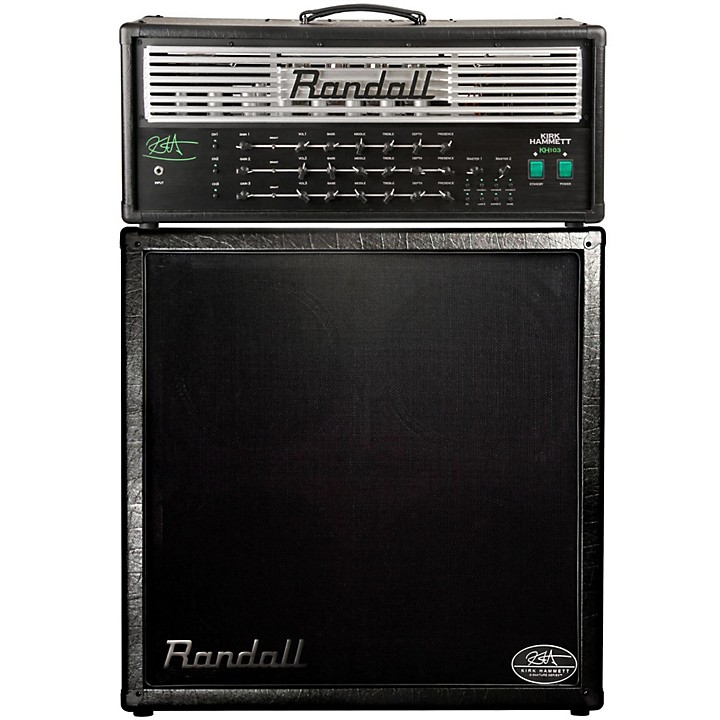 The sound of Metallica's lead guitarist can now be yours.
If you love the tone of Metallica's Kirk Hammett - one of the most respected guitarists not just in the metal world, but also considered a top 20 guitarist in various lists throughout his successful career - then this Kirk Hammet Signature Guitar Amp Half Stack is the right setup for you. It includes his Signature Randall KH103 Head and KH412 Guitar Speaker Cab so your setup can not only look like his, but you can actually get his sound as well if you play it just right.

KH103 Kirk Hammet Signature 120W Tube Guitar Amp Head
This is the real deal"Kirk Hammetts signature stage and studio amp, not just some loaded box with his name on the front. Kirk uses this exact model in the studio and on the road with Metallica, so you know its built to blow minds.

The Randall KH103 is a 120 W, 3-channel, all-tube mega amplifier with 12AX7 (preamp) and 6L6 power-amp tubes. Each of the three channels feature a 3-band EQ, gain and volume controls and a 3-way bright switch for each. It also offers presence and depth controls, dual MIDI-switchable master volumes, dual MIDI-switchable series/parallel loops. And, it also has seven MIDI-assignable functions for each channel as follows: channel select, boost, Low/Medium/High gain voicing, master volume 1/2 select, Loop/Loop2 select, Store. It also incorporates individual metering and bias controls and dual side handles for easy lifting. The RF3 3-button MIDI footswitch is included.

KH412 Kirk Hammett Signature 240 W 4x12 Guitar Speaker Cabinet
This Randall KH412 240 W 4x12 in. speaker cab is designed to match the looks and ferocity of the KH103 Kirk Hammett signature head. It's loaded with a quartet of legendary Celestion Vintage 30 speakers, and it's wired for 16 ohm parallel mono inputs.
Features
KH103 Kirk Hammett Signature 120W Tube Guitar Amp Head
Power
Maximum wattage: 101W"125W; 120W
Tube or solid state: Tube/valve
Type: Head
Number of preamp tubes: 9
Preamp tube type: 12AX7/ECC83
Number of power tubes: 4
Power tube type: 6L6
Power attenuation: No
Impedance: 4, 8, 16 ohms
Channels
Number of channels: 3
Footswitchable: Yes
Number of inputs: 1
Number of modes:
Controls
Channel 1: 3-band EQ; Volume; Gain
Channel 2: 3-band EQ; Volume; Gain
Channel 3: 3-band EQ; Volume; Gain
Channel 4: Not applicable
Master volume: Yes Two
Mid-shift: No
Depth: Yes
Resonance: No
Presence: Yes
Bright: Yes
Contour: No
Reverb: No
Voicing control: No
Boost: Yes
Other:
MIDI control: Yes
Footswitch included: Yes
Effects
Effects loop: Yes
Footswitchable: Yes
Reverb: No
Tremolo: No
Delay: No
Echo: No
Flanger: No
Phaser: No
Modulation: No
Chorus: No
Other:
Misc. Features
External speaker output: Yes
Headphone output: No
Direct output: No
AUX input: No
USB connectivity: No
Built-in tuner: No
Mute: No
Dimensions
Width: Info not available
Height: Info not available
Depth: Info not available
Weight: Info not available
Country of origin: China
KH412 Kirk Hammett Signature 240 W 4x12 Guitar Speaker Cabinet
Power handling: 240W
Speakers: 4x12 in. Celestion Vintage 30
Impedance: 16 ohms (parallel mono)
Construction: Straight