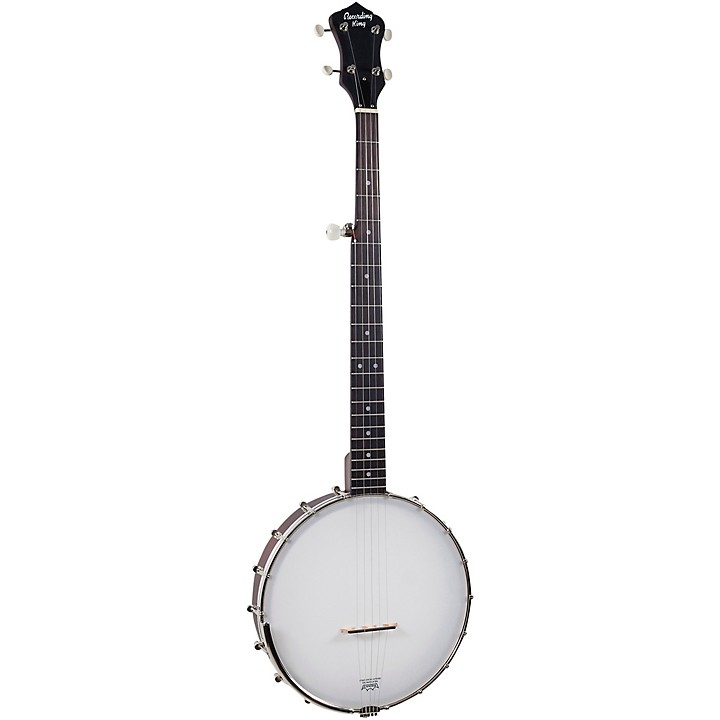 All the vibe a banjo player wants.
The Dirty 30s Series sits at the perfect crossroads of classic sound and historic design, just like the original Montgomery Ward mail-order instruments from the first half of last century. The Dirty 30s Deluxe Open-Back Banjo brings together the old-time sound of an open-back banjo with the added projection and treble clarity of a traditional rolled brass tone ring.

The rim's 18 brackets allow fine-tuning of head tension for a multitude of playing styles and sounds, and name-brand components like the Remo head and D'Addario strings complement the high-quality banjo construction for which Recording King is famous.
Specifications
Model: RKOH-06
Resonator: N/A
Rim: Multi-ply mahogany
Flange: N/A
Head: Remo
Tone ring: Rolled brass
Tension hoop: N/A
Neck: Maple
Fretboard: Revebond
Hardware: Nickel-plated
Tailpiece: No-knot
Bridge: Maple/ebony
Fret markers: Inlaid dot
Inlay: n/a
Binding: None
Scale length: 26-1/4"
Armrest: Nickel-plated
Finish: Dark brown
Features
Classic sound and historic design
Open-back banjo
Traditional rolled brass tone ring
18 brackets
Remo head
D'Addario strings complement
Case sold separately