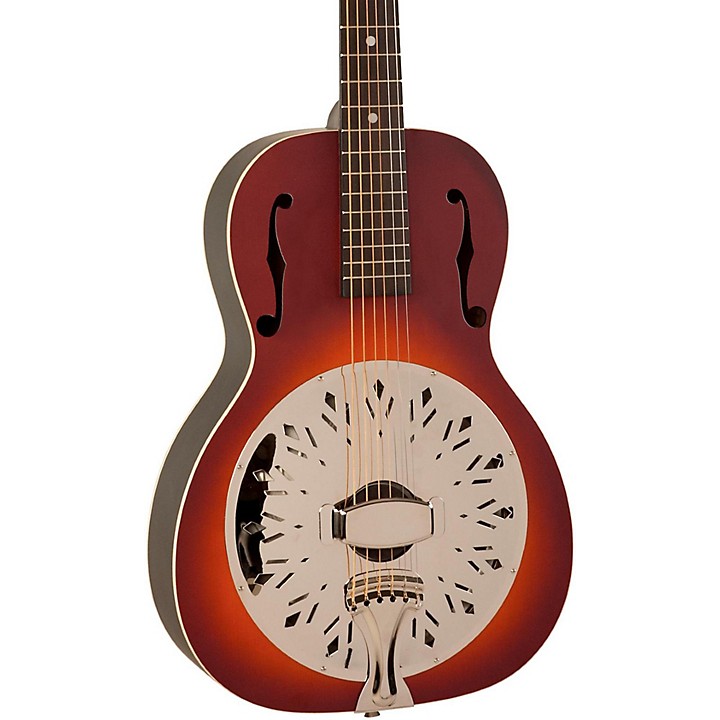 Great-looking, great-playing resonator at a gentle price.
Here it is, the singing pie-plate, the high-moanin' hubcap, the Recording King Dirty 30s Resonator guitar. Play it with finger picks or a flat pick, use a slide bar (or CoricIdan bottle) or fret it. This inexpensive resonator delivers classic style and a vintage resonator tone that is perfect for old-school blues and slide players. The single 0 size resonator drips with vibe, from the f-holes and tailpiece to the classic sunburst matte finish.

Traditional resonator sound is delivered from a hand-spun 9.5 cone in a pedestal soundwell. Soundposts surround the circle of the soundwell and the cone vibrations are free to bounce within the full cavity of the body. The f-holes are placed to optimize bass and treble frequencies as they exit the body for the perfect dry, throaty resonator tone.

Whether you're a songwriter who wants vintage blues or slide sound, or a first-time player who wants something a little cooler, get traditional resonator tone in a road-worthy small body from the Recording King Dirty 30s Resonator single 0. Recording King's Dirty 30s Series gives players authentic vintage style with the reliability of modern design.

Specifications
Model: RPH-R1-TS
Body shape: 0 style
Top material: Spruce
Back material: White wood
Side material: White wood
Neck material: Nato
Neck profile: Contemporary C
Neck joint: Dovetail
Fretboard material: Rosewood
Scale length: 25.4"