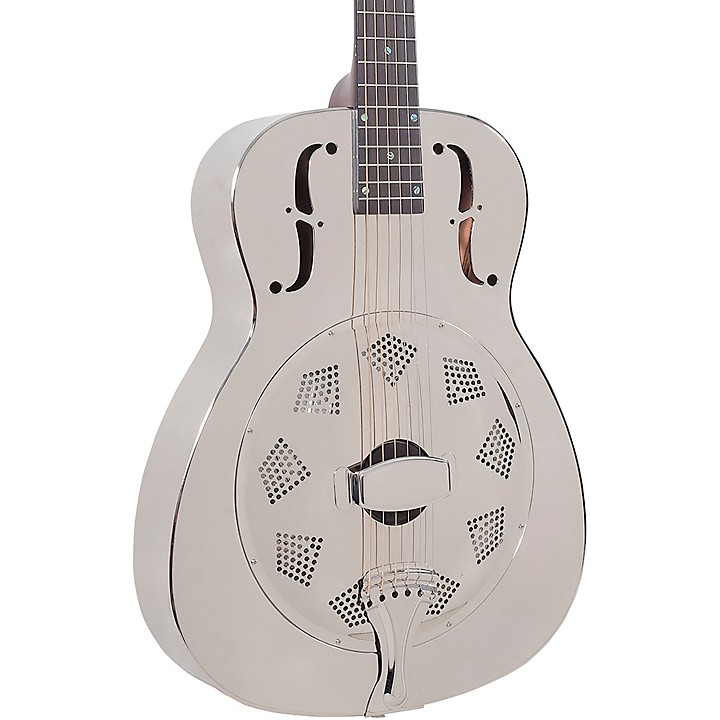 Resonator guitar with big, brassy tone.
Modeled after the original pre-war resonator guitars, Recording King resonators are some of the foremost metal body guitars on the market. They feature bell brass bodies that sing like angels, and they have incredible projection and classic resonator tone. This is the Recording King Style-O with the Round Hole coverplate.

The Recording King Style-O features a 9.5" hand-spun Recording King cone, a Honduran mahogany neck and a hard maple bridge. From professional artists to beginners, these resonators have proven to be the perfect combination of tone, volume and playability..
Specifications
Body: Nickel-Plated Bell Brass
Neck: Mahogany
Fretboard: Padauk
Cone Material: Hand-Spun Aluminum
Cone: Recording King, 9.5"
Coverplate: Round Hole)
Tailpiece: Bell Brass
Bridge: Hard Maple with Ebony/Maple Saddle
Position Markers: M.O.P. Dot
Tuners: Nickel-Plated
Nut, Width: 1-3/4"
Scale Length: 24-7/8"
Finish Options: Nickel-Plated Bell Brass
Features
Nickel-plated bell brass body
25" Scale length
1-3/4" Nut width
Hand-spun Recording King cone