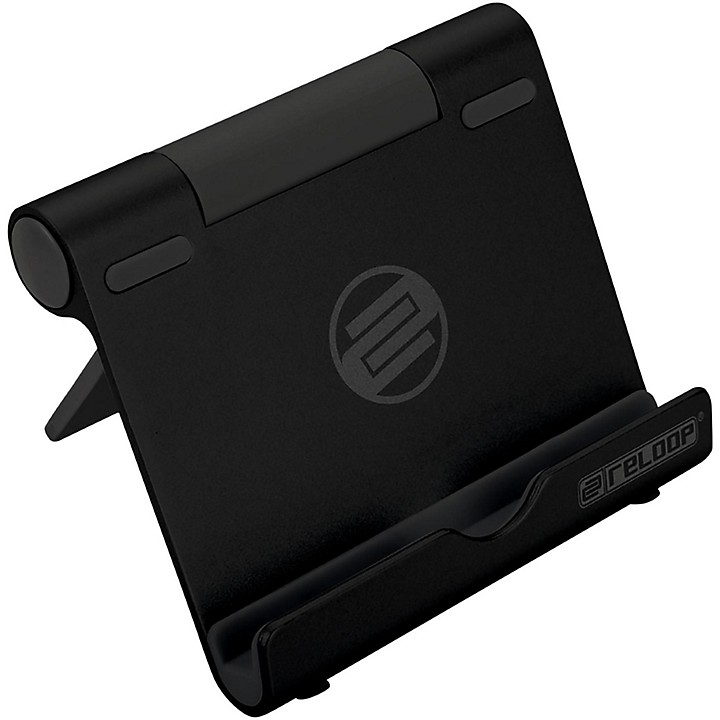 Stand for your device.
The Reloop Tablet Stand is a sturdy, compact and flexible way to integrate a tablet or smartphone into your workstation.

Thanks to its light, retractable and compact construction, the pocket-sized Reloop Tablet Stand is convenient and portable. Its rubberized feet and smooth protective inlay guarantee a firm and safe foothold for your device. The fully adjustable squaring mechanism with push-lock function allows you to vary the viewing angle to suit a horizontal or vertical setup.

Whether you're looking to stream videos or integrate a tablet into your DJ setup, the Reloop Tablet Stand is a smart choice.

Features
Pocket-sized, sturdy-built stand for many tablets and smartphones
Stable, yet lightweight aluminum body holds devices up to 5 kg and 11 mm width
Adjustable stand angle with push-lock feature for horizontal and vertical setup
Anti-slip feet and rubber inlays for smooth operation
Ideal for DJing, watching videos, taking photos, recording and more
Compatible with iPhone- & iPad series, Galaxy-, Note- & Tab series, Nexus and many more (all tablets 7'' - 10'')