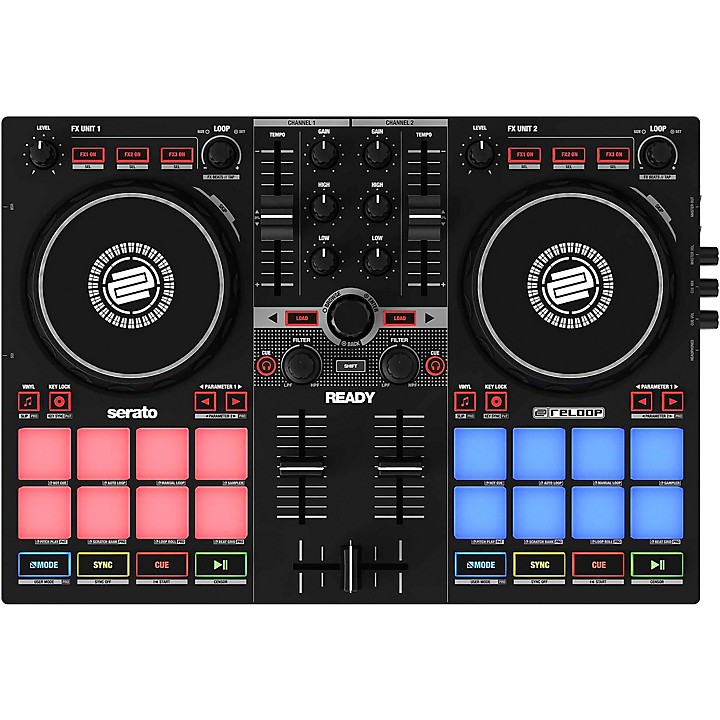 Lightweight and versatile enough to keep the party going.
Small Size, Huge Possibilities

As lightweight as it is powerful, as compact as it is versatile-the Reloop Ready balances first-rate functionality in a practical design for DJs to perform at their highest level whilst maximizing portability and minimizing space. Its impressive feature set includes dedicated controls for track navigation, loops, effects, filters, EQs, master volume, cue section, key lock, sync, key sync, slip mode, vinyl mode, censor, jump to beginning of track, and user mode.

The highly responsive jog wheels can be used for pitch bending, scratching, and fast searching within a track, and the 16 large RGB pads give access to 9 different pad modes: Hot Cue, Auto Loop, Manual Loop, Sampler, Pitch Play1 3, Scratch Bank1, Loop Roll1, and Beat Grid1. With so much functionality packed into such a streamlined controller, the Reloop Ready punches way above its weight class as the premier solution for the home, mobile and travelling DJs.
Features
Compact 2-deck DJ controller designed for Serato DJ Lite (included) & DJ Pro
Perfect for portable preparation: sits flush on a 13" laptop
16 large rubber customizable RGB performance pads
9 performance modes: hot cue, auto loop, manual loop, sampler, pitch play1 3, loop roll1, beat grid control1, user mode1 and the brand new scratch bank mode1
45mm dual-rail crossfader and channel faders
Full transport section and quick performance mode access
Dedicated sync function to match tempo and key
Touch-sensitive jog wheels for precise mixing and scratching
Quick-skip: fast search within a track
High-resolution pitch faders for fine BPM adjustments
Gain control for each channel
High & low EQs for tweaking frequency bands
Bi-polar sound filters (LPF/HPF)
Advanced effect section with FX-on toggle buttons, wet/dry level controls, FX beat encoders, FX select controls, manual BPM tap functions, and up to 3 FX per FX unit
Dedicated loop encoders for length and activation
Library navigation controls for speedy browsing and track loading
Shift buttons for second layer functions
Key lock toggle buttons to preserve key of a track when changing pitch
Vinyl button for switching jog wheel between vinyl mode and pitch bend mode
Dual-layer parameter buttons for additional software control1
Key sync button to instantly match keys of tracks3
Slip button to toggle slip mode on and off1
Censor function for instant reverse track playback
Dedicated "Jump To Beginning" of track controls
User mode for custom mapping possibilities1
Built-in USB audio interface: directly connect active speakers and headphones to start mixing
Reloop Public Relations