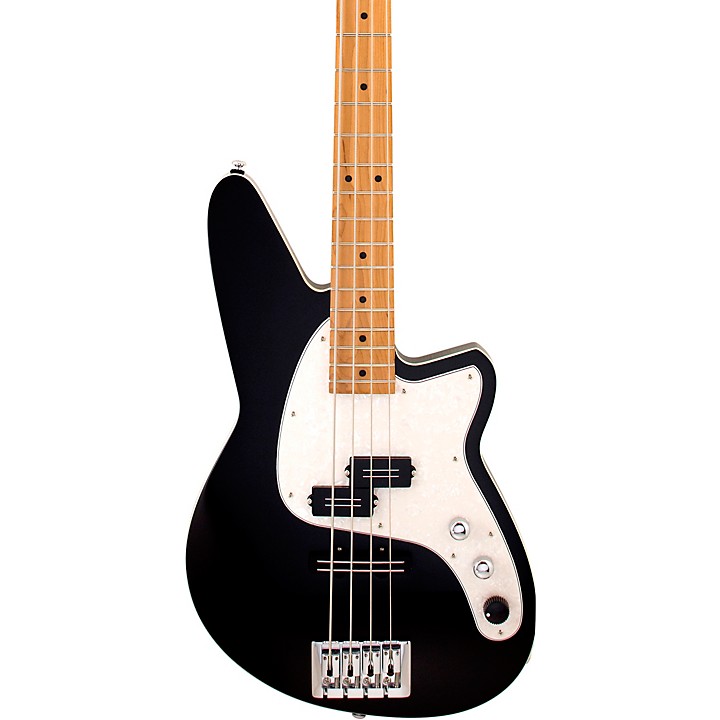 Sweet highs and lows with incredible sustain.
Loaded with a P-Blade pickup at the neck and a Jazz Bomb pickup at the bridge, harnessed to a pickup pan control, this Decision P all-purpose electric bass goes from percussive funk to focused thump, and all points in-between with the twist of one knob. The pickups combined deliver extended highs and lows with incredible punch and sustain. A truly modern-classic tone machine, it features a maple fingerboard.

A case is sold separately.
Specifications
BodyPickups
Blade Neck, Jazz Bomb Bridge
Bridge
String-thru-body or Top-load, 3/4" spacing
Neck
5-Piece Maple/Walnut, Satin Amber finish
ScaleNeck ProfileFingerboard
Roasted Maple or Pau Ferro, 12" Radius
FretsTruss Rod
Dual Action, Headstock Access
Tuners
Hipshot Ultralight, 1/2" Dia. Shaft
NutControlsStringsCase
Features
Reverend's own proprietary custom pickups are specifically designed for each position, for balanced volume and tone when switching.
Korina body wood (aka White Limba) is a medium-light weight wood, highly prized for consistency and tonal qualities helping create a lively, responsive instrument, rich in harmonics.
Hipshot Ultralight tuners have a housing made of extra-light aircraft-grade aluminum that are extra-light for a more balanced bass that's more comfortable to play
High Mass Bridge features heavy-duty saddles in combination with a massive base plate, enhancing clarity and attack, producing bell-like sustain, which can be strung string-thru-body or top-load
Every Reverend is hand initialed and serial numbered on the back of the headstock by highly skilled technicians who set up, inspect and test every instrument
Pickup pan control allows you to blend the two pickups with one knob–roll in the bridge pickup for more midrange punch, or bring up the neck pickup for more low thump and open highs
Custom dome knobs feature a lower profile less likely to be accidentally hit by the player's hand, and the white dot lets you easily see where your knob rotation is set
Boneite synthetic bone nut is more consistent than natural bone, reducing friction and allowing strings to slide through the nut slots smoothly, improving tuning stability.
3-string tree, a wide string tree that holds down three strings, instead of just two to eliminate string buzz in the nut slot, a common problem with standard string trees
Dual-action rod adjusts in both directions, allowing back bow or forward bow, assuring correct adjustment range is possible regardless of string tension, extreme climate conditions or the effects of long-term aging
Six-bolt neck plate increases mounting pressure of the neck by 50 percent for a stronger neck connection, which improves sustain, tuning stability and neck alignment
Proprietary steel jack plate features four mounting screws to prevent the plate from tearing out of the body
Upgraded Pure Tone Technologies tone jack has dual contacts for improved grip, audio signal and reliability
Alpha control pots with a +-10% rating, tighter and more consistent than a standard pot
Longer-lasting polyester caps with a +-10% rating are made to tighter specifications, so they're more consistent and less affected by temperature