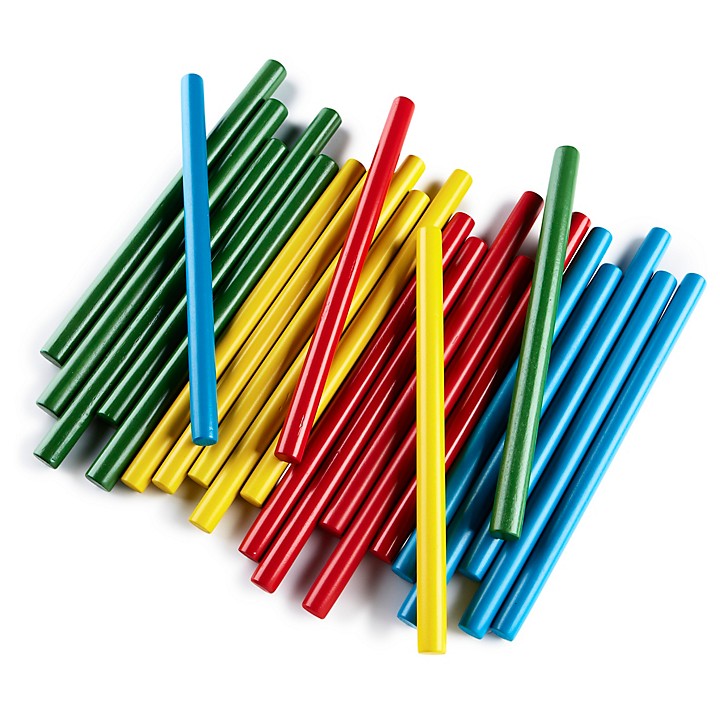 A rhythmic rainbow of sound.
The Rhythm Band Lummi Sticks are the perfect percussive addition for classrooms, performance groups and recreational music-making. This set of 24 rhythm sticks produces a crisp, resonant tone and comes in 4 eye-catching colors: red, blue, yellow and green. Constructed from select materials for durability and tone, the Lummi Sticks are built to withstand enthusiastic play.


Engage Students and Performers Alike
Whether used in an educational setting or as part of a musical performance, the Lummi Sticks provide an engaging experience for all ages. Their colorful variety and satisfying sound inspire creativity. Students can organize by color to play simple patterns and rhythms together. More advanced players will enjoy crafting complex rhythms and exploring the Lummi Sticks' musical potential. These sticks are an exciting, affordable way to bring people together through the joy of making music.


High Quality, Vibrant Colors
The Lummi Sticks are manufactured to exacting standards using materials chosen for optimal tone and durability. Their resilient construction ensures that they'll provide years of musical enjoyment. The sticks produce a clear, resonant sound when struck together or against any hard surface. Their bright colors – red, blue, yellow and green – make them highly visible during play and allow for easy sorting and organization. The vibrant hues also add visual appeal, bringing an energetic rainbow of sound to any musical gathering.


Applications for All
Whether in the classroom, on the stage or in the backyard, the Lummi Sticks have something to offer musicians of all skill levels. Educators will appreciate their affordability and suitability for teaching rhythm. Performance groups can utilize them to add percussive flair and audience engagement. For recreational music-making, the Lummi Sticks inspire improvisation and experimentation. They're an accessible, open-ended instrument that sparks creativity in musicians young and old.

Bring the joy of rhythm to your next musical gathering with the Rhythm Band Lummi Sticks.