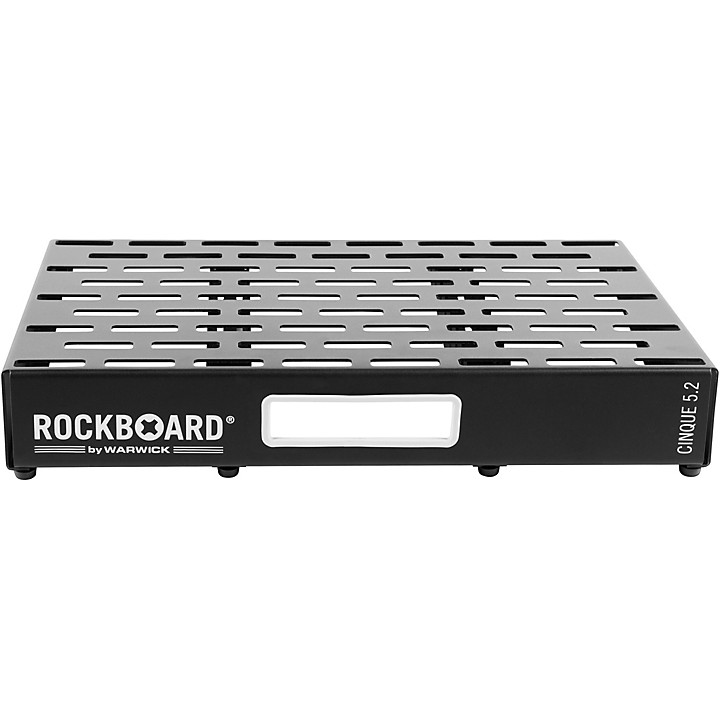 This road-ready board will keep your pedals safe and sound.
The 2018 RockBoard pedalboard series has been completely re-designed to create a pedalboard that is lightweight, rigid and rugged, and allows for the use of a multitude of pedals as well as power supply mounting solutions. Its uniquely ingenious construction is based on only one folded, cold-rolled aluminum sheet for the board frame and has not a single welded seam. This makes the board surface completely plain and gives you more pedalboard space for your money. U-shaped vertical support braces offer additional stability without adding too much weight.

The updated RockBoard pedalboards will neither bend nor wiggle. The slots let you easily hide cables underneath the surface for a neat and tidy setup. Any power supply can be mounted underneath the board surface traditionally or using the optional RockBoard The Tray universal power supply mounting solution. All RockBoard 2018 Series models (except Duo 2.1) are compatible with the RockBoard MOD patchbays. With seven sizes available we are sure you will find the perfect board for your needs. All sizes are available with either gig bag or flight case.
Specifications
Sturdy and light aluminum construction
Slotted design for easy pedal mounting
Made from cold-rolled aluminum
Angled and absolutely plain board surface - no weld seams
Slot for RockBoard MOD patch bays
Compatible with RockBoard The Tray - universal power supply mounting solution
Robust black powder-coated surface
Includes self-adhesive hook (50 mm wide) & loop tape (25 mm wide) and cable ties
Dimensions (L x W) 610 x 416 mm / 24" x 16 3/8"
Height incl. rubber feet 37 - 71 mm / 1 7/16" - 2 13/16"
Weight 3.93 kg / 8.66 lb.
Including flight case
interior dimension main compartment (W x D x H) 629 x 436 x 176 mm
interior dimensions accessory compartment (W x D x H) 105 x 436 x 127 mm
exterior dimensions (W x D x H) 808 x 472 x 210 mm