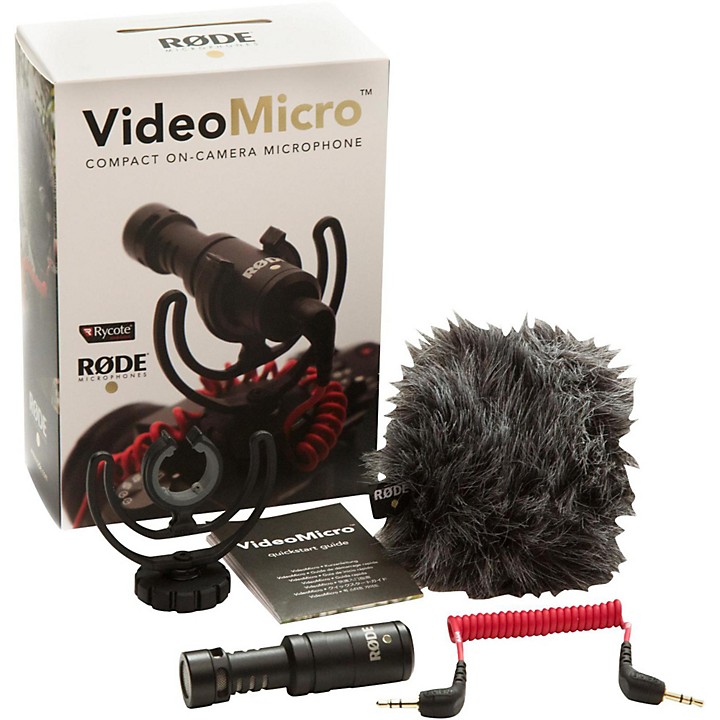 Low-profile mic for video cameras.
The VideoMicro is a compact microphone designed to improve the audio quality of your videos. There is a bit of conventional wisdom that goes something like, "Half of good video is good audio." And it's true. Say you're recording a video of a live performance. Who cares if the band looks like they're cooking if it doesn't sound great?

The VideoMicro incorporates a high-quality cardioid condenser microphone capsule for great quality audio recordings when used with a wide range of cameras. The VideoMicro reduces distracting peripheral sounds and focuses on the audio in front of the camera. Its pickup is more forgiving than other on-camera microphones, providing a more natural sound when recording indoors. The microphone body is made from aluminum, giving it a high level of RF rejection, and is finished in RØDE's high-grade ceramic anti-glare black coating.

Included with the VideoMicro is a camera shoe mount featuring a Rycote Lyre shockmount. Featuring a suspension structure composed of a rugged thermoplastic, it is far more effective at minimizing unwanted vibrations, handling and cable-borne noise than traditional elastic suspensions. The Rycote Lyre will never sag, snap, wear out or require rethreading to maintain its effectiveness. Also included is the WS9 synthetic furry windscreen with foam inner cell, designed for use in outdoor scenarios where wind and environmental noise can inhibit recordings.
Features
Compact size and lightweight: Only 80 mm (3') long and 42 g (1.5 oz.)
All-metal microphone body
No battery required (powered by camera plug-in power—min 3V)
Rycote Lyre shockmount included
Deluxe furry windshield included
Designed and manufactured in Australia
Two-year extended warranty