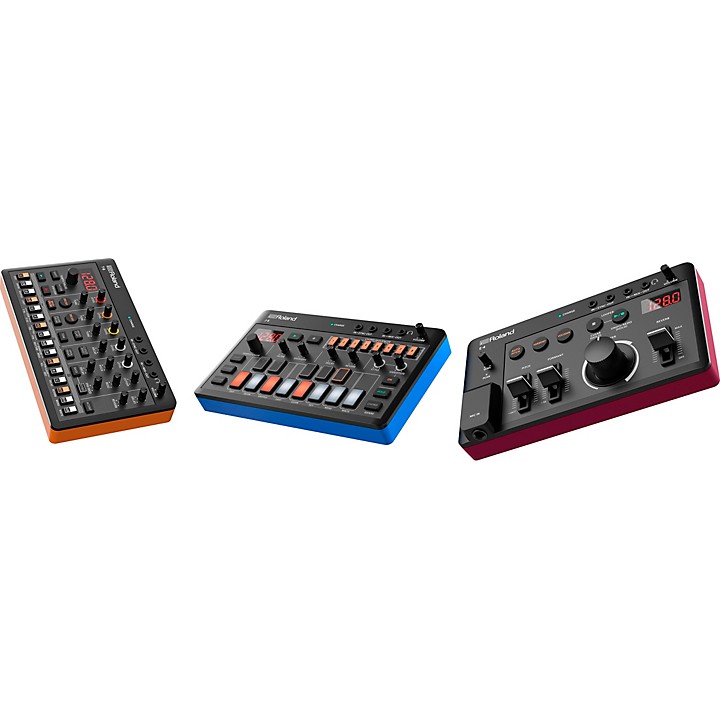 A three-pack of AIRA Compact Series models.
This bundle from Roland includes three AIRA Compact Series models, including the classic T-8 Beat Machine, J-6 Chord Synthesizer and E-4 Voice Tweaker.

Create infectious tracks in seconds flat with the Roland AIRA Compact T-8 Beat Machine, a miniature rhythm factory loaded with legendary Roland TR drums, plus bass from the inimitable TB-303. Craft on-the-fly acid jams or trap bangers with the intuitive 16-step sequencer, shape sounds with onboard controls—and flip and dice beats with hands-on tools that stimulate ideas and put the fun back into your flow. The Roland AIRA Compact J-6 Chord Synthesizer is an endless well of musical inspiration, pairing a powerful chord sequencer with the lavish tones of the renowned JUNO-60 synth. Generate soul-stirring song ideas in seconds, and experiment with styles and variations to coax dancing lines and rhythmic patterns from your chords. Add lush effects to frost your sound, and expand your possibilities by interfacing with other AIRA Compacts, MIDI hardware and music production software. The Roland AIRA Compact E-4 Voice Tweaker is an outrageously jammable box of fun that harmonizes, auto-pitches, vocodes, loops and glitches your voice and anything else you feed it. Flip through hands-on controls to manipulate the sound, and chain in AIRA Compacts and other electronic instruments, and let them ride in perfect sync.
T-8 Beat Machine
Build beats with the boom, pop and sizzle of sounds from the TR-808, TR-909 and TR-606 drum machines, paired with the shapeshifting low end of the dynamic TB-303 Bass Line. The T-8 exudes classic Roland character, thanks to the same Analog Circuit Behavior (ACB) tech found in the TR-8S, TB-3 and other high-end AIRA gear. Loaded with comprehensive I/O, the Compact T-8 is ready to be the rhythmic centerpiece of any electronic music setup. Connect and sync with other AIRA Compacts like the J-6 Chord Synthesizer and E-4 Voice Tweaker. Or, interface with computer DAWs, mobile music apps and hardware instruments via USB-C or MIDI.

The Compact T-8 features six drum tracks and one bass track brought together with a player-friendly interface for fast recording and hands-on tweaks. Capture and fire off 64 patterns with up to 32 steps each, and shape sounds and control parts as you go with an array of dedicated knobs and buttons. Backed by the TR-REC step sequencer loved by beatmakers since the 1980s, the Compact T-8 Beat Machine makes it simple to develop ideas without ever stopping the action. Real-time recording, sub steps and velocity further expand the programming power at your fingers. And with deep features like step loop, pattern shift and probability, it's easy to deliver dynamic performances with constantly evolving grooves.
J-6 Chord Synthesizer
With 100 chord sets spanning a wide range of genres, you'll always find fresh fuel for songs and jams with the Compact J-6. There's no need to know chords or theory to make cool music—simply call up a set and compose chord progressions on the fly with one-touch presses on the keyboard. Generate ideas for new tunes, create accompaniment for live performances or send chord information to other MIDI gear. Using the AIRA Compact J-6's style banks and variations, it's easy to infuse static chords with dynamic energy and compelling movement. Transform an idea with sweeping arpeggios and rhythmic phrases, and keep the groove running nonstop with a press of the hold button.

Once you've got a chord progression in mind, bring it together with the AIRA Compact J-6's chord sequencer. There are 64 patterns with up to 64 steps each, and you can quickly enter chords, style variations, single notes and tempo changes in each step to mold your masterpieces. After you've captured a pattern on the J-6, hit play and inject even more color with tactile controls. Select different synth presets, tweak the filter and envelope in real time—and complete the picture with customizable reverb and delay effects.

The AIRA Compact J-6 puts the influential synth sound behind decades of hits into your pocket or backpack. Roland's acclaimed Analog Circuit Behavior (ACB) technology realizes the famous JUNO-60 voice in flawless detail, complete with 64 presets derived from the original. Use the J-6 engine with the chord sequencer, play it from the onboard keyboard or an external MIDI controller, or use it as a sound module in an expanded setup. It has the connectivity you need to integrate with other AIRA Compacts and larger music rigs. Back your chord creations with drums and bass from the T-8 Beat Machine—and add evocative vocal textures with the E-4 Voice Tweaker. Or, interface with computer DAWs, mobile music apps and hardware instruments via USB-C or MIDI.

Compact and convenient, the AIRA Compact J-6 is ready to deliver instant inspiration everywhere you go. The lithium-ion battery provides up to 4.5 hours of runtime per charge, while the rugged Roland build ensures years of musical pleasure.
E-4 Voice Tweaker
The AIRA Compact E-4 combines powerful voice transformer tools and standard vocal effects with a tactile interface that's meant to be played. This lean, mean machine puts a treasure trove of top-quality processing in a go-everywhere gadget that's endlessly enjoyable and amazingly affordable. By working the Compact E-4's inviting panel, you can go from traditional vocal enhancements to punchy beatboxed grooves to striking alien soundscapes—all in a single performance. Select different sonic shapers, trigger looper controls, cycle through Scatter effects, and tweak pitch, formant and more in the flow.

Take your singing to the next level with automatic harmony effects. Set the key and chord voicing on the fly and bring head-turning flair to any song. And with Auto Pitch, you can dial in everything from subtle tuning fixes to the hard-tuned sounds heard in mainstream pop tracks. Use direct-access tools to instantly change your vocal gender, conjure sounds from outer space or transform yourself into a mechanical persona. There's also a powerful vocoder, which you can drive from a large pool of onboard synth waveforms, the AIRA Compact E-4's pitch functions or an external MIDI keyboard for an endless variety of textures.

Turn one voice into an entire orchestra using the 24-second looper. Overdub layer after layer with the AIRA Compact E-4's effects to create wild, vocal-driven rides. Then slice and dice with the expressive Scatter knob, which chops your sound into colorful bits that you control with a twist. Connect a handheld mic to the front input for performing, or use a gaming headset or the inline mic on your earbuds to bring fresh vocal fun to your next livestream or podcast. Sync with other AIRA Compacts like the T-8 Beat Machine and J-6 Chord Synthesizer to expand your range. Or, interface with computer DAWs, mobile music apps and hardware instruments via USB-C or MIDI.

Roland's AIRA Compact E-4 creatively accentuates vocals anytime and anywhere. The lithium-ion battery provides up to 3.5 hours of power per charge, and the rugged Roland build will support inspired magic and mayhem for a long, long time.
Specifications
T-8 Beat Machine
User Patterns: 64
Effects: DELAY, REVERB, OVERDRIVE, SIDE CHAIN
Display: 7 segments, 4 characters (LED)
Step Sequencer
Rhythm instrument parts: 6
Bass part: 1
Steps: 32
Connectors
SYNC (IN, OUT) jacks: Miniature phone type
MIX (IN, OUT)/PHONES jacks: Stereo miniature phone type
MIDI (IN, OUT) jacks: Stereo miniature phone type
USB port: USB Type-C (audio, MIDI)
Power
Power supply: Rechargeable lithium-ion battery, powered via USB port
Current draw: 500mA
Expected battery life under continuous use: Approx. 4.5 hours
Expected battery charging time: Approx. 3 hours
*To charge, use a USB port of a computer or a USB power supply adaptor (5V, 500mA or higher)
Dimensions and Weight
Dimensions (WxDxH): 7-7/16" x 4-3/16" x 1-7/16"
Weight (including batteries): 11 oz.
Accessories
Leaflet
USB Type-C to USB Type-A cable
J-6 Chord Synthesizer

General
User Patterns: 64
Sequencer: Maximum measures: 64
Instrument preset patches: 64
Effects: DELAY, REVERB
Display: 7 segments, 4 characters (LED)
Connectors
SYNC (IN, OUT) jacks: Miniature phone type
MIX (IN, OUT)/PHONES jacks: Stereo miniature phone type
MIDI (IN, OUT) jacks: Stereo miniature phone type
USB port: USB Type-C (audio, MIDI)
Power
Power supply: Rechargeable lithium-ion battery, powered via USB port
Current draw: 500mA
Expected battery life under continuous use: Approx. 4.5 hours
Expected battery charging time: Approx. 3 hours
*To charge, use a USB port of a computer or a USB power supply adaptor (5V, 500mA or higher)
Dimensions and Weight
Dimensions (WxDxH): 7-7/16" x 4-3/16" x 1-7/16"
Weight (including batteries): 11 oz.
Accessories
Leaflet
USB Type-C to USB Type-A cable
E-4 Voice Tweaker
General
Maximum recording time: Approx. 24 seconds
Display: 7 segments, 4 characters (LED)
Effect Types
AUTO PITCH
HARMONY
VOCODER
PITCH
FORMANT
SCATTER
REVERB
LOOPER
Connectors
SYNC (IN, OUT) jacks: Miniature phone type
MIX (IN, OUT) / HEADSET jacks: Stereo miniature phone type (Stereo, CTIA)
MIDI (IN, OUT) jacks: Stereo miniature phone type
MIC IN jack: Stereo phone type
USB port: USB Type-C (audio, MIDI)
Power
Power supply: Rechargeable lithium-ion battery, via USB power
Current draw: 500mA
Expected battery life under continuous use: Approx. 3.5 hours (these figures will vary depending on conditions of use)
Expected battery charging time: Approx. 3 hours
*To charge the unit, use a USB port of a computer or a USB power supply adaptor (5V, 500mA or higher)
Dimensions and Weight
Dimensions (WxDxH): 7-7/16" x 4-1/4" x 1-11/16"
Weight (including batteries): 11 oz.
Accessories
Leaflet
USB Type-C to USB Type-A cable
Features
T-8 Beat Machine
Ultraportable rhythm and bass machine with genuine Roland sounds
Six rhythm tracks with sounds from the influential TR-808, TR-909 and TR-606 drum machines
Bass track with sawtooth/square waveforms and hands-on controls derived from the TB-303 Bass Line
Analog Circuit Behavior (ACB) technology faithfully recreates the tonality and behavior of vintage Roland instruments
Classic TR-REC drum sequencer with 64 user patterns and up to 32 steps each
Advanced rhythm programming with probability, sub step, last step and velocity
Real-time recording and powerful performance features like step loop, mute, fill, reload and pattern shift
Color and process sounds with delay, reverb, overdrive and side-chain compression
Comprehensive connectivity with audio, MIDI and sync I/O plus AIRA Link
Class-compliant USB-C audio/MIDI interface—no drivers needed
Lithium-ion battery with up to 4.5 hours of operation per charge
Sturdy construction and high-quality rubber pads
Connect to other AIRA Compacts and standard MIDI devices with optional BOSS TRS MIDI cables
J-6 Chord Synthesizer
Portable song creation machine with professional Roland sound and features
Create with 100 chord sets spanning classic and contemporary music genres
Add arpeggios and rhythmic phrases to chords via nine styles with 12 variations each
Programmable chord sequencer with 64 user patterns and up to 64 steps each
Four-voice JUNO-60 synth engine with authentic sound realized through Analog Circuit Behavior (ACB) technology
Includes 64 ready-to-play synth presets derived from the original JUNO-60
Filter and envelope controls for shaping synth sounds in real time
High-quality delay and reverb effects with customizable settings
Comprehensive connectivity with audio, MIDI and sync I/O, plus AIRA Link
Class-compliant USB-C audio/MIDI interface—no drivers needed
Lithium-ion battery with up to 4.5 hours of operation per charge
Sturdy construction and high-quality rubber pads
Connect to other AIRA Compacts and standard MIDI devices with optional BOSS TRS MIDI cables
E-4 Voice Tweaker
Vocal performance tool with powerful voice transformer effects
Instantly shape the sound with pitch and formant sliders
Advanced vocal effects including Auto Pitch, harmony and vocoder
Dial up unique rhythmic effects with the Scatter knob
Process the sound output with high-quality reverb, echo, tempo delay and chorus effects
Low-cut filter and noise gate to eliminate unwanted sounds
24-second looper with unlimited overdubbing, undo/redo and automatic BPM detection
Supports external MIDI control of pitch, harmony and vocoder functions
1/4" mic input with wide-ranging gain control
Headphone output with support for an inline mic
Comprehensive connectivity with audio, MIDI and sync I/O plus AIRA Link
Class-compliant USB-C audio/MIDI interface—no drivers needed
Lithium-ion battery with up to 3.5 hours of operation per charge
Sturdy construction and robust controls
Connect to other AIRA Compacts and standard MIDI devices with optional BOSS TRS MIDI cables