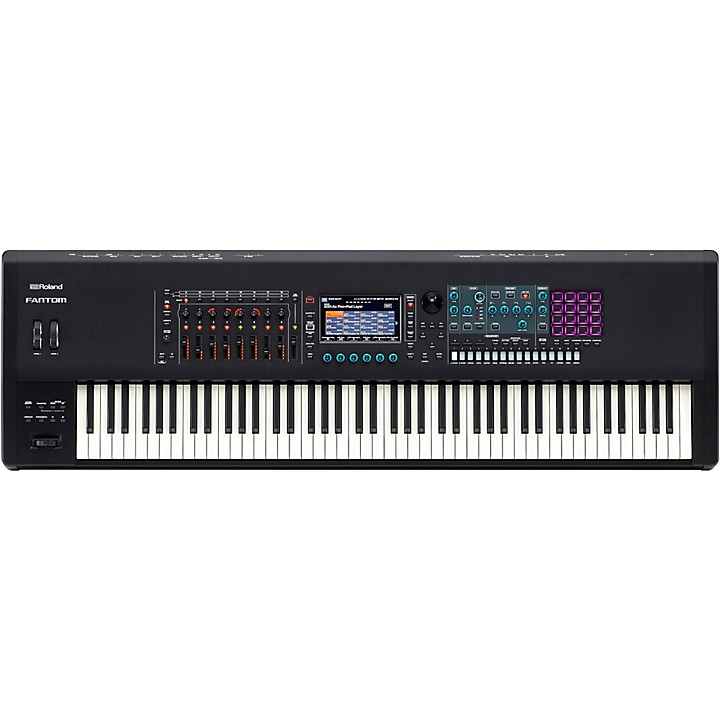 A new kind of creative hub with 88 keys.
The Roland FANTOM-8 Music Workstation Keyboard is made for rapid production and expressive performance. Inspiring onboard production tools and deep computer integration fuel an experience that feels intuitive, natural, and full of possibilities. The expandable sound engine delivers Roland's best electronic and acoustic sounds, with the depth and control to combine and shape them in exciting new ways. And it's built from premium materials, with a purposeful design, and the best 61-, 76-, and 88-note keyboards Roland have ever made.
CREATION
At every turn, FANTOM fulfills the need to create. Its smooth, rapid workflow has no confusing modes, frustrating technical limits, or trade-offs with sound quality. FANTOM's creative process reflects how today's musicians work, with fluid composition tools, instantly recallable creative environments, and deep computer integration.
No modes, just seamless workflow

When the creative juices are flowing, there should be no barriers. With FANTOM, you won't compromise your sound or suffer workarounds due to outdated technical limits. And forget worrying about what features work in which mode. FANTOM is always in full-on creative mode and your workflow stays consistent, no matter what.
Make a scene

When you're ready to create, so is FANTOM—and all it takes is a single touch. Your sounds, patterns, and performance layouts are arranged into custom creative spaces called Scenes. A Scene can be an entire song, section of a song, or a starting point with your favorite sounds laid out just how you like. Scenes can be chained together and changed instantly with no gaps or glitches.
Everything, always

You shouldn't have to wonder how many effects are available, or if you can change sounds seamlessly without limiting complex patches. With FANTOM, you can focus on playing music, not rationing processing power. And with so much power under the hood, you can run all 16 parts with all available effects—simultaneously—with full patch-remain for seamless transitions. It's like having the power of two complete FANTOMs in one.
SOUND
FANTOM's flexible and expandable sound engine leverages decades of research and development, dishing out inspiring and authentic electronic, acoustic, and hybrid sounds by the bucketload. Combine different synthesis and sampling technologies along with the onboard analog filter for new and unusual sounds—and take advantage of new sound expansions and capabilities as they arrive.
One engine, infinite possibilities

Drawing from over four decades of genre-defining sounds, FANTOM's expandable sound engine nails the classic synths but pushes into new sonic territory as well. Roland's custom Behavior Modeling Chips power FANTOM's core, with smooth and precise control, loads of polyphony, and full patch-remain. And FANTOM is part of an expandable platform, with new sounds and new possibilities coming.
Authentic, evocative sounds

FANTOM runs multiple synthesis technologies simultaneously for authentic acoustic and electronic sounds, both modern and classic. You can also sample your own sounds and trigger up to 2GB worth of loops and one-shots from the pad matrix. There's a fully routable analog filter for extra warmth and grit, and you can even mix soft synths with FANTOM's internal sounds.
The piano is key

Considered by many as the king of instruments, piano sits at the heart of the creative process for composers across a range of musical genres. FANTOM uses V-Piano technology for pianos that don't just sound real, they feel real. Craft pianos that play and respond like their acoustic counterparts and match your personal taste.
Sonic superpowers

FANTOM's synth engine is based on partials. Each partial starts with a discrete synth voice–complete with oscillator, filter, amplifier, dual LFO, and effects. You can have up to four partials in a single tone, and a Scene can contain up to 16 tones for complex layers, splits, and sequenced parts.
LFOMG
Low-frequency oscillators add movement to static sounds. More LFOs mean more modulation possibilities and more ways to explore new ground. FANTOM has two LFOs per partial, four partials per tone—and since you can stack 16 tones, that's a staggering 128 LFOs per voice. And FANTOM's Step-LFOs have 16 steps of beat-synced automation with 37 curve choices per step. This creates long evolving passages, modular-style animated textures, and sounds with deeply intricate movement.
PLAYABILITY
After sound quality, what's more important than playability? The way an instrument feels under your fingers, and how it helps you express yourself, is vital. FANTOM focuses on the experience of playing, from its immersive keyboard action to its arsenal of performance controls.
Players paradise

FANTOMs have Roland's best keyboards ever, including the acclaimed PHA-50 on the 88-note model and a brand new semi-weighted action on the 61- and 76-note models. Each feels solid, precise, and supremely playable, with the expressive capabilities of aftertouch. Roland make their own keyboards to exacting standards, each model an evolution of the previous generation.
High-res, hands-on control

FANTOM has plenty of knobs and sliders for intuitive and immediate control, with high-resolution for buttery-smooth sweeps and fine adjustments. There's a dedicated synthesizer section with oscillator, filter, and envelope controls, along with numerous buttons and pads for triggering and sequencing.
Go ahead and express yourself

There are many ways to play expressively on keyboards. Some players like levers, some like wheels, some prefer pedals, while others prefer aftertouch. With FANTOM, you can use any of them—or all of them. You can even connect USB controllers to any of FANTOM's three USB ports for enhanced expression.
SEQUENCING
FANTOM is a complete musical composition platform that excels at fast creation and fluid arrangement. You have RGB pads, a classic TR-REC style pattern sequencer, real-time recording with piano-roll editing, and a grid for recording and launching clips. Use any or all, whenever you want.
From spark to fire

Different musical genres need diverse production styles and specialized tools. You can create patterns on FANTOM in a variety of ways including real and step-time polyphonic sequencing, or the TR-REC pattern sequencer—perfect for rhythmic parts—as used on iconic drum machines.
Clip-based sequencing

A great way to build up a track is by arranging clips that contain musical patterns. Drums, basslines, pads and other patterns can be recorded into clips that you can trigger individually, or in groups. It's a lightning-fast way to compose and ideal for triggering backing tracks during live performance.
TR-REC step-sequencer

The foundation of dance music is the step-sequencer, specifically the 16-step TR-REC variety found on drum machines like the TR-808, TR-909 and modern TR-8S. FANTOM's onboard TR-REC sequencer is fully modernized with sub-steps for ratcheted parts, motion control for per-step automation, and support for chords.
CONNECTIVITY
While FANTOM is powerful by itself, its powers grow exponentially when connected to other gear like computers or analog synthesizers. FANTOM can control software synthesizers directly from the touchscreen, drive modular and analog synthesizers from its dual CV/Gate outputs, and is also a high-quality audio interface capable of 16 stereo outputs and 3 stereo inputs.
Computer expert

FANTOM doesn't just work with computers—it fully integrates. It's a high-quality 16x3 stereo audio interface and can control DAWs and plug-ins from its touchscreen. It can integrate soft synths into Scenes, and send parts composed on FANTOM directly to your DAW.
Deep soft synth integration

Customize your sound by integrating your plug-in soft synths with FANTOM. Control Apple Logic Pro, GarageBand, and MainStage, and adjust soft synth parameters right from FANTOM's touchscreen. Mix and layer soft synths with FANTOM's internal sounds, and then route them through FANTOM's analog filter section.
Dual CV/Gate

While FANTOM provides enormous creative potential, you may also want to integrate analog synths or drum machines with your setup. FANTOM has two sets of CV/Gate outputs, so you can sync tempo or play them from FANTOM's keyboard or its many pattern sequencers.
DESIGN
A clean and intuitive layout, premium materials, and best-ever keyboard action. The result? An instrument that begs to be played.
Everything in its place

FANTOM is designed to propel the creative process and play beautifully. The placement of each control, and how it interacts with the creative heart inside FANTOM, has been thoroughly considered with today's workflow in mind.
Built to last

FANTOM is made of tough metal with high-grade components throughout. Everything about it is sturdy and built to withstand the perils of live gigs and life on the road.
It's the little things

The more you get to know FANTOM, the more you appreciate the thoughtful details that simplify your life as a keyboardist. From the slight curvature of the top-panel labels for rear connections, to the informative RGB-lit controls and buttons, FANTOM facilitates creativity and eliminates frustration.
Firmware 2.5 Update
Seamless integration with Ableton Live
Thanks to the Firmware 2.5 update, FANTOM now features native integration with Ableton Live, providing a seamless workflow that keeps you focused on your music when the creative juices are flowing. Via FANTOM's high-resolution touchscreen, it's possible to view and launch clips in Live's Session view, access Live's mixer parameters, and trigger transport functions. And with FANTOM's knobs, sliders, and pads, you can operate Macro Controls,mix levels, Drum Racks and more.

Virtual Tone Wheel Organ
Evolved from the famous Roland VK organ series, FANTOM's Virtual ToneWheel engine faithfully emulates the sound-generating process of a real tone wheel organ and includes several tonewheel types with adjustable percussion, key click, leakage and more. There's also a lush rotary effect with variable speed, brake control and tube distortion characteristics. FANTOM's touchscreen, sliders, knobs and keyboard action are automatically configured to complete the authentic organ experience, providing hands-on sound control and classic quick-fire playability.
Specifications
Keyboard
FANTOM-8: 88 Keys (PHA-50 Wood and Plastic Hybrid Structure, with Escapement and Ebony/Ivory Feel, channel aftertouch)
Sound Generator
ZEN-Core
V-Piano Technology
Parts
16 Zones (Internal + External)
ScenesTones
Over 3,500 Tones
Over 90 Drum kits
Effects
Multi-Effects: 16 systems, 90 types
Part EQ: 16 systems
Drum Part COMP: 6 systems
Insertion Effect: 2 System, 90 Type
Chorus: 8 types
Reverb: 6 types
Master Compressor
Master EQ
Mic Input Reverb: 6 types
Analog Filter
STEREO
Type: LPF1/LPF2/LPF3/HPF/BPF/Bypass
Drive
Amp
Sequencer
MIDI Tracks: 16 (Internal/External)
Group:16
Pattern: 8 (per each Track)
Pattern Length: 32 mesures
Recording Method: Real-time recording, Step recording, TR-REC
SamplerPAD Sampler
Format: 16-bit linear, 44.1/48kHz, WAV/AIFF import supported
Maximum Polyphony: 8
Number of Samples: 16 Pads x 4 Banks
Rhythm PatternArpeggiatorChord MemoryControllers
Pitch Bend/Modulation Lever
Assignable Switch x 2 (S1/S2)
Control Knob x 8
Slider x 8
USB Audio Slider
Wheel x 2
Function Knob x 6
Sound Modified Knob x 11
4 x 4 Pad
Display
Graphic Type, 7", Wide VGA (800 x 480 dots), backlit LCD (Color/Touchscreen)
Connectors
Headphones Jack: Stereo 1/4" phone type
MAIN OUT Jacks (L/MONO, R) (1/4" phone type)
MAIN OUT Jacks (L, R) (XLR type)
SUB OUT1 Jacks (L, R) (1/4" phone type)
SUB OUT2 Jacks (L, R) (1/4" phone type)
ANALOG OUTPUT Jacks (1,2) (1/4" phone type)
Mic/Line Input Jacks: (1,2) (1/4" phone type/XLR type)
2 x CV OUT, 2 x GATE OUT
FOOT PEDAL Jacks (HOLD, CTRL1, CTRL2, CTRL3)
MIDI connectors (IN, OUT 1, OUT 2/THRU)
USB MEMORY Port
USB COMPUTER Port (AUDIO/MIDI)
3 x External Device Port
Power SupplyPower ConsumptionDimensions
FANTOM-8 (WxDxH): 1,432 x 439 x 153 mm, 56-7/16" x 17-5/16" x 6-1/16"
WeightAccessories
Features
This includes the Firmware 2.5 update.