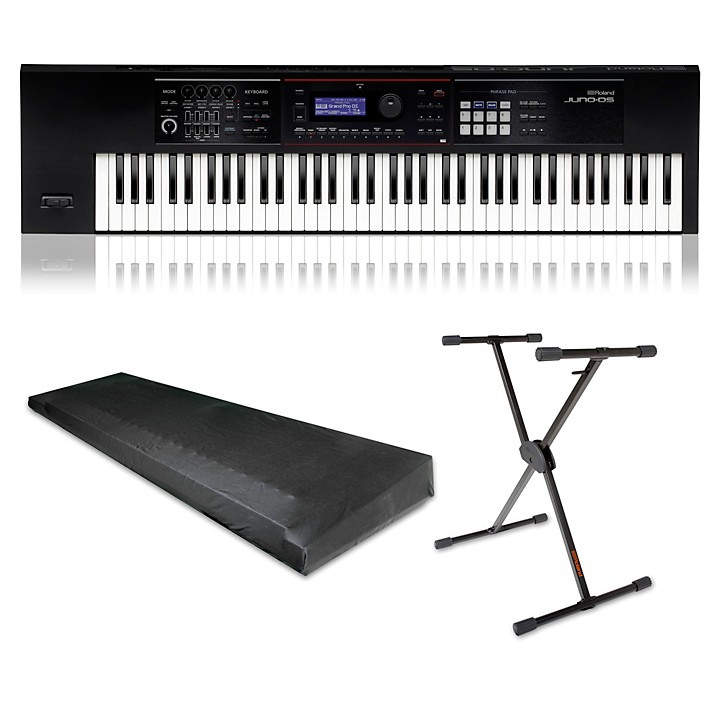 Essential sounds and accessories.
The Roland JUNO DS76 Essentials Kit gives you an amazing synth, a stand for it and the right cover to keep your synth always ready to perform. In just a few clicks, you'll get all three of the following:

Roland JUNO-DS76 Synthesizer
Life moves fast as an upcoming musician or ambitious new band. When you're racing between rehearsals, sessions, and shows, you don't have time to deal with a bulky, complex synth that's difficult to use. The Roland JUNO-DS76 is the portable modern synth that can keep up with your busy band life.

Lightweight, compact, and powerful, this 76-note instrument is always ready to go, with easy operation and instant access to pro onboard sounds that let you create or perform music anywhere, from studio to stage. And with its extended-range keyboard, the JUNO-DS76 is ideally suited for playing advanced arrangements with multiple sounds split across the keys.

Roland KS-10X Keyboard Stand
Ideal for all types of portable keyboards, the KS-10X stand delivers reliable performance at an affordable price. The offset-X design features a spring-loaded lever with locking clutch for quick and easy height adjustment, while adjustable rubber sleeves provide instrument support and solid stability on uneven surfaces.

Roland Medium Stretch Keyboard Dust Cover
The Roland KC-S keyboard cover protects your instrument from dust and debris when it's not being used. The stretchy nylon fabric and integrated drawstring ensure a secure fit. Ideal for studio musicians, stage performers, schools and more.