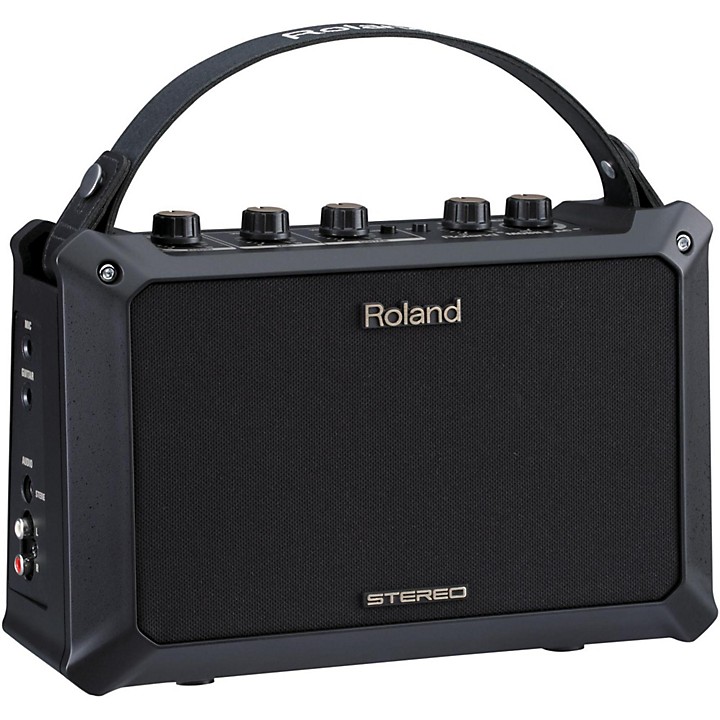 An exceptionally affordable and portable app for acoustic players.
If you'e new to the world of acoustic guitar and would like to explore an extra dimension in sound, creativity, and convenience, the new Mobile AC is your perfect amp. Optimized for acoustic guitar and designed to travel, the Mobile AC delivers big sound in a package that can easily fit into a backpack. The amp can be used for up to 15 hours at a time via battery power, so you can take it anywhere. Simply plug in your acoustic guitar, turn up the volume, and enjoy clean, clear, and surprisingly powerful, spacious stereo sound from a compact amp. You can also add deep stereo chorus or lush reverb effects, and you can incorporate a portable media player and microphone for sing-along fun. Strum your guitar and sing, play along with backing tracks, and enjoy the Mobile AC at home or outdoors. It' also a handy personal monitor for use on stage, with a big sound that defies its small size.

Rich Stereo Sound
The Mobile AC is small, but its two 4" speakers produce a surprisingly large and lush stereo sound. Activate the built-in stereo chorus " an effect that Roland is famous for " and immerse your guitar in a pool of thick, swirling sound. There' also onboard reverb with a dedicated control knob, as well as a œWide effect for adding spaciousness to the sound. For the final polish, turn the TONE knob clockwise for a brighter tone, or counterclockwise for a milder sound.

Travel Friendly
Small enough to fit in a backpack and light enough for a child to carry, the Mobile AC is ready to travel. Take it anywhere you go " to a friend' house for a jam session, to a small outdoor gathering such as a camping trip, or on stage for use as a personal monitor. It can run for 15 hours at a time on six AA alkaline batteries, so you can perform in any location, indoors or out. An optional AC adapter is available should you prefer to plug it in. A handy carrying strap is included, and an optional carrying case is also available.

Strum, Sing, and Jam Along
Strap on your guitar, invite a friend, and grab a microphone " the Mobile AC has inputs for guitar and mic with independent volume controls for each, and you can even add lush reverb and œWide effects to the instrument and voice for a polished, professional sound. There' also a third input (with dedicated volume control) for connecting a portable media player such as an iPod, giving you an easy way to add backing tracks to your performances.

Specifications
Rated Power Output: 2.5 W + 2.5 W
Nominal Input Level (1 kHz):
Audio: -10 dBu MIC: -50 dBu GUITAR: -10 dBu
Speakers: 10 cm (4") x 2
Controls: POWER switch WIDE switch TONE knob REVERB knob [AUDIO] VOLUME knob [MIC] VOLUME knob [GUITAR] VOLUME knob CHORUS switch
Indicator: Power
Connectors:MIC jack (1/4" phone type) GUITAR jack (1/4" phone type) AUDIO jacks (Stereo miniature phone type, RCA phono type) PHONES jack (Stereo miniature phone type) DC IN jack
Power Supply: Alkaline battery (AA, LR6) x 6 or AC Adaptor (sold separately)
Current Draw: 175 mA (DC 9V)
Accessories: Strap Alkaline battery (AA, LR6) x 6 Owner' Manual
Expected battery life under continuous use: Alkaline battery (AA, LR6): approximately 15 hours
Size and weight
Width: 280 mm, 11-1/16"
Depth: 108 mm, 4-5/16"
Height: 177 mm, 7"
Weight: 2.5 kg, 5 lb. 9 oz.
Features
Five-watt (2.5+2.5) stereo amplifier for acoustic guitar
Simple, intuitive controls
15 hours of use with six AA alkaline batteries
Microphone input for singing
Audio inputs for playing along with portable media players
Three-channel mixer with individual volume controls for microphone, guitar, and audio input
Chorus, Reverb, and Wide effects to add depth to your sound