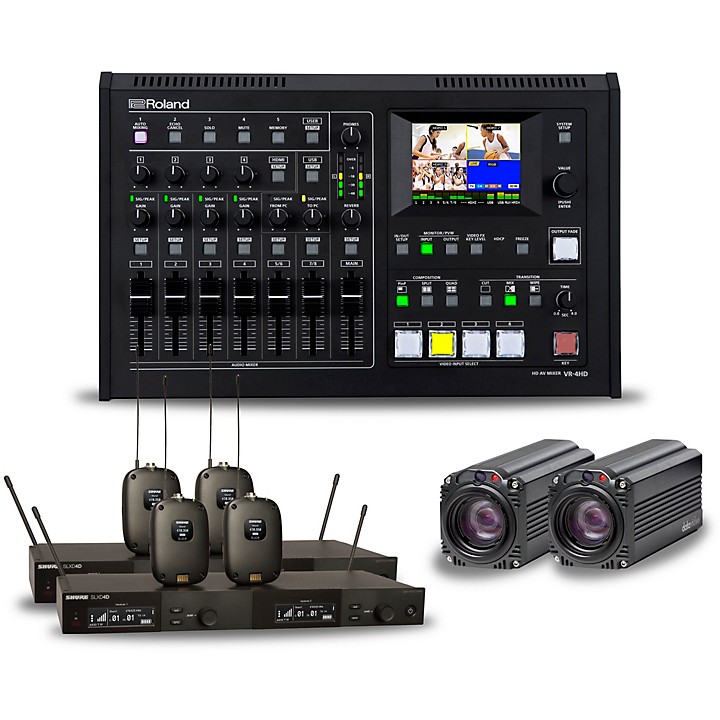 AV bundle starter set for live streaming.
The Roland Professional Streamer Bundle includes the DataVideo HD Block Camera, the Roland HD AV Mixer and the Shure Dual Combo Wireless Microphone System. If you're ready to start streaming like a pro, this complete set provides the essentials you'll need.

Datavideo HD Block Camera with 30X Zoom HD-SDI and HD
The DataVideo BC-80 HD Block Camera offers excellent 1080p HD resolution and 30x zoom with digital noise reduction. The BC-80's optical zoom allows you to mount it near or far and still capture great, sharp shots, even in less-than-perfect lighting conditions. Ready to be used in any AV or broadcast workflow, the BC-80 Block Camera features a 3G-SDI and HDMI output. The BC-80 supports SONY VISCA protocol, enabling the camera to be controlled via RS-422 or DVIP interface.

Roland VR-4HD HD AV Mixer
The Roland VR-4HD is an all-in-one audio-visual mixer. It's a complete HD studio in a compact and portable package that replaces several different pieces of complex A/V equipment. The VR-4HD is designed with single-person operation in mind, and enables easy switching and mixing of sound and video using advanced video and audio Digital Signal Processing (DSP) along with dedicated hardware controls faders, buttons and touch screen interface. It beautifully integrates a digital audio mixer, video switcher, multi-viewer touch screen and USB video/audio streaming interface into a stand-alone device. This portable live HD production solution is ideal for schools, churches, council meetings, corporate events, sports, training sessions, or any other live event.

The VR-4HD features professional quality broadcast controls and switches ensuring more accurate and faster operation than interfaces based on a computer style mouse and keyboard. The ability to simultaneously switch video with the push of a button and adjust audio with the push of a fader is invaluable and puts all essential features at the operator's fingertips. The built-in multiview screen is also a touch screen interface for accessing set-up parameters, making it extremely easy to adjust picture-in-picture settings by dragging the inset window onto the screen.

Shure SLXD14D Dual Combo Wireless Microphone System
The Shure SLXD14 Wireless System delivers transparent, 24-bit digital audio and rock-solid RF performance for a wide range of applications, from all-day corporate conferences to stage performances. Operate up to 32 compatible systems per 44MHz band, with easy setup and optional rechargeability accessories for wireless excellence, wherever required. Ships with SLXD4 single-channel receiver, SLXD1 bodypack transmitter and WA305 instrument cable with antenna and rackmount accessories.
Specifications
Includes:
Datavideo HD Block Camera with 30X Zoom HD-SDI and HD
Roland VR-4HD HD AV Mixer
Shure SLXD14D Dual Combo Wireless Microphone System
WARNING: Cancer and Reproductive Harm www.P65Warnings.ca.gov.