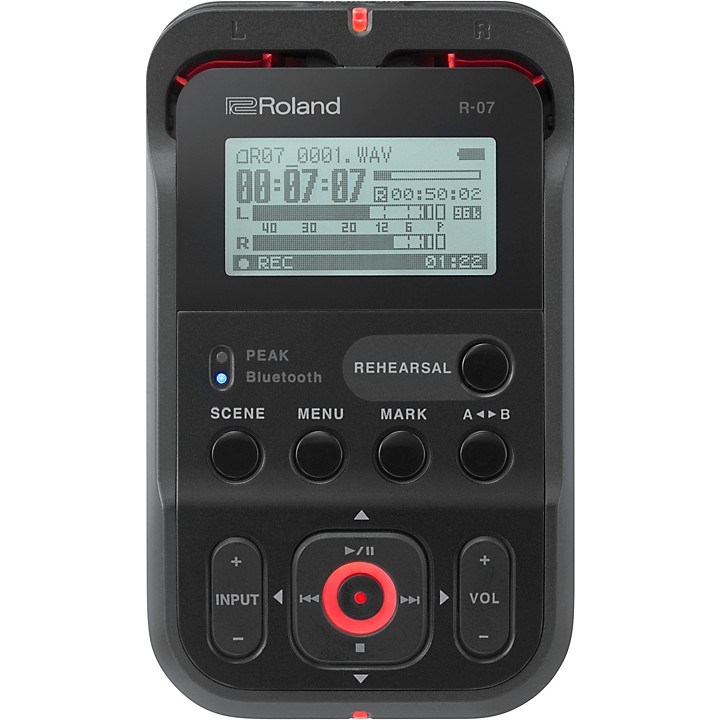 A portable audio recorder that is perfect for diverse applications—on-location interviews, demos, classrooms, boardrooms, field recordings and much more.
The R-07 packs mission-critical recording features into a stylish and ultra-portable device will go wherever you go. High-resolution audio, one-touch Scene memory, and innovative Hybrid Limiting ensure great sounding recordings no matter what the situation. Wireless listening and remote control mean you can record with less wires in more places.

The R-07 looks great, sounds superb, and fits comfortably in your hand or your pocket. It's easy to use yet provides truly professional results with one-touch recording setup. Its next-generation Bluetooth capabilities mean you can control, monitor and listen back wirelessly using supported smartphones, smartwatches and Bluetooth speakers. It comes in three stylish colors and runs on two AA batteries or USB bus power.

A recorder as compact and go-anywhere as the R-07 could end up in a lot of different recording situations. Whether it's on-location interviews, on-the-road demos, classrooms, boardrooms, field recording, or just about anything else you can imagine, the R-07 can automatically apply the ideal settings. When you select a Scene, the sample rate, record mode, limiter, low cut, and input level instantly adjust to their optimal settings. And you can alter any of the settings and save them for next time, so you'll never miss that magic moment.

Features
Portable recording device that will simultaneously record WAV and Mp3s and playback with a built-in speaker—supports microSD cards
Mic/Aux Input and headphone output and Bluetooth remote control with a smartphone or smartwatch
Stylish, compact design available in black, red or white
One-touch Scene function for instant setup in any recording scenario