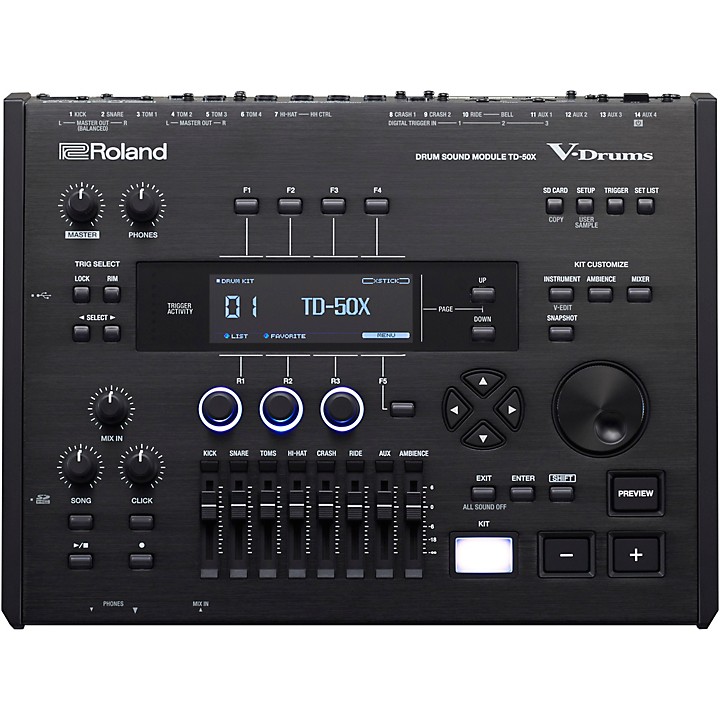 Hands on interface for customizing drum sounds. Order today.
An ideal centerpiece for your Roland X-Drums kit, the TD-50X Drum Sound Module helps produce sounds with more realism, natural resonance, clarity and a wider dynamic range to capture every nuance of the player's technique. The TD-50X Drum Sound Module includes high-resolution sound elements to recreate sounds that are vivid, bold and practical for performance.

The TD-50X provides more flexibility for recording, live performance, or rehearsal and personal practice session.

Features
Newly designed sounds
Over 900 samples
Hi Hat samples created for VH-14D
Cosmetic upgrades
Knob upgrades
Additional Text/Icon indicators
Next-generation TD-50X sound module with Prismatic Sound Modeling and PureAcoustic Ambience technologies
Ready-to-play presets based on legendary and contemporary drum kit sounds, purposefully tuned for full, punchy, and dynamic sound
Hands-on interface with dedicated buttons and faders for selecting, customizing, and mixing drum sounds
Massive selection of studio-grade effects, including EQs, compressors, reverbs, multi-effects, and more
Stereo XLR master output and eight TRS direct outs provide balanced connections to a PA mixer
Integrated 32-channel USB audio/MIDI interface for professional computer music production
Four auxiliary analog trigger inputs for easy kit expansion
Mix input for drumming with music from a smartphone or laptop
Import your own WAV samples via an SD card
Built-in practice functions for developing drumming skills