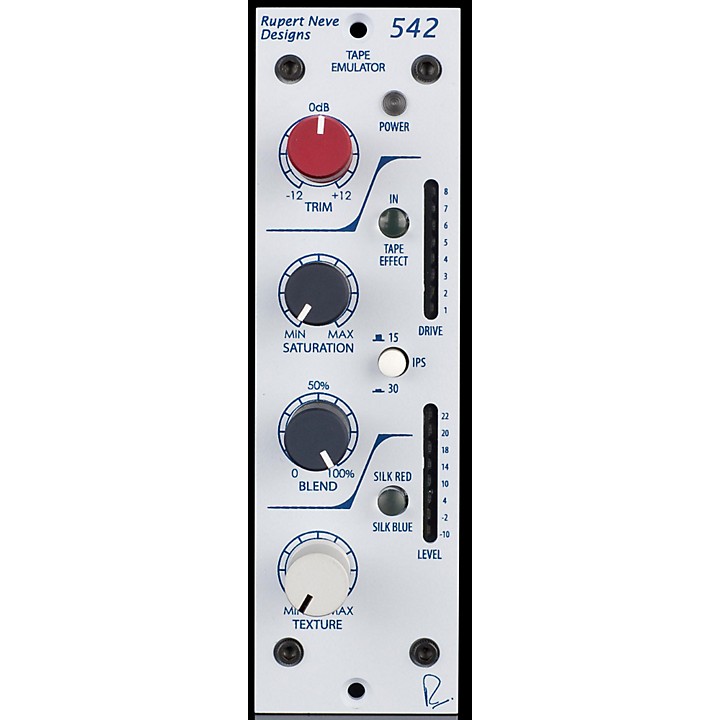 500-series tape emulator with variable silk, blend, and soft clip.
As a 500-series follow-up to the Portico 5042, the 542 delivers the same thick, musical simulation of tape while drastically enhancing creative control via a number of new features. In addition to the the "true tape" circuitry - great for bringing out 3rd-order harmonics - the 542 incorporates a soft-clip circuit that tames the harshest sources and enhances 2nd-order harmonics, a variable and versatile Silk/Texture circuit for three transformer tones in one, and a wet/dry control to blend in the perfect amount of saturation. While it's challenging to design 500-series modules that are equal to their non-500 series counterparts, the team at Rupert Neve experimented with a number of different transformer and circuit designs so they could achieve the same presence and sweetness that is found in the standard Portico Series modules making them perfectly suited for the highest caliber studio environments.

The 542's "True Tape" emulation circuit provides the nostalgic rounding and compression usually only achieved by the use of tape, and can offset the harshness often found in digital recordings. Unlike digital emulations, the "True Tape" drive circuit works by feeding a tiny magnetic "record head", whichin turn is coupled to a correctly equalized, replay amplifier. As the voltage rises on the "record head", saturation increases, and a soft clip circuit engages at higher levels to round off peak transients. The sound of the tape circuit can be further modified with selectable 15 / 30 IPS modes and a pre/post-tape blend control. In addition to the tape circuit, the 542 also has the variable Silk & Texture circuitry found in the Portico II series of modules, which allows the engineer to fine-tune the harmonic ratio and tonality on the output transformer.

Adding Texture
Both Silk modes are modified and fine tuned by the "Texture" control. By manipulating the Texture control, the amount of Silk can be changed from essentially absent, to roughly four times the amount of coloration found in Silk from the original Portico Series. With Silk / Texture engaged, the distortion characteristic and harmonic content of the unit are very reminiscent of many of Rupert's vintage class-A designs. These controls add another realm of tonal control to the 542, and should be explored creatively in conjunction with the "True Tape" for best effect.

Designed for 500 Series
The 542 consists of a line driving amplifier having transformer balanced inputs and outputs. The sonic quality of these amplifiers is such that by providing galvanic isolation, simple single-sided circuit topology and freedom from grounding problems, they are capable of enhancing the sonic quality of many signal sources, especially those of digital origin. The sonic "signature" is one of extreme purity and the image is consistent with that of Rupert Neve's original designs of 35-40 years ago.
Specifications
Line Amp Specifications (Measurements with tape circuit disengaged)
Noise: Measured at Main Output, un-weighted, 20Hz-22kHz, Input Terminated 40 Ohms.
Unity Gain Better than -100dBu
Frequency Response
Measured at +10dBu, trim at unity.
Main Output +/- 0.25dB from 5Hz to 60Khz -2dB @ 120KHz
Maximum Output Level 23.25dBu
Total Harmonic Distortion and Noise:
@ 1kHz, +20dBu output level Better than 0.0025% @ 20Hz, +20dBu output level 0.07% Typical (2nd and 3rd harmonic)
Tape FX Specifications
Noise:
Measured at Main Output, un-weighted, 20Hz-22kHz, Input Terminated 40 Ohms.
Saturation @ minimum Better than -100dBu Saturation @ maximum Better than -100dBu
Frequency Response:
15 IPS, Input @ -0 dBu -3dBu @ 28kHz Saturation @ minimum 0dBu @ 10Hz +5dBu Peak @ 60Hz
Saturation @ maximum -3dBu @ 20kHz -3dBu @ 12.5Hz +2.4dBu Peak @ 60Hz
30 IPS, Input @ -0 dBu -3dBu @ 120kHz Saturation @ minimum -3dBu @ 10Hz +3.15dBu Peak @ 125Hz
Saturation @ maximum -3dBu @ 100kHz -3dBu @ 12.5Hz
+1.3dBu Peak @ 110Hz
Total Harmonic Distortion and Noise
Refer to sweeps on page10 15 IPS, Input @ -0 dBu 0.4% @ 3kHz to 1% @ 175Hz typical
Saturation @ minimum Greater than 1% below 175Hz typical
Saturation @ maximum 1% at 6kHz typical 0.3% @ 1kHz to 3% @ 50Hz typical
30 IPS, Input @ -0 dBu 1% at 1kHz typical
Saturation @ minimum 0.6% @ 400Hz 5% @ 20Hz typical
Saturation @ maximum 1.5% @ 20kHz to 0.4% @ 1kHz typical 0.4% @ 1kHz to 2 %@ 50Hz typical
Power requirements:
Supplied by 500 series rack with 110-125 mA @ +/- 16V DC
Features
Add depth and character to your sound
Control the mix of pre and post tape signals
Send signals through "True Tape" circuitry
Silk circuit, reduces negative feedback, adding harmonic content as needed
Red Silk accentuates the saturation in the mid and high frequencies
Use soft clip to tame overly transient material like drums
Provides +/- 12dB adjustment of level on incoming signal levels