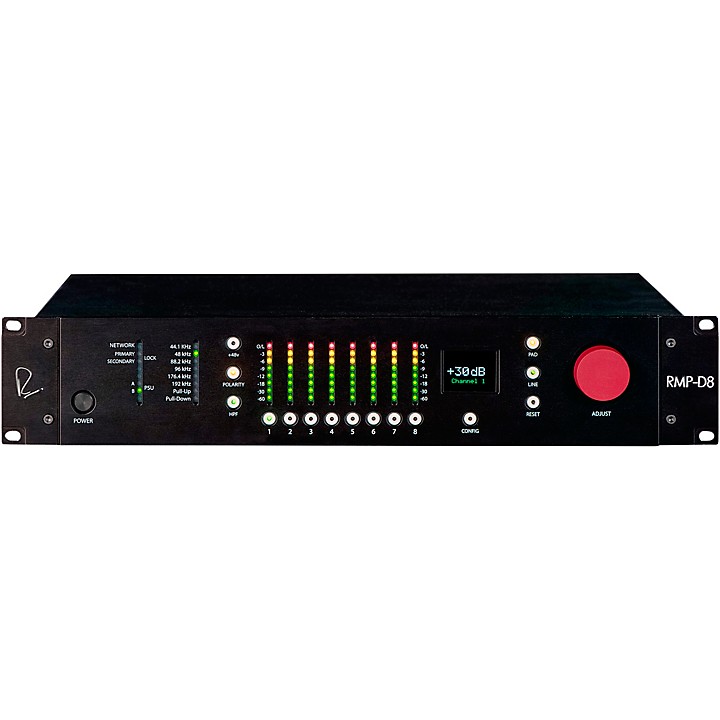 8-channel Dante mic preamp and converter.
The heart of the Fostex RMP-D8 Mic Pre lies in the modular mic preamp cards featuring Mr. Rupert Neve's custom transformer designs. Unlike other integrated Dante mic preamp designs that rely primarily on a single IC for gain and tone, the RMP-D8 has eight fully-realized class-A microphone preamplifiers feeding eight custom audio transformers, maintaining the high standards of Rupert Neve Designs' standalone preamplifiers. Where converters are often an afterthought on combination devices, the 24-bit/192kHz converters in the RMP-D8 are a product of years of careful listening. The precision­ controlled internal clocking and enhanced jitter reduction enable capture of the full breadth of performance from the mic preamplifiers or the line inputs; with the RMP-D8, there is no weak link in the audio path.

Dante audio networking uses standard IP networks to transmit high-quality, uncompressed audio with near-zero latency. It's the most flexible, reliable, and easy-to-manage audio networking solution available, and provides the lowest cost of ownership by dramatically reducing cabling and labor costs. Dante is the audio networking choice of nearly all professional audio manufacturers, making it the industry standard for digital audio networking. The RMP-D8 is also fully DDM (Dante Domain Manager) ready.
Specifications
Unity Gain: -110 dBFS
Frequency Response: 30 Hz to 45 kHz
Input Impedance: 5.5K Ohm
Gain: 0 to 60 dB in 1 dB steps
High Pass Filter: -3 dB @ 80 Hz, 12 dB/Octave Slope
Pad: -10 dB
Dynamic Range: 110 dB
Maximum Input Level: +25.5 dBu
Features
8 mic / line inputs with 48V phantom power, polarity reverse, input pad and high-pass filter controls
1dB-stepped class-A mic preamplifiers with 60dB gain and remote control capability
24-bit / 192kHz Mastering-Grade Converters with precision-controlled internal clocking and enhanced jitter reduction
Dante integration with secondary redundant RJ45 network port
4 dual-channel AES outputs on XLR connectors with gain-compensated secondary output
Compatible with Dante Virtual Sound Card and Dante Via
Reinforced steel chassis