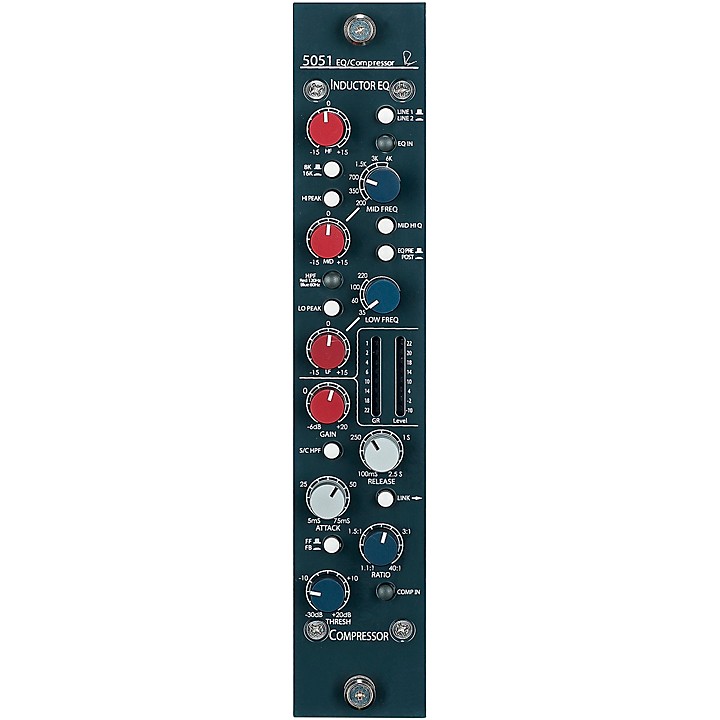 Classic tone and dynamics control for the 5088.
The Shelford 5051 compressor from Rupert Neve Designs combines a three-band Inductor EQ based on Rupert's vintage designs with the power and flexibility of the Portico II compressor. Utilizing a fully-discrete class-A signal path and custom audio transformers and inductors, the 5051 delivers all the performance and musicality expected from a Rupert Neve design. Inductors are wires wound around a coil that provide a form of frequency-dependent resistance. When they saturate, they bring out beautifully musical harmonics that give your tracks the smooth, polished sound that has made Rupert's consoles and equipment so desirable for over fifty years. This is what makes them different from capacitor-based EQ designs, which do a great job at surgical equalization, but inductors provide the tone.

The 5051's 3-band, custom-tapped inductor EQ was inspired by elements of Rupert's vintage EQ designs. The low frequency band is designed to produce a creamy, resonant bass response similar to a vintage 1064 but, unlike the vintage modules, the LF band on the 5051 can be used as either a shelf or a peak filter, adding punch, dimension and control to your low end. The midrange band is based on that of the 1073, ideal for sweetening vocals and instruments while bringing them forward in a mix, and its proportional "Q" response makes it well-suited for minimizing problematic frequencies. The high frequency band is a hybrid vintage / modern design, blending inductor circuitry with capacitor-based topologies to achieve vintage tones with enhanced control. The High Pass filter is an 18dB/octave design with a switchable 60Hz or 120Hz corner frequency, and can be used in tandem with the low frequency EQ to add low-end presence without clouding the source material.
Specifications
Line In
Frequency response: -3 dB @ 2.5 Hz, -3 dB @ 125 kHz
Max input: +25 dBu
Max output: +25 dBu
Equalizer
Max input: +24.5 dBu
Max output: +24.5 dBu