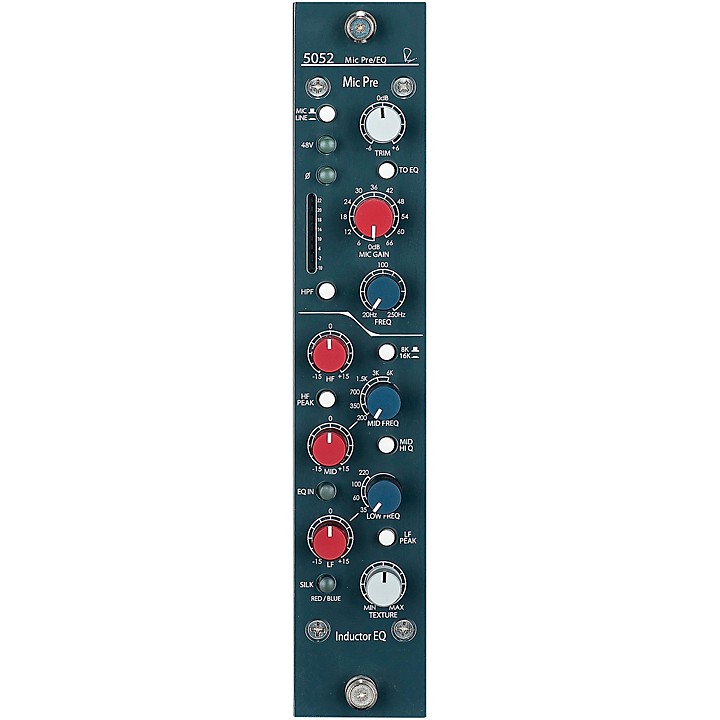 Vintage-inspired mic pre and EQ for the 5088.
The Shelford 5052 microphone preamp inductor and EQ from Rupert Neve Designs echoes the simple and definitive 1073 feature set with a mic preamp, high pass filter and 3-band inductor EQ. It also features modern capabilities like the variable Silk / Texture control and simultaneous pre / post "tape" operation. Utilizing class-A, discrete, +/-24V topologies with custom-wound transformers and inductors, Rupert Neve designed the 5052 as a channel strip that captures the soul of his classic designs without the previous compromises.

Versatile Preamp
Like Rupert's designs from his time in Little Shelford, the 5052 preamplifier has 72dB of discrete, class-A gain coupled with robust square-core transformers. Unlike the classics however, the output transformer features the Silk Red / Blue and Texture controls to precisely tailor the harmonic content and tonality of the output stage. By engaging these controls and sufficiently driving the output, the 5052 can produce up to 4-5% THD (primarily 2nd order, some 3rd order), bringing a richness and thickness to tracks when desired with no danger of overloading the output stage. With Silk disengaged, the output is modern and pristine, yet still retains Rupert's signature larger-than-life transformer sound. The mic pre section also includes a sweepable 20-250Hz high-pass filter, Mic / Line selection, 48V phantom power and polarity reverse.

The "Best-Of" EQ
The 5052's 3-band, custom-tapped inductor EQ was inspired by elements of Rupert's vintage EQ designs. The low frequency band is designed to produce a creamy, resonant bass response similar to a vintage 1064 but, unlike the vintage modules, the LF band on the 5052 can be used as either a shelf or a peak filter, adding punch, dimension and control to your low end. The midrange band is based on that of the 1073, ideal for sweetening vocals and instruments while bringing them forward in a mix, and its proportional "Q" response makes it well-suited for minimizing problematic frequencies. The high frequency band is a hybrid vintage / modern design, blending inductor circuitry with capacitor-based topologies to achieve vintage tones with enhanced control.
Specifications
Mic Pre Out @ unity gain: Better than -102 dBV
Main Out @ unity gain: Better than -103 dBV
With gain @ +66 dB: Better than -60 dBV
Equivalent Input Noise: Better than -126 dB
Frequency Response: +/- 0.1 dBu from 10 Hz to 31.5 kHz, -2.6 dB @ 120 kHz
Max Output Level: 25 dBu
Power Requirements: @ +/-24VDC maximum current draw: 0.26A/0.20A