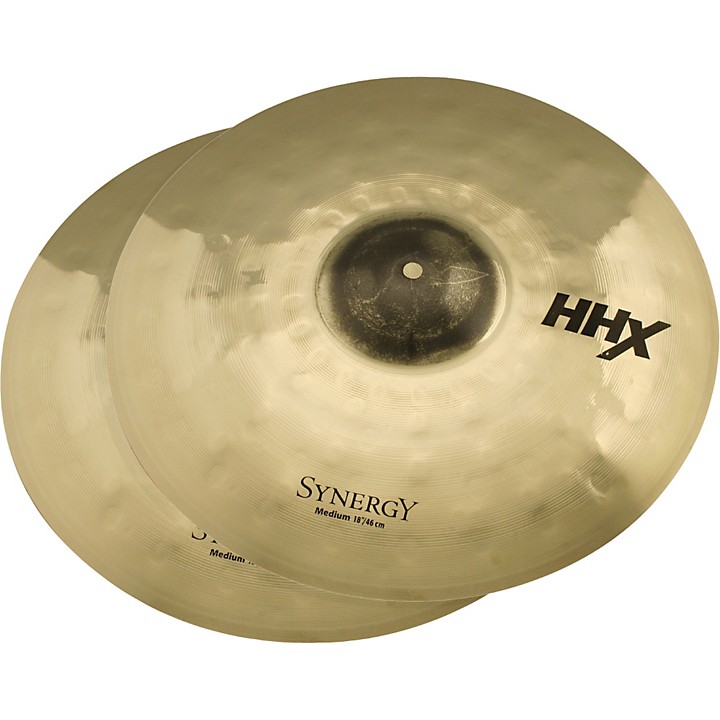 Sabian HHX Synergy Medium Pairs
HHX Synergy Features
HHX Synergy offers increased musicality, boosted projection, wider dynamic sensitivity, and greater performance control.Boost the potential of any player
According to SABIAN master product specialist Mark Love: "HHX Synergy boosts the potential of any player - student or professional - to perform and sound better because these cymbals are exceptionally responsive and so easy to play. They have a glassy high end with extreme volume, but retain the mids and a throaty low-end. Their innovative 'Touch Response' design makes it virtually impossible to misplay them. It's as if a synergy happens between the player and the cymbals; the resulting sound is always greater than the performer's ability or technique, thus the Synergy name." Exceptionally easy to play and control
Added DCI Hall of Fame member Ralph Hardimon: "Synergy are the best marching cymbals I've ever experienced. They produce a full sound that blends the low, mid and high partials in a warm and very musical spread. They are also very articulate, with amazing projection and incredible sustain. I found them exceptionally easy to play and control. These cymbals do it all!"Increased tone and a high profile for boosted projection
Individually hand crafted from SABIAN B20 Bronze, HHX Synergy feature a heavily hammered surface for increased tone and a high profile for boosted projection. They are aged to maturity before being 'Sonically Matched' for optimum pairing compatibility by the specialists in the SABIAN Vault. Available exclusively in Brilliant Finish, HHX Synergy is quality-protected by the SABIAN Two-Year Warranty (North America only).