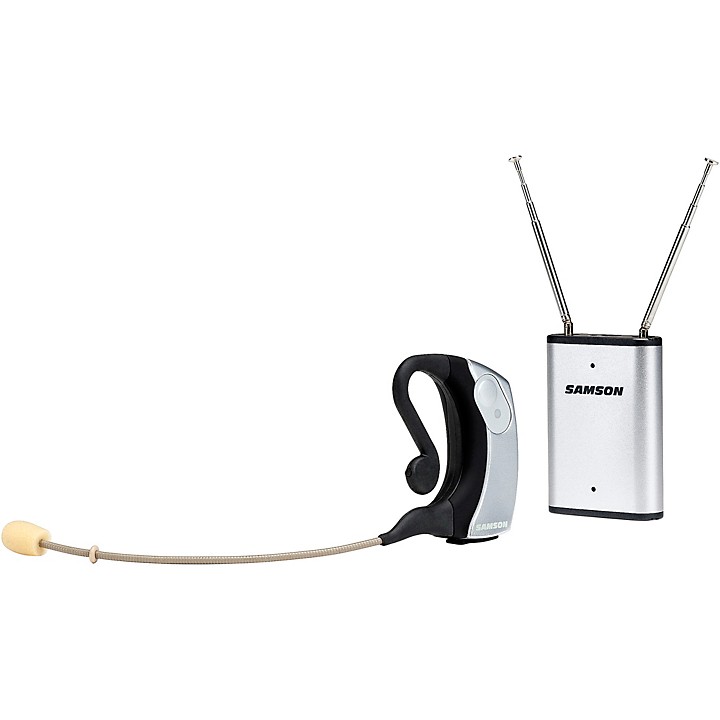 Micro earset system ideal for fitness instructors and presenters.
The Samson AirLine Micro earset wireless system is a high-performance micro-size solution ideal for performers, fitness professionals, presenters and worship leaders looking for clear vocal reproduction while keeping their hands free. The innovative AH2 earset transmitter features a water-resistant design, omnidirectional mic capsule and fits comfortably and securely behind the ear. The system includes internal rechargeable batteries for a truly hassle-free experience. To eliminate continually changing batteries, Samson has designed this micro-size UHF wireless system to be fully rechargeable, supplying lithium-ion rechargeable batteries and USB DC power inputs for both the AH2 earset transmitter and AR2 receiver. Because of these convenient recharging capabilities, the days of constantly changing the batteries in your wireless system are over. The handy AR2D dock provides a secure base while charging and includes a 3.5mm balanced audio output of its own. Tone-key and auto-mute circuitry ensure wireless performance free from noise, dropouts and interference. A zippered carry case is included.

Choose from one of three frequency models. See frequencies below.

Specifications
Frequencies
Band K1: 489.05MHz
Band K2: 490.97MHz
Band K3: 492.425MHz
Band K4: 477.525MHz
Band K5: 479.100MHz
Band K6: 480.475MHz
Features
AirLine Micro Earset Wireless System
UHF wireless system with micro-size AH2 transmitter and AR2 receiver
Tone squelch and auto mute for clear operation
Includes a convenient system carry case Includes AC adapter and charging cables
AH2 Transmitter
Earset transmitter and omnidirectional microphone with no beltpack
Lithium-ion rechargeable battery with up to 10 hours of operation
USB DC input for recharging
Single button operation for power, mute and volume
Water resistant
AR2 Receiver
Low-profile wireless receiver (2.36" x 1.67" x 0.51")
Lithium-ion rechargeable battery with up to 6 hours of operation
USB DC input for power and recharging
3.5mm unbalanced mic/line level output
AR2 Dock
Provides secure base for AR2 receiver during operation and/or recharging
USB DC input for power and recharging (cables included)
3.5mm balanced audio output (cables included)