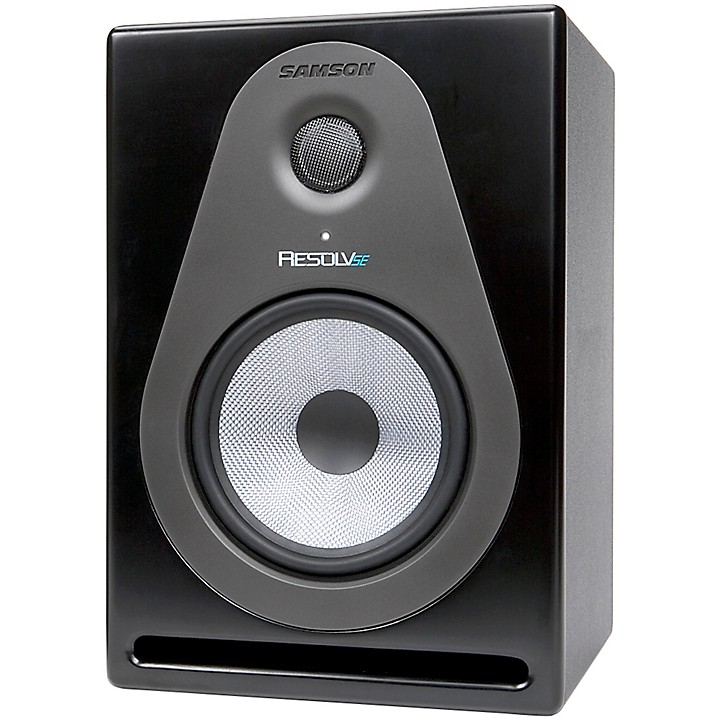 100-watt 2-way studio monitor with supremely accurate sound.
The Samson Resolv SE6 2-way active studio reference monitor offers a redesign from the classic Resolv A-Series monitor, with more accurate sound reproduction and a stylish look. Resolv SE6 utilizes the latest innovations in speaker engineering, which can be used with multiple monitors to provide superb stereo imaging for recording, post-production and other multimedia applications. Producing 100 watts of power, Resolv SE6 includes a dedicated power amp and electronic crossover that provide accurate tonal balance. The new 6.5" woven carbon fiber woofer provides tight and controlled low frequency response, while its 1.25" soft dome tweeter gives the high frequencies a true, natural sound without unwanted resonance. Resolv SE6 also includes a 4-position high frequency lift control that allows the monitor to be optimized for different mixing environments, and is AV shielded for operation near CRT monitors and other sensitive electronics.

Tracking vocals, instruments and sound design elements are a breeze with these pro-level monitors, as you'll be able to hear every nuance with impeccable precision and make adjustments for the best possible performance. In the end, Resolv SE6s will help you get the sound you want from the start and save you valuable time in post-production. When you're finished recording, the audio reproduction capabilities of a Resolv SE6 monitor system enables you to mix and master tracks that will sound great on a wide range of playback systems. Designed to help you producing smooth, even mixes, each Resolv SE6 features a wide frequency response, well-balanced speaker and control for optimizing the system for different mixing environments. The results will always be a solid representation what your song will sound like on record.
Features
2-way active studio reference monitor with ported tuned enclosure (sold individually)
100 watts of power
6.5" woven carbon fiber woofer
1.25" soft dome tweeter with neodymium magnet
45Hz-27kHz frequency response
Active crossover with multi-pole design for linear response
4-position high frequency lift control
Balanced 1/4" inputs, unbalanced RCA inputs
AV shielded for use with sensitive electronics
Solid MDF (Medium Density Fiberboard) construction