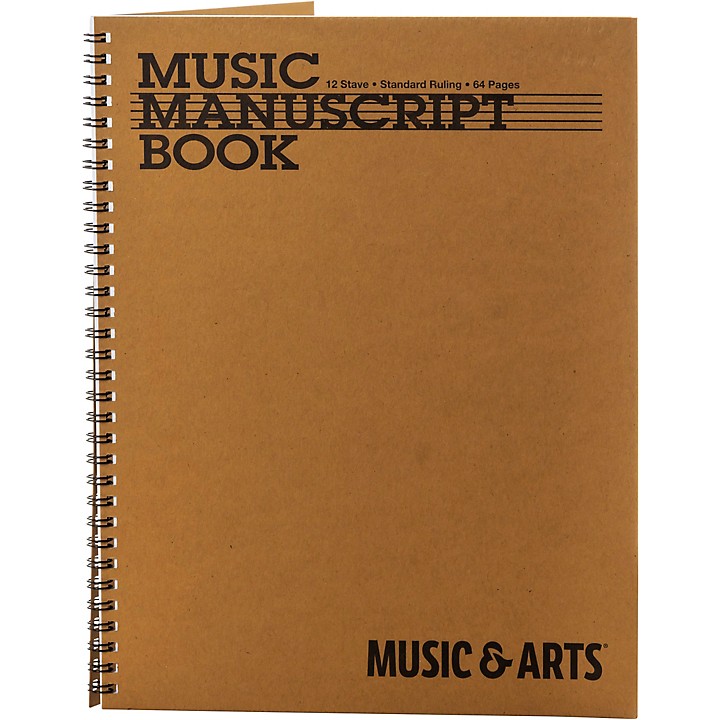 A spiral-bound staff paper notebook designed for musicians and composers.
The Music and Arts Spiral 12 Stave 11x8.5 Manuscript Book provides an essential tool for any musician. With 192 pages of 12-stave staff paper printed on premium, acid-free paper, it gives you ample room to compose melodies, write arrangements and sketch musical ideas. The durable spiral binding allows pages to lay perfectly flat for ease of writing, while also making it simple to flip between sheets.


Premium Paper Ensures Archival Quality
The acid-free paper used in this manuscript book is designed to last, giving your compositions and arrangements an archival permanence. Its smooth, opaque surface readily accepts pencil, pen and eraser without smudging or tearing.


Spiral Binding Keeps Pages Securely Bound yet Maneuverable
The spiral wire binding allows pages to rotate 360 degrees so you can fold the book over on itself to isolate a single page or small section. It also enables pages to lay completely flat for comfortable writing on a table, music stand or any other surface. The binding is securely fastened to the book's spine to prevent pages from tearing out or becoming loose over time and repeated use.


Staff Lines Accommodate a Variety of Compositions
This manuscript book includes 12-stave staff lines, giving you ample space to compose for a wide range of instruments, from piano and guitar to full orchestra. The staff lines are clearly printed to make writing quick, accurate and frustration-free. Numbered page margins provide an easy reference point to locate your work.


Available in a Range of Sizes
Music and Arts offers this spiral-bound manuscript book in a variety of sizes from 6 staves to 12 staves and page dimensions from 9x6" up to 11x8.5". This provides composers, students, teachers and musicians with options to suit any need or preference. Whatever size you choose, you'll enjoy the same high quality, acid-free paper and durable yet flexible spiral binding.

Order the Music and Arts Spiral 12 Stave 11x8.5 Manuscript Book today.