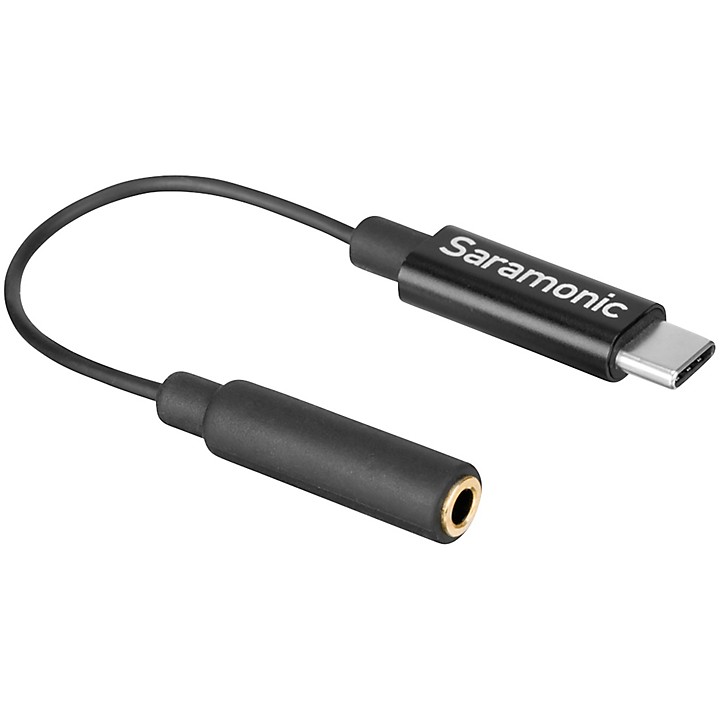 Compact adapter cable for devices with USB-C ports.
The Saramonic SR-C2003 is a compact adapter cable with a male USB Type-C connector on one end and a female 3.5mm TRS connector on the other, allowing users to connect a multitude of audio sources and equipment to the USB-C port on smartphones, tablets, computers and more. Want to connect a mini shotgun microphone directly to your Android Smartphone? Need to connect a wireless microphone receiver directly to your Laptop? Want to record the audio from a mixing board to your Tablet? The SR-C2003 can handle all that and so much more. Plus, it provides plug-in power to your microphones which is vital for many popular on-camera video microphones. The SR-C2003 also allows you record to your device in mono or stereo sound. Perfect for mono or stereo microphones, mono summed output or dual mono out from dual wireless receivers, like the UwMic9 system, stereo, or mono audio feeds from a mixer and so much more. You can even use the SR-C2003 to record the output of a record player or audio cassette player to the USB-C port on a computer to digitize analog media.
Specifications
Digital connector: Male USB Type-C
Analog connector: Gold-plated 1/8" TRS female
Cable length: 3"
Weight: 0.2 oz.
Features
Connect microphones, wireless receivers, mixers and more to USB-C ports on smartphones, computers and tablets
Provides plug-in power to microphones that require it
Ideal problem-solving audio adapter accessory for Android smartphones or tablets, computers with USB-C and other USB-C mobile devices