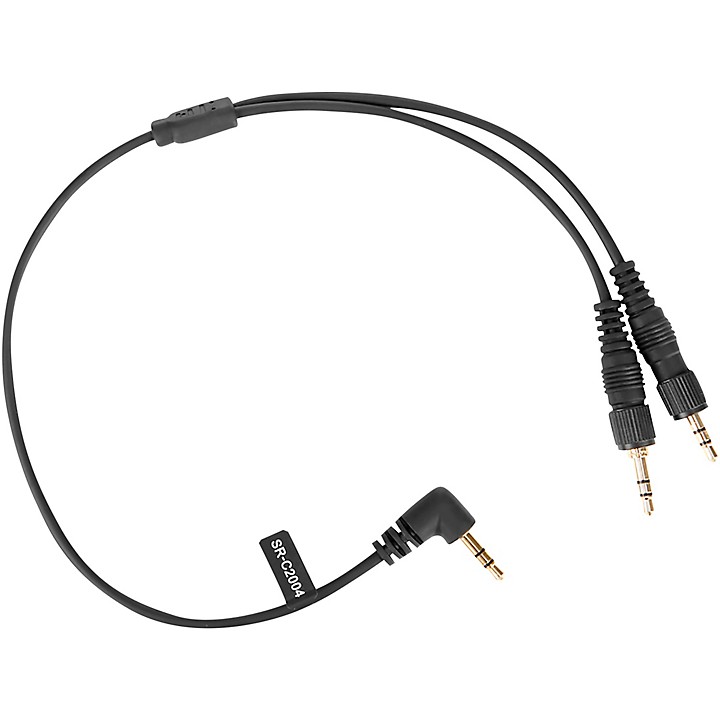 Cable adapter for connecting two audio sources into one mic input.
The Saramonic SR-C2004 is a short cable that lets you connect two 3.5mm wireless receivers or audio sources into a single 3.5mm mic input of a camera, mixer, recorder or other device. It has two locking 3.5mm male connectors and ends in a single right-angle 3.5mm male connector. The locking connectors are compatible with wireless receivers that have locking outputs and work with receivers or other audio sources that have regular 3.5mm outputs as well. All of the parts are gold-plated, which provides the best possible signal transfer and resists corrosion.

Two receivers into one camera, without a mixer
The 13" length of the SR-C2004 is perfect for neatly connecting to wireless receivers that are mounted on a camera. This also keeps the cable compact, lightweight and tangle-free. It was designed to be used with Saramonic Blink500, UwMic9, UwMic15, VmicLink5 and SR-WM4C receivers but can be used with other kinds of wireless systems as well.

Multiple audio sources into one input
The SR-C2004 is also an ideal accessory to input multiple wireless receivers, microphones or audio sources into a portable recorder, like the SR-Q2 and SR-Q2M Pocket Recorders. It is also a perfect adapter to take advantage of stereo and auxiliary inputs of portable mixers to add even more inputs.
Specifications
Connectors: Two gold-plated Locking 1/8", one right-angle gold-plated 1/8"
Length: 13"
Weight: 0.65 oz.