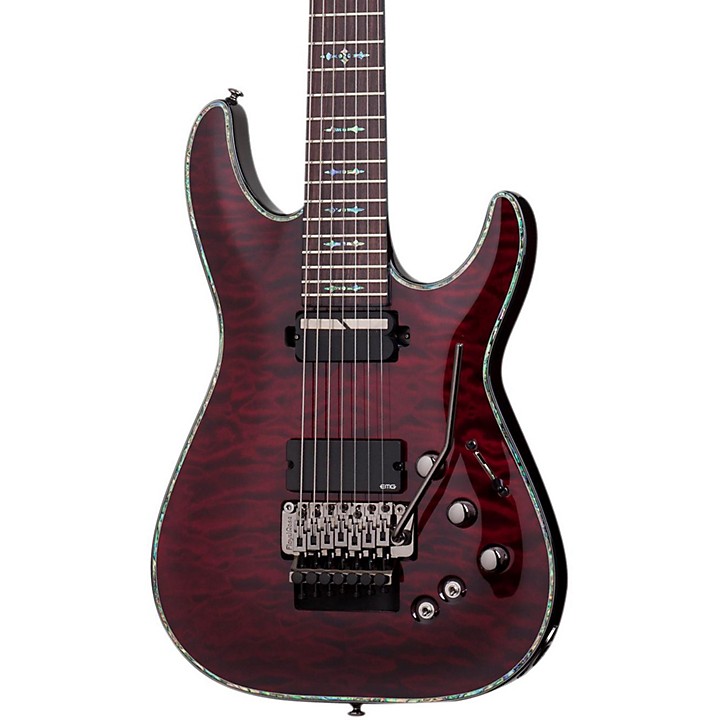 A dropped-tuned metal-master with Floyd Rose bridge and EMG active pickups.
With seven strings and a long 26-1/2" scale length, the Schecter Hellraiser C-7 with Floyd Rose Sustaniac electric guitar is made to play heavy rock and metal music. Other heavy rock essentials found on this beast include a set neck with 24 extra-jumbo frets, solid mahogany body with quilted maple top (black cherry), EMG Active 81-7/Sustainiac active humbuckers with dual mini switches, and a Floyd Rose 1000 series tremolo bridge with a locking nut. You will never be happy with just six strings again after you experience the low-end growl of the C-7 Sustainiac.

Grover Tuners
Rotomatics with 18:1 gear ratio (102-18 series). The original Rotomatic with an improved higher ratio gearing, the 18:1 ratio provides for finer tuning and greater stability. The finer gears provide smoother tuning and a higher degree of backlash elimination

Rosewood Fingerboard
The most common fretboard, rosewood is naturally oily, and works well for any surface that sees frequent human contact. The sound is richer in fundamental than maple because the stray overtones are absorbed into the oily pores.

EMG Active 81-7/Sustainiac Pickups
Bridge:The 81 is at its best for high-volume overdrive and amps giving it a razor-sharp attack, and incredible sustain for brilliant soloing. Sustainiac: This driver/pickup produces beautiful humbucker tones when Sustain switch is off, and works as the Sustainiac Driver when switched on. The Sustainiac Driver creates an infinite feedback sustain of string vibrations by electromagnetic feedback.

Three-Piece Mahogany Neck
Made with three pieces of mahogany for extra stability. Three-piece necks can withstand the test of time. Where standard necks may show aging defects from temperature and moisture changes throughout the years, the Three-piece neck will stay nice and straight for a lifetime of playability.

Sustainiac Functions
The "Secret Weapon" for controlled feedback and infinite sustain. First, the pickup signal is processed by the Sustainiac circuit, and then connected to the Sustainiac Driver. The Driver turns the amplified note into vibrational energy. This vibrational energy is then fed back into the strings for infinite sustain. This string vibration is similar to playing in front of a loud amp.

Sustainiac Mini Switches: On/Off & Normal/Mix/Harmonic Mini Switch Functions
On/Off Switch: This turns on/off the Sustainiac driver. Normal/Mix/Harmonic Switch: Normal Mode- String vibration will continue to ring natural fundamental note. Mix Mode: Some frets yield fundamentals, while others yield harmonics. Notes below the 12th fret will mostly morph into 2nd or 3rd harmonics. Harmonic Mode: Sustained notes morph into a high 5th or 7th harmonic vibration.

Case sold separately.
Features
Set neck with Ultra Access
Mahogany (black), Mahogany with quilted maple (black cherry) body
3-piece mahogany neck
Rosewood fingerboard
24X Jumbo frets
Abalone Gothic Cross inlays on black cherry, Gray Pearloid Gothic Cross inlays on black
Abalone binding on black cherry, Gray Pearloid on black
Grover tuners
EMG Active 81-7/Sustainiac pickups
Vol/Tone/3-Way Switch/On-Off DPDT Mini switch/Mode 3-way DPDT mini switch
Floyd Rose 1000 Series tremolo bridge
26.5" scale
Black chrome hardware
Case sold separately